2021 | NYC | Artist
Damali Abrams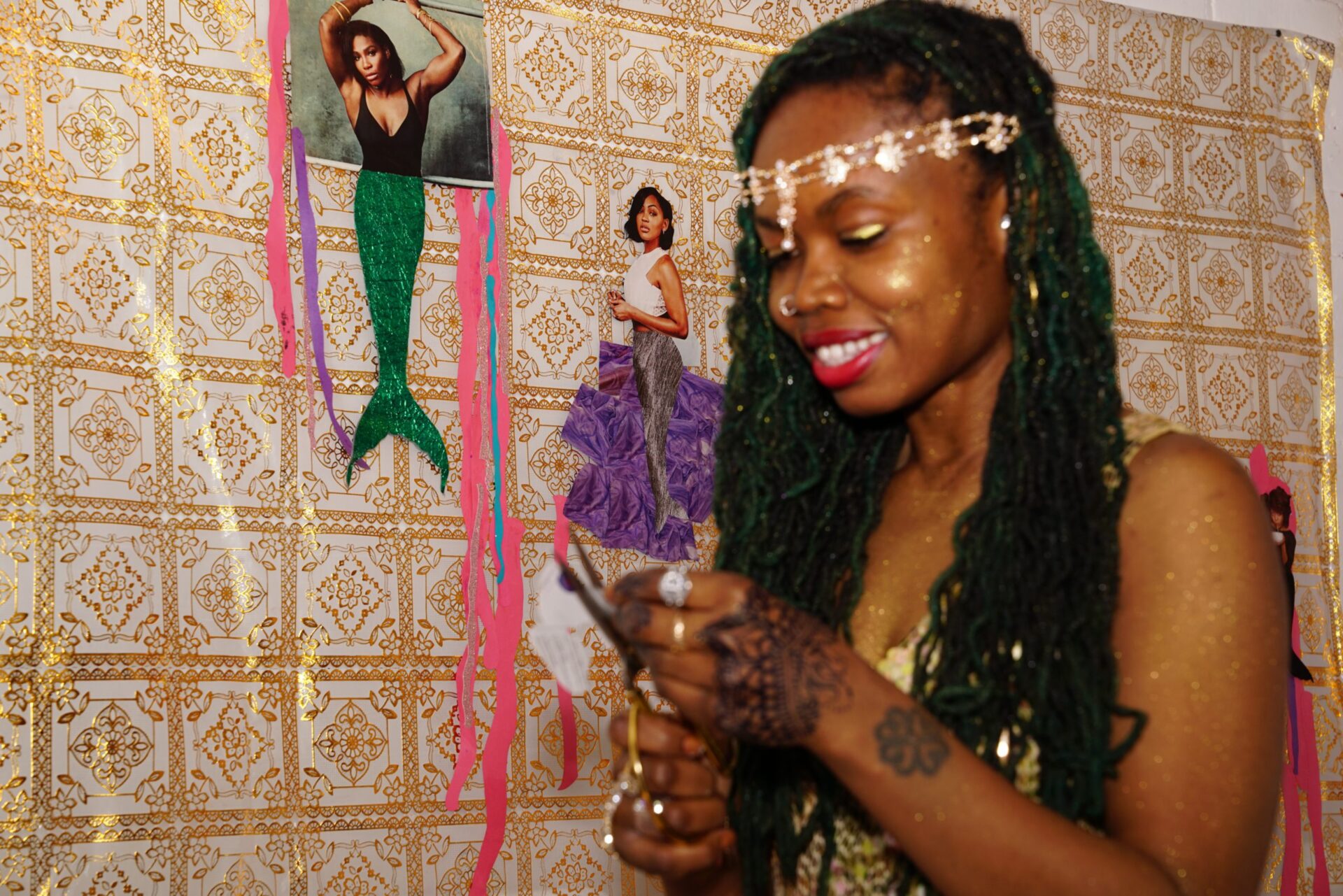 Damali Abrams. Photo @ebzden.
Damali Abrams the Glitter Priestess is a New York City-based artist, reiki practitioner, and educator. Her work largely references the Afro-Caribbean folklore and aesthetics that she was immersed in growing up in Queens, New York. Abrams' parents are from Guyana. Culturally and politically a Caribbean nation, Guyana is the only English-speaking nation in South America. Growing up Abrams heard many stories about mermaid sightings in Guyana, as well as other supernatural phenomena that are considered mundane in the Guyanese diaspora as well as other Afro-Caribbean cultures. This contributed to a lifelong fascination with mythical creatures and magical experiences. Inspired by second-wave Black Feminism, her research-based work is about visualizing Black utopias via mixed media collage, performance, video, and installation, referencing folklore, fantasy, and magical realism from Black Atlantic cultures. Abrams' work often embraces a DIY aesthetic learned from early Hip-Hop culture as well as 90s riot grrrl zines made up of xeroxed cut-outs.
The work of Abrams has been exhibited at venues in NYC including El Museo del Barrio, MoCADA (Museum of Contemporary African Diasporan Art), Rush Arts Gallery, Longwood Gallery, The Schomburg Center for Research in Black Culture, Jamaica Center for Arts & Learning (JCAL), and The Point. She was a 2020 Creative-In-Residence at Brooklyn Public Library and is a recipient of the Queens Council on the Arts New Works Grant. Abrams has been a fellow at Culture Push, the Robert Blackburn Printmaking Workshop, A.I.R. Gallery, and apexart in Seoul, South Korea. She has also been an Artist-in-Residence at Fresh Milk in Barbados, Groundation Grenada, The Center for Book Arts, JCAL, and Lower Manhattan Cultural Council (LMCC) on Governors Island. Abrams attended the Whitney Independent Study Program and earned an MFA from Vermont College of Fine Arts and a BA from New York University.
Damali Abrams is one of four artists participating in the 2021 NYC Artist Residency Program dedicated to supporting the voices of underrepresented artists in NYC who identify as Black and whose research-based practices fill in gaps in historical knowledge. The program is organized by Guest Curator Rachel Gugelberger.
The 2021 NYC-Based Artist Residency Program is supported, in part, by public funds from the New York City Department of Cultural Affairs in partnership with the city council, The Cowles Charitable Trust, and generous support from individual donors.