Exhibition | Jul 11 - 18 2023
METAPHOR-MOSIS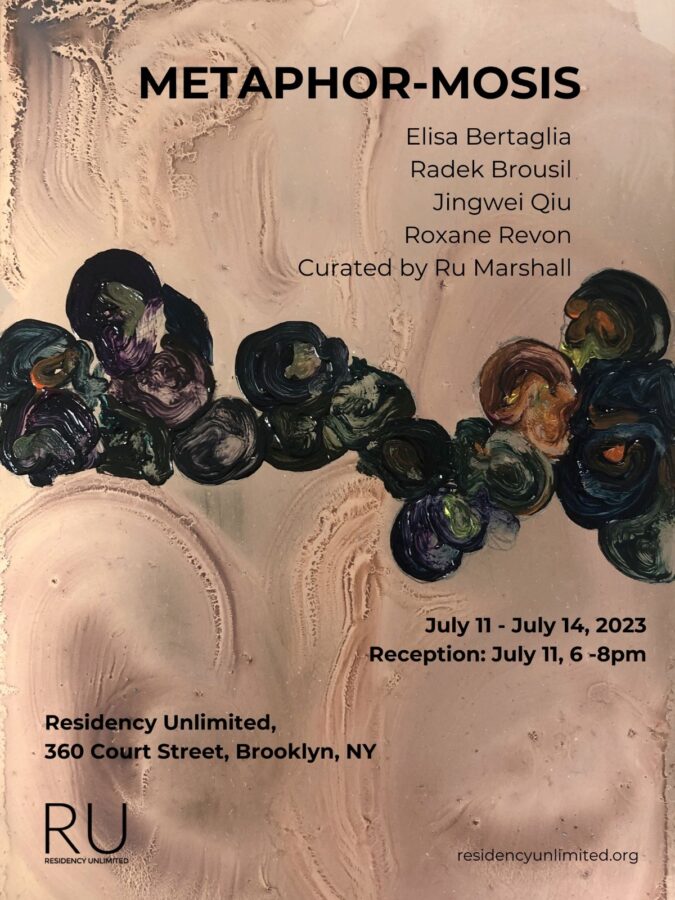 Location: Residency Unlimited
360 Court Street (main green church doors), Brooklyn NY 11231 (map)
On view: July 11-14 & July 17, 11am-6pm | July 18, 11am-4pm
Opening: Tuesday July 11, 2023 | 6:00 - 8:00pm
Participating 2023 resident artists: Elisa Bertaglia, Radek Brousil, Jingwei Qiu, Roxane Revon
Curated by Ru Marshall (RU Guest curator)
Click here to view the online catalogue
"There are moments," writes Michel Foucault, "where the question of knowing if one can think otherwise than one thinks and see otherwise than one sees is indispensable …." Metaphor-mosis brings together four local and international artists participating in Residency Unlimited's Brooklyn based Artist in Residency program. Their work, largely created during their time in residency, explores hidden processes of micro-transformation through which new approaches to seeing and new systems of meaning can emerge.
Elisa Bertaglia's conceptually based (and alchemically inflected) paintings analyze how symbols function as semantic thresholds and the ways material transformations can give voice to things unsaid.
Radek Brousil's work interweaves photography and painting to interrogate the underlying assumptions that frame our reading of both media while suggesting broader ways to think about social, cultural, and environmental issues.
Jingwei Qiu's sculptures, installations, and works on paper use unexpected materials and processes to explore the covert metaphorical possibilities that inhere in "grassroots" Chinese worship culture.
Roxane Revon's videos of germinating plant life (some of which serve as backdrops for dance performances) interrogate the conventionally held dichotomy between human and non-human environments and lead the audience into an alternate temporal zone.
Click below to see images from the opening and installation views
This program benefits from the support of SARAHCROWN, Officine Saffi, Martina Corbetta, The Ministry of Culture of the Czech Republic, The European Union and Czech Recovery Plan and The Hollywood Sculpture Garden.