2023 | NYC | Artist
Elisa Bertaglia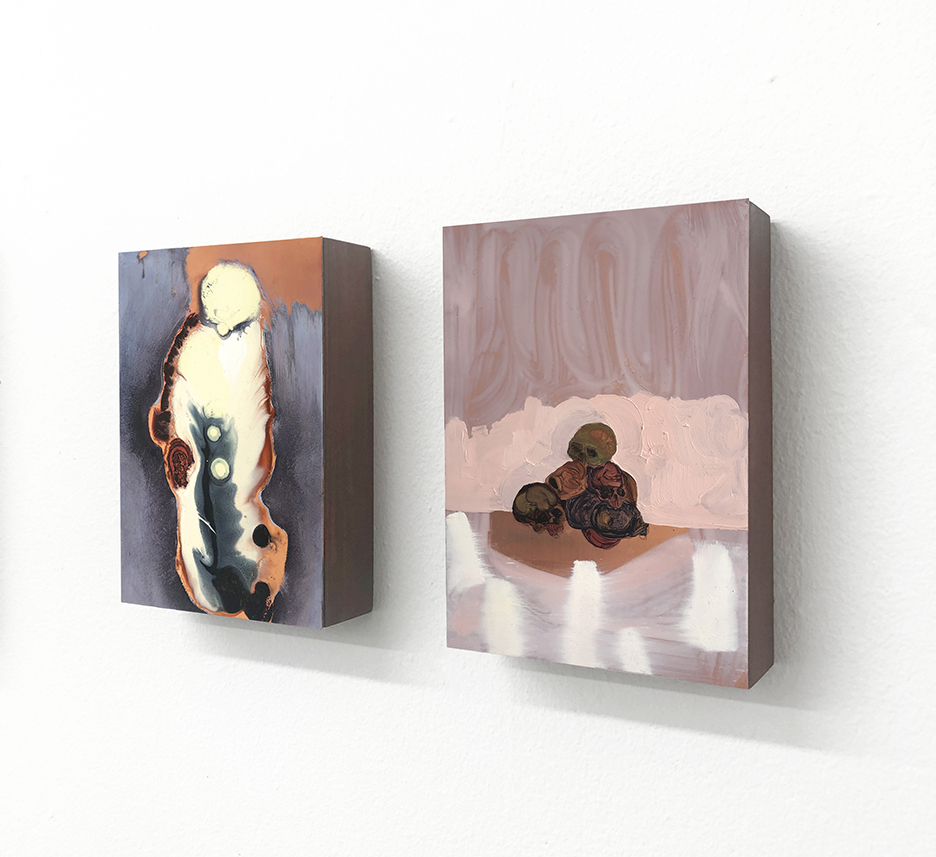 Elisa Bertaglia, "Dance Macabre", 2022, oil on copper. Courtesy SARAHCROWN Gallery
Artist Name: Elisa Bertaglia
Residency Dates: February - July 2023
Born: 1983
Hometown: Rovigo, Italy
Lives & Works: Brooklyn, New York
URL: http://www.elisabertaglia.com | Instagram: @bertagliaelisa | Facebook: Elisa Bertaglia
Gallery: SARAHCROWN | Officine Saffi | Martina Corbetta | MZ Galerie | Pierogi Flat Files
Education:
2009 | MFA in Painting, Academy of Fine Arts, Venice, Italy
2006 | BFA in Painting, Academy of Fine Arts, Venice, Italy
Bio/Statement:
Elisa Bertaglia is an Italian visual artist based in Brooklyn, who in her artistic research, freely pursues layers of experimentation by using changing mediums and techniques. Despite starting her career primarily as a painter, in recent years Bertaglia's practice has become more eclectic and experimental, leading her to create wall drawings, sculptures, ceramics, installations, large or small scale paintings, and site-specific projects.
Through a philosophical and conceptual approach, the artist investigates symbols in contemporary society and its short circuit which in recent years brought forth an identity and communication crisis. In particular, she analyzes the symbol as a semantic threshold in which a signifier and a meaning merge to communicate a universal message. Her research is strongly influenced by oriental philosophical doctrines, which develops a peculiar vision of time and space in her work. As demonstrated from the titles of her work, Bertaglia's work is open to different spheres of influence. Among these, literature and cinema have always played a central role.
Bertaglia has presented her work internationally at various venues, galleries and museums including: Hic sunt Leones, solo show, Palazzo Madama, Turin, Italy (2020); CAF - Nebula, Museum of Modern Art, Saitama, Japan (2019); Cendriers, MZ Galerie, Augsburg, Germany (2019); Progetto Borca, Borca, Italy (2014); 54ma Venice Biennale, Academy Pavilion, Arsenale, Venice, Italy (2011); Art and Science, Guggenheim Museum, Venice, Italy (2010).
Her work has been selected for various awards including the Exibart Prize (Rome, Italy); Arte Laguna Prize (Venice, Italy); Sunny Art Prize (London, United Kingdom); OTTN (Milan, Italy); Bevilacqua La Masa (Venice, Italy). Previously Bertaglia has participated in artist residencies such as ESKFF, at MANA Contemporary (Jersey City), Kunstraum (Brooklyn), Dolomiti Contemporanee and Progetto Borca (Italy). Her works are in select permanent collections such as the Collection City of Milan, Banca Sistema and Eileen S. Kaminsky Family Foundation.
Support: Elisa Bertaglia's residency is made possible with support from SARAHCROWN, Officine Saffi, Martina Corbetta, and private collectors.