2023 | NYC | Artist
Roxane Revon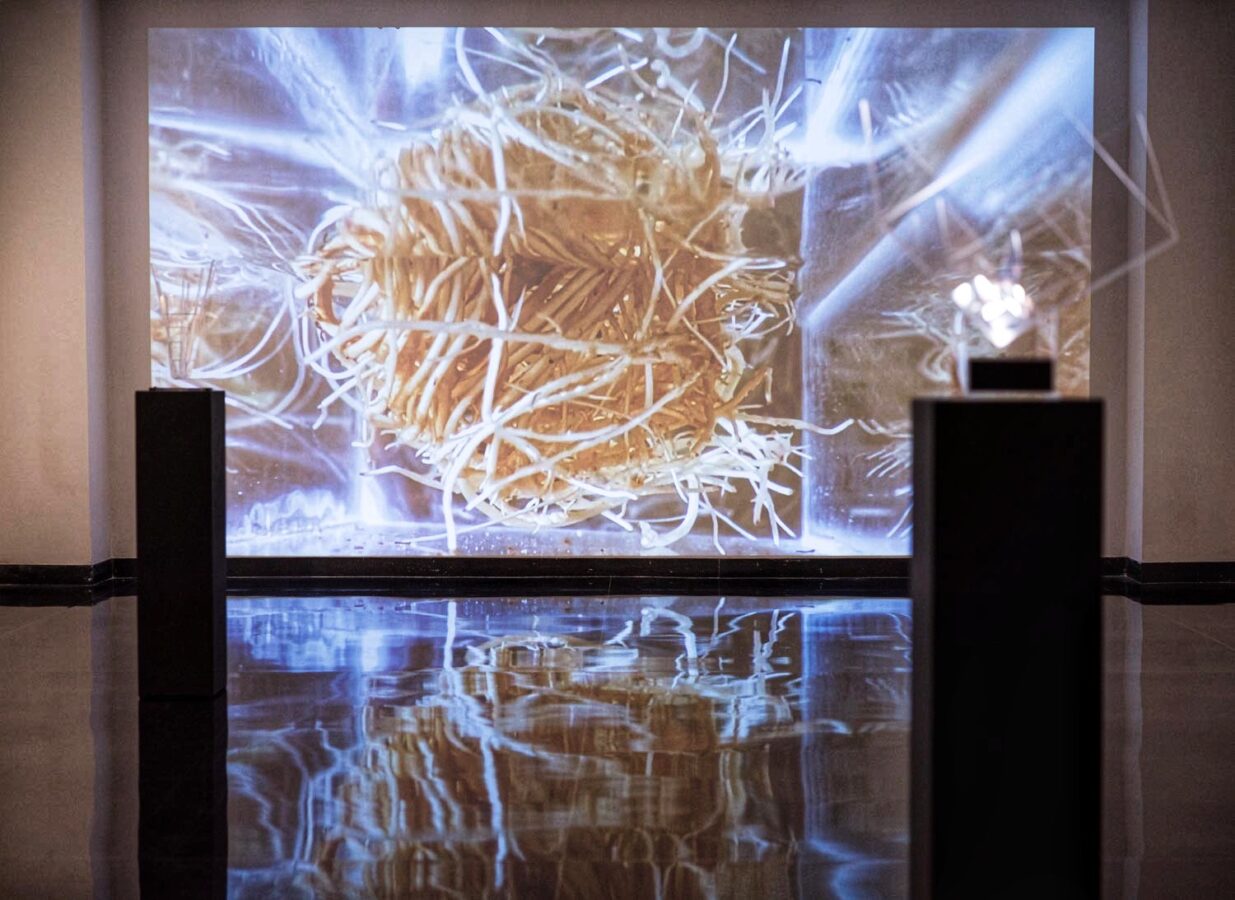 Roxane Revon, "Hidden Places" installation view, French Institute Alliance Française, 2022.
Artist Name: Roxane Revon
Residency Dates: May - October  2023
Born: 1986
Hometown: Les Lilas, France
Lives & Works: Brooklyn, NY
URL: https://www.roxanerevon.com | Instagram: @roxane_revon
Education:
2018 | Certificate in Performance art & Directing ("A practical approach to directing"), Yale School of Drama
2016 | Certificate Stanford Ignite, Stanford GSB
2010 | MA in Philosophy, La Sorbonne University, France & Roma II University, Italy
2007 | BA in Philosophy and Literature, Montpellier III University, France
Bio/Statement:
Roxane Revon is a multi-disciplinary artist intrigued by the interdependence between species and more particularly between humans and vegetal beings. She grew up in France and studied philosophy at La Sorbonne University before moving to New York a decade ago where she started her artistic career and continued her education. For a decade, she has been working as an award winning stage director and scenographer while, more recently, developing multimedia installations and large drawings. Through an anthropological and philosophical approach, refusing to use the term "Nature" to refer to the non-human environment surrounding us, she plays with the transparency of reused transparent materials to form ever growing pieces in which human and plant are inevitably intertwined. She follows a methodical process (mapping underground ecosystem, germinating, photographing, and sketching a variety of plant roots) to unveil vibrant lines and abstract patterns that spread throughout her work, forming a wander that gets the audience into another temporality.
Revon has presented her work internationally at various venues, galleries and institutions including: Garden Mysteries, Eleusis European Capitale of Culture 2023, Greece; Unnatural Processes, Westbeth Gallery, New York (2023, forthcoming); Hidden Places, solo exhibition, French Institute Alliance Française (FIAF), New York; Roon's Rhizomes, solo exhibition, Cinema Supply Gallery, Chelsea, New York; The Flag Project RC, Rockefeller Center, New York; Exquisite Corpse, Venice Biennale and Art Basel Miami; Art on Paper, Azart Gallery, New York; Visceral 3D, MADS Gallery, Milan; Green, Green World, LA Fenice Gallery, Hong Kong (2022); Art in the Wild, NYU Tandon / Integrated Digital Media, New York (2021). As a scenographer, her recent creations include Shades of Spring, a ballet choreographed by Jessica Lang that premiered at the Joyce Theater (NY) and the Mozart opera Cosi Fan Tutte at The Kimball Theater (VA).
Her recent residencies include LMCC Art Center on Governors Island, NY (2021), Buinho FabLab, Portugal (2021) Art and Science residency at Cold Spring Harbor Laboratory, NY (2022), Cinema Supply Art program, Chelsea, NY (2022-2023). She is a recipient of the 2022 LMCC Creative Engagement grant, the Celia & Wally Gilbert Fellowship, and the 2023 Donatello and Leonardo Da Vinci Prize (Italy).
During her residency, Roxane will occupy studio space at the RU/KODA house on Governors Island where she will work on Garden Mysteries, a series of cyanotypes artwork based on mint and barley plant shapes used during Persephone's mysteries for Eleusis European Capital of Culture as well as Encounters, a series of mycelium sculptures, a fungus root-like structure that has led the artist to be pre-selected for consideration for the SMACH biennale in the Dolomites.