New Rochelle Business Improvement District (BID)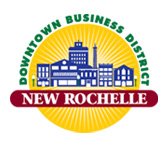 Starting July 2016, Residency Unlimited (RU) is pleased to announce the launch of a collaboration with the New Rochelle Business Improvement District (BID). Curated and directed by Livia Alexander for RU,  this initiative offers three months of free studio space to local and international artists in a storefront in downtown New Rochelle at 5 Anderson Street. This program is focused on artists with participatory, socially-engaged practice, while extending RU's signature customized artist-support. Bringing together artists and communities, this new residency aims to thoughtfully explore how initiatives of urban development, rejuvenation and community planning can align with pressing concerns for the environment and future sustainability, materially as well as culturally.
We are delighted to welcome artists Brandy Bajalia, Meredith Degyanksy, Stephanie Spitz, Thiago Gonçalves, Victoria Estok, and Wade Schaming to our first residency round. The BID will also  draw on additional in and outdoor spaces made available to us throughout summer 2016 for additional spot exhibitions, performances and impromptu interventions. A list of events can be found at here.