Alumni News |
Sep, 2012
Zachary Fabri – Fall Exhibitions 2012, Third streaming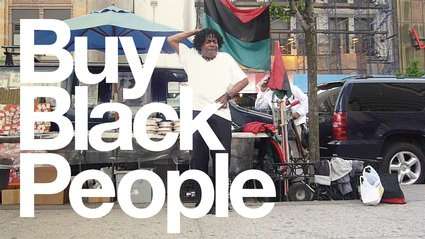 Marrow in the Morrows- Zachary Fabri
Dates: September 13 – November 9, 2012
Place: Third Streaming, 10 Greene Street, 2nd Floor
New York, NY 10013

Tag: Solo Exhibition
Exhibition Dates:
Opening Reception:
Wednesday, September 12, 2012, 6 – 8pm
First Performance:
Thursday, October 11, 2012, 7 – 9pm, doors open at 6:30pm
Zachary Fabri in conversation with Adrienne Edwards:
Tuesday, October 16, 2012, 6:30 – 8:30pm

Final Performance:
Tuesday October 30, 2012, 7 – 9pm, doors open at 6:30pm
Third Streaming opens the fall 2012 season with Marrow in the Morrows, Zachary Fabri's first solo exhibition in the United States. The show features new and recent work, bringing together video, photography and text-based prints along with several evenings of performance.
Through his interdisciplinary practice, Fabri interrogates power structures and current forms of political oppression, particularly as they affect people of color. He draws inspiration from sources that range from popular culture, advertising and media to the history of art, dance and performance. Fabri then injects these underlying foundations with elegant, absurd and/or humorous sensibilities to critique the idiosyncrasies of daily life.
The 'marrow' of the exhibition's title refers literally to bone marrow, and in turn to the physicality of the artist's body, but also represents a greater unifying, life-giving substance. The 'morrows' describe an indeterminate future, unconfined by any place or time. Together, the two speculate about subsequent generations, as stated by the artist: "_Marrow in the Morrows_ makes me question what the future holds for people of color. So much of my work has been about examining the past and comparing it with the present."
For more information visit:  http://www.thirdstreaming.com/calendar/55-zachary-fabri
RELATED: