Alumni News |
Sep, 2012
Summer Nights Series – Arte Institute presents: Andrea Bianconi and Mark Bolotin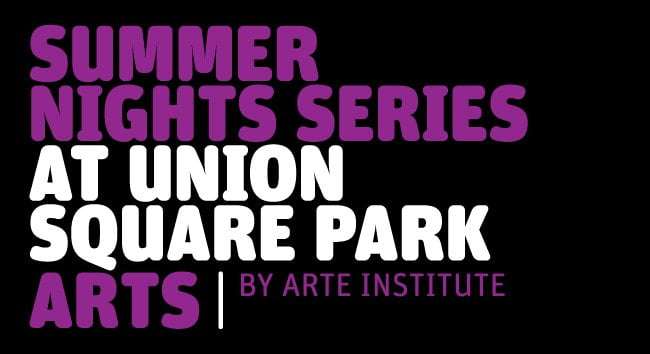 Union Square Park, September 21, 8 PM
The last session of Summer Nights Series 2012 will take place at Union Square Park, September 21, 8 pm.
Arte Institute will screen videos by the artist Luísa Jacinto and Andrea Bianconi. Mark Bolotin will return with the "The Lumiphonic Creature Choir" for a full band concert.
After the success of the NY Portuguese Short Film Festival (June 2011), Arte Institute created the Summer Nights Series, adding an outdoor dimension to Portuguese culture, which turned out to be ideal for the New York busy way of life.
All sessions are free and open to the public.
http://us2.campaign-archive2.com/?u=228fb860b52f558b4e267f52e&id=efdd211de9&e=71a6cd7048
Summer Nights Series 2012 is made possible in part with public funds from the Fund for Creative Communities, supported by New York State Council on the Arts and administered by Lower Manhattan Cultural Council.
Summer Nights Series 2012 is made possible in part with public funds from the Manhattan Community Arts Fund, supported by the New York City Department of Cultural Affairs in partnership with the City Council and administered by Lower Manhattan Cultural Council.
Romance by Andrea Bianconi
Andrea Bianconi creates ROMANCE, an artist book and video that illustrate a segment of his stream of consciousness. In his book, each page incorporates several images revealing a representation of his thoughts as they appear in the mind. The text is traversed by an unreachable flow of meaning.
There is a continuous relationship between each word, thus each image is connected to the next. His work has no beginning or end, but rather a circular narrative indicating a discourse-course that is crossed by endless chain of association, void, surplus, lapsus. Bianconi transforms his book into a video alluding to Italo Calvino's 'mental cinema', believing images are always being projected in our minds as part of the imaginative process of reading.
ROMANCE is a blend of construction and deconstruction, of closing and opening, of intimacy and extroversion -- an endless chain of associations.
ROMANCE is published by cura.books, and the video produced while at Residency Unlimited, NYC.
ROMANCE is also a performance, according to his last performance "Trap for the Mind", the artist wears masks in front of a mirror, which become literal facets, slowly and simultaneously divulging and consuming.
Andrea Bianconi  (Italy, 1974) lives and works in New York and Vicenza (Italy). He is currently working as an artist-in-residency at Residency Unlimited, NYC. He has had exhibitions at: Peekskill Project 2012, Hudson Valley Center for Contemporary Art, Peekskill, NY, USA (Upcoming); Barbara Davis Gallery, Houston, TX; Sheila C. Johnson Design Center at Parsons The New School for Design, New York; ISCP, Brooklyn, NY; Volta Show, New York; Film Society Lincoln Center, New York; Italian Embassy, Washington DC; Centro del Carmen, Valencia, Spain; Matadero, Madrid, Spain; Kunsthal Charlottenburg, Copenhagen, Denmark; Swiss Architecture Museum, Basel, Switzerland; Maraya Art Centre, Sharjah, United Arab Emirates; Palazzo Reale, Milan, Italy; Furini Arte Contemporanea, Rome. And had also made public art performances such as The Chinese Umbrella Hat Project (Part I), Wujiang Rd West Nanjing Rd, Shanghai, China a collateral event of the Expo 2010; The Chinese Umbrella Hat Project (Part II), Piazza San Marco, Venice, Italy a collateral event of the Venice Biennial 2011. His works are presented in many public and private collections and recently published in a monographic and multilingual publication by Charta Edition.
His first artist book will be published in September 2012 by cura.books.
Performance
The Lumiphonic Creature Choir by Mark Bolotin
"The Lumiphonic Creature Choir" is a unique new multimedia performance where a group of musicians interact live with a giant twelve-headed audio-visual creature. Currently being developed in New York City. This project is realized  within the framework of Mark Bolotin's joint and current residency with Casita Maria Center for Arts and Education  and Residency Unlimited.
Watch video here.
Visit http://www.synarcade.com.au for more info.
Don´t miss it!
RELATED: