2020 | NYC | Artist
Yoko Inoue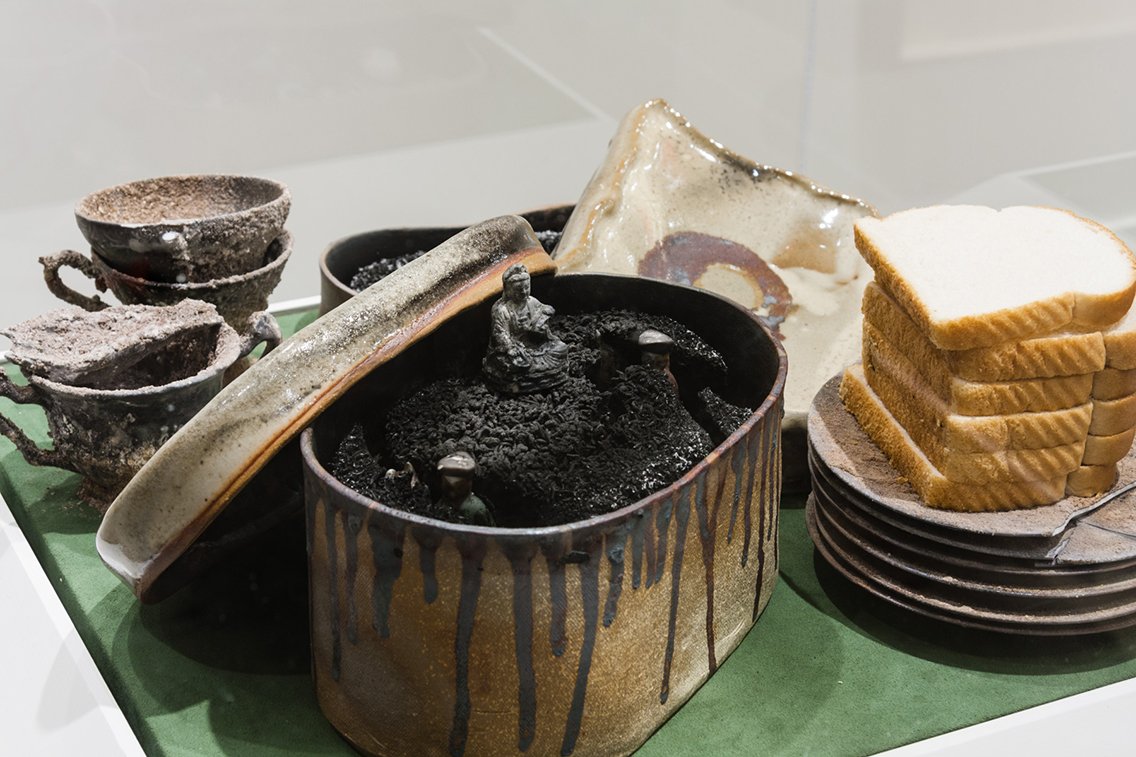 Black Rice/White Bread from the exhibition: Tea Taste, Democracy and Upside Down Objects, 2017, Wood fired ceramics, charred rice, fresh white bread. Courtesy the artist.
Yoko Inoue explores cultural commoditization, assimilation and identity issues through installations, collaborative socially engaged projects and public intervention performance art. Her studio practice explores how the meanings of products and cultural objects are transformed by capitalist market strategies, migration, hyper-consumerism, and popular culture. Inoue teaches food justice at Bennington College by using methodologies of craft pedagogy in collaboration with local non-profit organizations. Her research projects include the relationship between craft skills and traditional food production and preservation methodologies.
Inoue is a member of the food sovereignty research group Humanity Across the Borders (Asia-Africa) at the International Institute of Asian Studies, Netherlands, and is a Research Fellow at the Center for Innovation in Traditional Industries at Kyoto Seika University in Japan.
Inoue has held solo exhibitions at Momenta Art and Von Lintel Gallery in New York City, where her work has also been exhibited at Brooklyn Museum of Art, Sculpture Center, Rubin Museum, The Bronx Museum, Lower Manhattan Cultural Center and Greene Naftali Gallery, as well as at Des Moines Art Center, IA; Yerba Buena Center for the Arts, San Francisco, CA; and Contemporary Art Center in Vilnius, Lithuania. She is a recipient of a Guggenheim Fellowship, The Joan Mitchell Grant, NYFA Fellowship, Lambent Fellowship, Franklin Furnace Performance Fund, Anonymous Was A Woman Award among others. Inoue has pursued research-based projects internationally in Peru, Ecuador, Bolivia (Jerome Foundation Travel & Study Grant), Brazil (Sacatar Foundation Residency), and France (LMCC Paris Residency / Mairie de Paris) and participated in thematic residency programs around Food Justice, Immigration and Labor at Santa Fe Art Institute, NM. She received an MFA from CUNY Hunter College in New York, NY.
Yoko Inoue is one of seven artists participating in Food Futures, RU's second annual thematic artist residency program centered around the question of food resilience in urban environments. The program is directed by curator Livia Alexander in collaboration with food writer and poet Betsy Andrews, artist and activist Miro Gal, and artist and food editor Allie Wist with the assistance of RU Administrative Intern Romane Guéchot.
Food Futures is supported, in part, by public funds from the New York City Department of Cultural Affairs in partnership with the city council and with generous support from the National Endowment for the Arts.