2023 | NYC | Artist
Yifat Bezalel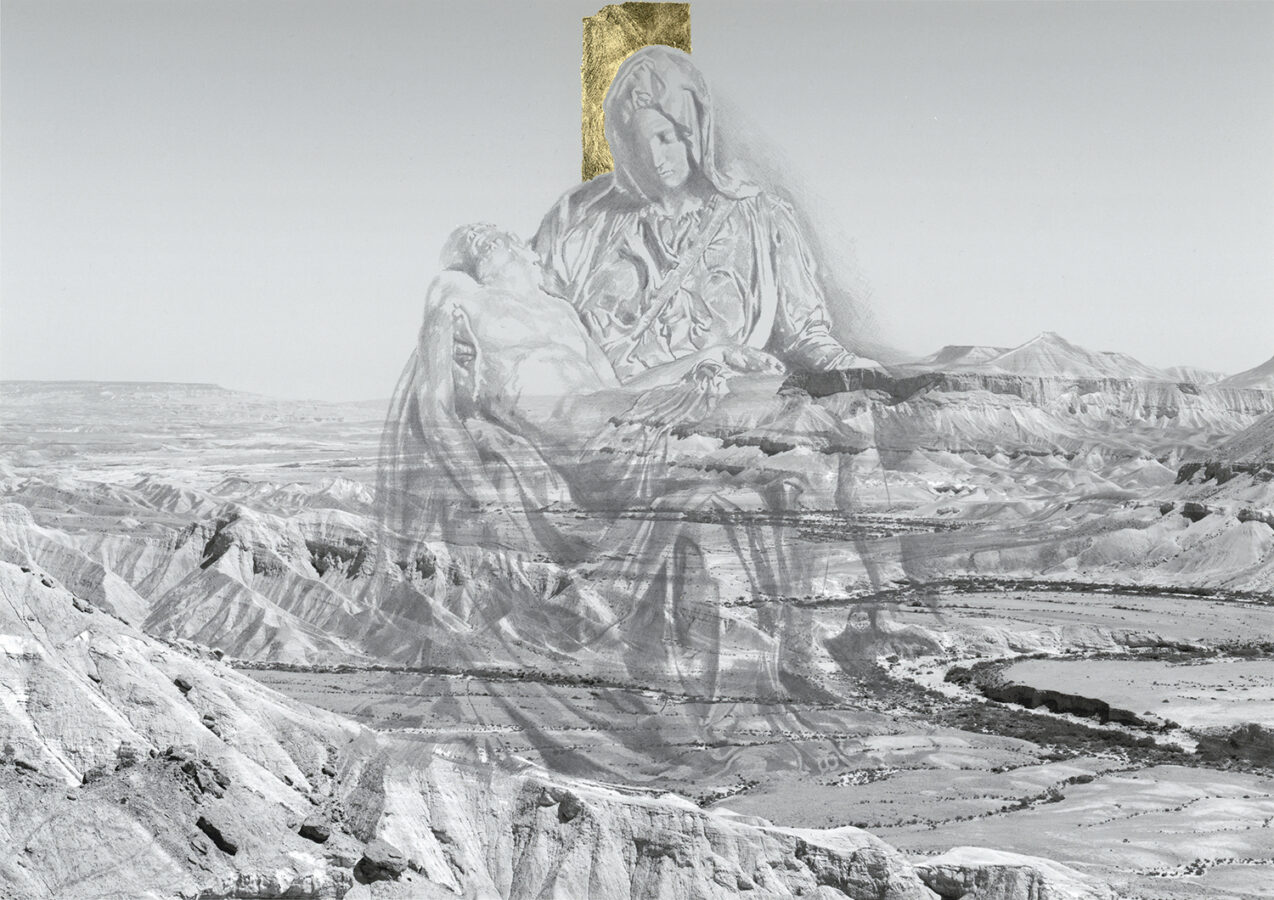 Yifat Bezalel, "Never Let Me Rise Again", 2019, drawing on archival pigment print.
Artist Name: Yifat Bezalel
Residency Dates: May - June 2023
Born: 1975
Hometown: Tel Aviv Yaffo, Israel
Lives and works: Tel Aviv Yaffo, Israel
URL: Instagram: @yifatbezalel
Gallery: Gowen Contemporary | Mirav Katri
Education: Bezalel Academy of Art and Design, Jerusalem, Israel
Bio/Statement:
Yifat Bezalel is trained as a classical and academic artist, and over the years she has established her unique technique. In her work process she superimposes semi transparent pencil layers of figurative and realistic images creating surreal realms. Her works have often been described as having an ethereal quality to them.
Works by Bezalel ask for a different kind of attention—slower and more reflective. They come from previous or other worlds where the image had the power of revelation or prophecy. The white stretches of paper are meditative spaces for exploration and experimentation in emerging forms of emotion and thought. We sit in front of them like we once sat in holy places, in silence and awe. Bezalel's motifs belong to the long history of art, from the Renaissance to Francisco Goya, René Magritte, to Gerhard Richter. Most of these references operate below the threshold of consciousness, but precisely because of this they trigger and renew the power of the past in the present. The image slowly reveals and unfolds itself on the paper, it rises from the white void, curls and folds. It is first and foremost a record of time and of movement, and only then does it evolve to become an idea or a story.
Bezalel's most recent solo exhibition I Tried to Trick the Gatekeepers, curated by Dr Roy Brand, was held at Parterre Projects in Tel Aviv (2022). Other notable exhibitions include: Escape Line II - Drawings and Sculptures at Gowen Gallery, Geneva (2021); Drawing a New World at Purdy Hicks Gallery, London (2019); solo exhibition Tehilla at Tel Aviv Museum of Art, curated by Dalit Matatyahu (2017); "Personal Structures" project as part of the 53rd Venice Biennale (2013); Israel Now: Reinventing the Future at the Museum of Contemporary Art of Rome (2013); Alice in Wonderland at Tate Liverpool (2011-2012). She has also exhibited at other venues worldwide, including Rovereto Contemporary Museum, Hamburg Kunsthalle Vida Museum, Negev Museum, London Drawing Room, ArtGeneve art fair, Drawing Now art fair and DB London.
In 2020, Bezalel was selected to participate in Stella McCartney's Life drawing with Saatchi Gallery. She was awarded the Rappaport Prize for young Israeli artist in 2016, the Outset support grant in 2015, and the Cultural and Sport Minister award in 2014. Her works can be found at the V&A collection, the Deutsche Bank collection (click here to read the artist's interview with the head curator of Deutsche Bank), TAMA museum, Wirth private collection, the Art Partners Fund NY and other private collections.
Bezalel graduated from the Bezalel Academy of Art and Design, where she has also been teaching since 2016.
Support: Yifat Bezalel's residency is made possible with support from Artis.