2012 | NYC | Artist
Wojciech Gilewicz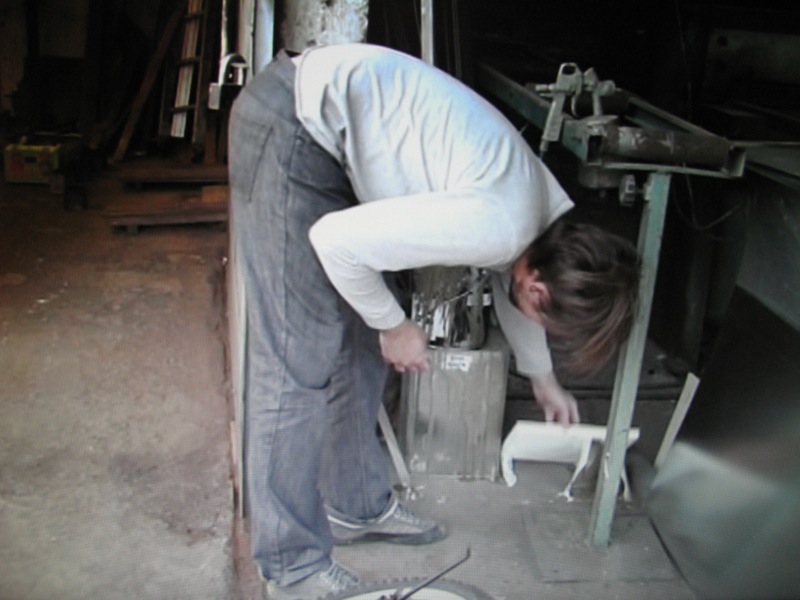 IMG_3054
Bat Yam, video still (DVD), 4'51, 2009
Wojciech Gilewicz (b.1974, Bilgoraj, Poland) lives and works between Warsaw and New York. A painter, photographer and author of videos and installations, Gilewicz's practice reflects on the mechanisms and cultural determinants governing our perception of the surrounding world. In his recordings of reality, Gilewicz remains loyal to the painting tradition, yet seeks to investigate the boundaries of art and space. A frequent motif is the replacing of elements of the real world with their painterly replicas in public-space locations, deliberately exposing them to the effects of sunlight, rain, wind or the human factor. As such, Gilewicz points to the immense power of the painting medium that is able to perfectly imitate reality, while at the same time, denying the meaningfulness of painting, because his pictures remain invisible. As a photographer, each frame registered by his camera becomes a painting, fluidly registering the surrounding social relations and taking place 'outside' of the artist's actions. Gilewicz actively collaborates with the viewer, whom he involves in his projects and takes on board issues related to the role of painting in today's world, and the status of the artist in the context of the institution and of the art market.
In 2009 the Ujazdowski Castle Centre of Contemporary Art in Warsaw published Them – an artistic album of Wojciech Gilewicz's work, which presented a series of photographic double self-portraits from  2002 onwards and which continues to date.
Solo exhibitions include: Biala Gallery, Lublin (Poland); CCA Ujazdowski Castle (Laboratorium Gallery), Warsaw (Poland); Fondation Deutsch de la Meurthe, Paris (France); Arsenal Gallery, Bialystok (Poland);  Foksal Gallery, Warsaw (Poland); Museum of Fine Arts, Ivano-Frankivsk (Ukraine); Entropia Gallery, Wroclaw (Poland); Contemporary Art Museum St. Louis, St. Louis (USA); BWA Awangarda Gallery, Wroclaw (Poland); Bunkier Sztuki, Krakow (Poland); Flux Factory, New York (USA); Manggha Museum, Krakow (Poland).
Group exhibitions include: National Museum (Krolikarnia), Warsaw (Poland); Zacheta National Gallery of Art and Zacheta (Kordegarda Gallery), Warsaw (Poland); CCA Laznia, Gdansk; Muzeum Sztuki, Lodz (Poland); Pianissimo, Milan (Italy); BWA Awangarda Gallery, Wroclaw (Poland); SculptureCenter, New York (USA); appendix2, Warsaw (Poland); Zendai Museum of Modern Art, Shanghai (China); CoCA Znaki Czasu, Torun (Poland); Aspen Art Museum (USA); BWA Zielona Gora (Poland); Museums of Bat Yam (Israel); Museum of Contemporary Art, Belgrade (Serbia); castillo/corrales, Paris (France); Bunkier Sztuki, Krakow (Poland);  ISCP Gallery, New York (USA); FRAC Limousin, Limoges (France); National Museum of Contemporary Art (Changdong Art Studio), Seoul (South Korea);  The Hebrew Gallery, Tel Aviv (Israel).
Gilewicz's residency in New York is supported by the Adam Mickiewicz Institute and the Ministry of Culture and National Heritage of the Republic of Poland.