2018 | NYC | Artist
TOMAS DIAZ CEDEÑO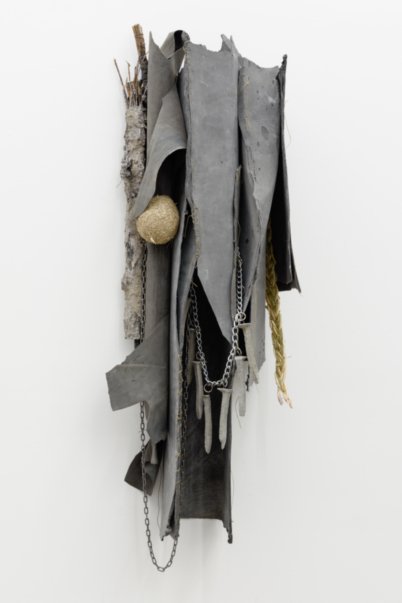 Pig skin, branches, seeds, roots, earth, garlic, concrete nails, pigment, hemp, fabric and plaster. 2018.
Se hizo un pequeño hoyo en la tierra con las manos
Bio / Statement:
Tomás Díaz Cedeño is a Mexico City-based artist whose practice focuses on questions relating to the body, how the body is or how it can be represented. Díaz Cedeño probes the limits between objecthood and humankind by examining the expressive range material objects can embody when forced into previously unknown relationships in an obsessive artistic encounter. A case in point is a recent body of sculptures realized for his solo show at BWSMX in 2018. Although these works have a  reflective quality they are not mirrors, but  are intended to meaningfully reflect varied – and often repressed — human desires and fears. Formally, the sculptures are intended to evoke, frontally, the scale and presence of large human bodies; that the pigmented plaster of the sculptures suggests a white flesh is also no accident. The artist  examines these questions through a delicate, tenuous–even grotesque–visual language rooted in a committed, intimate dialogue with the materials he uses.
See here article by Nika Chilewich about Vessels.
Support: TOMAS DIAZ CEDEÑO's residency is made possible with support from Peana Projects and Rockefeller Brothers Fund.