2022 | NYC | Artist
Téo Betin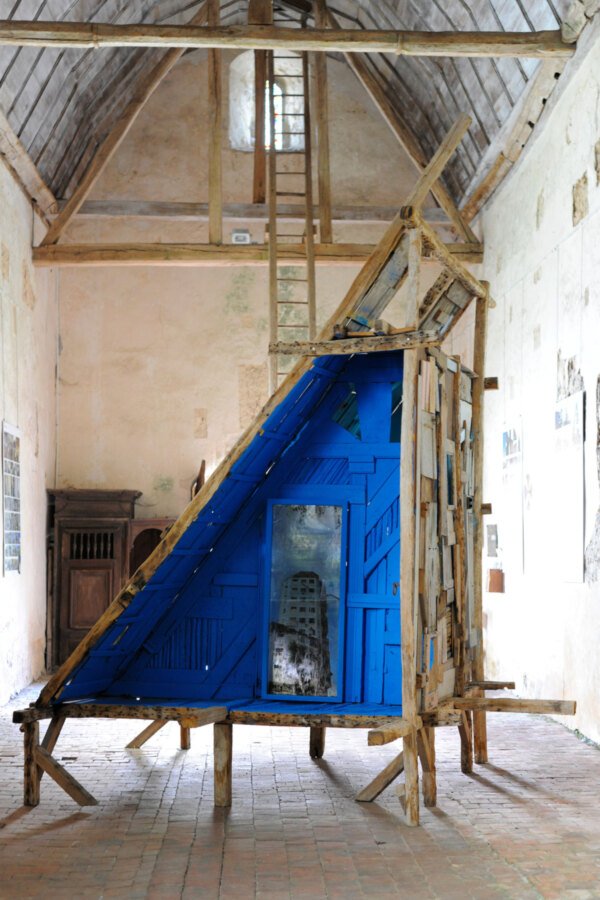 Téo Betin, The Wholly of Holly, wood, paint, fixé-sur-verre, 267 x 240 x 554 cm, 2019.
Artist Name: Téo Betin
Residency Dates: March 2020, April – May 2022
Born: Thiais, France
Hometown: Paris, France
Lives & Works: Paris, France
URL: http://www.teobetin.com
Education: Master from the Ecole Supérieure des Beaux Arts in Paris
Téo Betin lives and works between Paris (France) and Maputo (Mozambique). He graduated from the Ecole Supérieure des Beaux Arts in Paris in 2014. His sculpture work blends assemblage and photographs (fixé-sur-verre). Betin's constructions play between interior and exteriors, bringing a look at the different types of spaces that surround us. Between architecture and object, the sculptures of Téo Betin question the concept of absence.
In 2022, he's invited to participate to the 1st intercontinental biennale in Guadeloupe. He's realized a series of sculpture and installation in the summer of 2021 for the Potager du Roi (the royal garden) in Versailles, France. In 2020, he is laureate of the the program "residence Étant donnés" for a project in Brooklyn, New York. He also participated in the first parcours of Art and Patrimony in Perche "le Chemin des impossibles" in 2019. In May 2018 he participated at the biennale of Dakar, Senegal. His sculpture Villa I was exhibited at the Gallery des Filles du Calvaire, Paris in the collective exhibition Métamorphose de l'ordinaire in September 2017. He also was part of the Forest Art Guyana 2017.
Support: Téo Betin's residency is made possible with support from Etant donnés Contemporary Art, a program of Villa Albertine and FACE Foundation, in partnership with the French Embassy in the United States, with support from the French Ministry of Culture, Institut français, Ford Foundation, Helen Frankenthaler Foundation.

RELATED: