2023 | NYC | Artist
Tatiana Arocha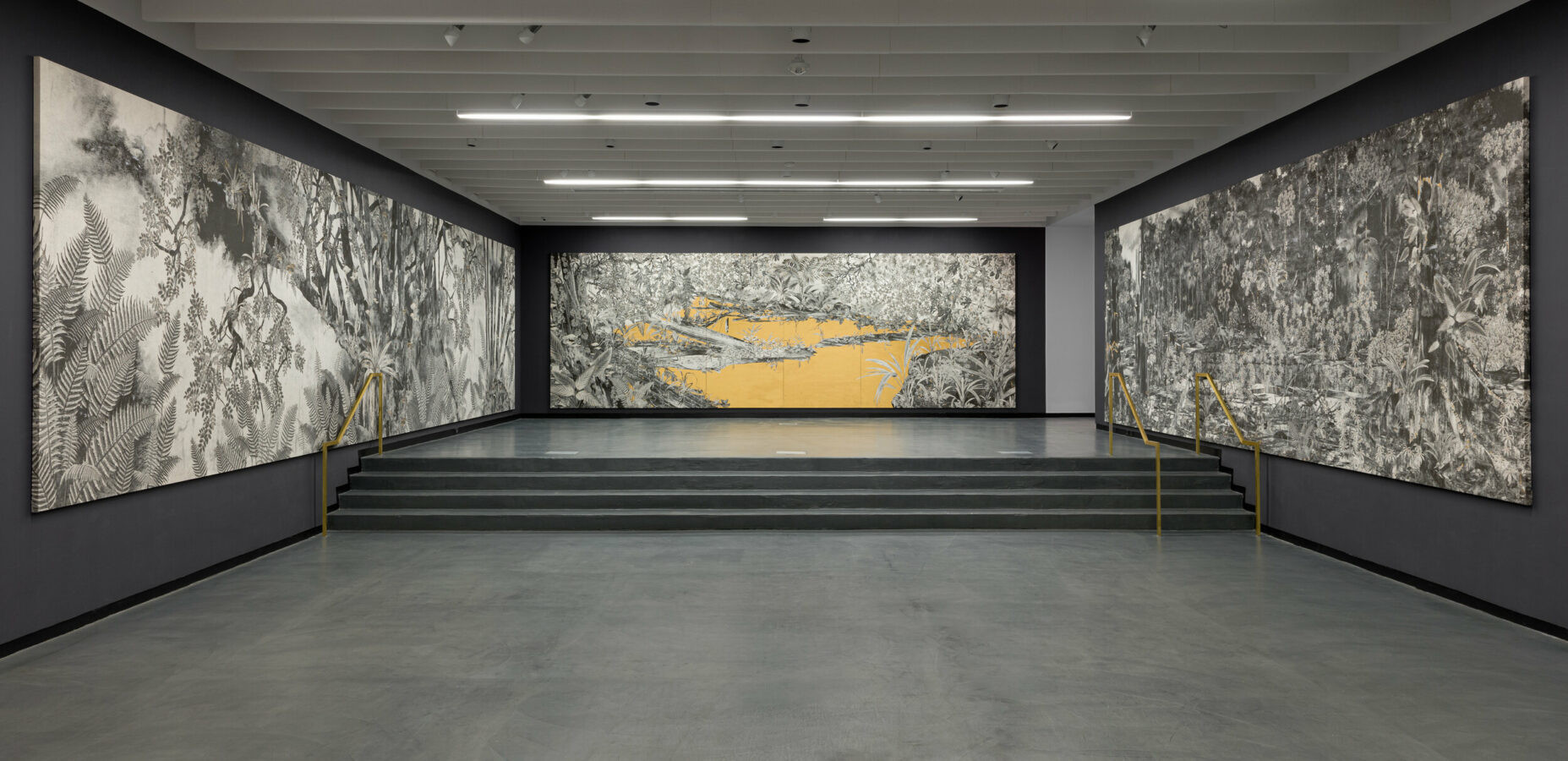 Tatiana Arocha, "Respiro un bosque", 2019-2021, Installation view Sugar Hill Children's Museum for Art & Storytelling, Photo: Etienne Frossard, Courtesy of the artist
Artist Name: Tatiana Arocha
Residency Dates: April - June 2023
Born: 1974
Hometown: Manhattan, NY
Lives & Works: Brooklyn, NY
URL: http://www.tatianaarocha.com/
Education:
2016 | Mural Arts Philadelphia Training Program, Philadelphia, PA
1999 | BFA in Graphic Design, Jorge Tadeo Lozano University, Bogotá, Colombia
Bio/Statement:
Tatiana Arocha is a New York-born Colombian artist. Rooted in personal memory and her immigrant experience, her art practice explores intimacy between people and land, and centers on community through public art interventions and transdisciplinary knowledge exchange. Most often, Arocha's works vivify and reconstruct the vulnerable tropical forests of her homeland, confronting the ecological, emotional, and cultural loss caused by extractive economies and colonial practices. In weaving together historical and contemporary technologies, her unconventional process and craft express her layered relationship with nature and cultural transformation.
Arocha's fieldwork is a process of communing with plants as she builds a personal lexicon of textures using rubbing, photographing, preserving, and tracing the forest's bark, seeds, and leaves. These experiences are enriched through conversations with indigenous people who have ancestral and contemporary knowledge of local ecology. Witnessing their relationships to the land and their more-than-human kin, Arocha sees their cultivation of forests as a process for creating social and spiritual relationships across generations and species.
In the studio, Arocha uses digital and analog approaches—drawing, frottage, digital painting—to create collaged forest portraits. These immersive compositions draw viewers into contemplation with the immense knowledge and web of relationships that the forest holds. Her monochrome palette is a metaphor for the endangered natural world, with gold details as reminders of the violent costs of extractive economies.
Arocha has held residencies at The Lower East Side Printshop, The Wassaic Project, LABverde, Sinfonia Tropico, and Zea Mays Printmaking. She has received funding from The Sustainable Arts Foundation, Brooklyn Arts Council, and City Artist Corps, and was the recipient of the Brookfield Place New York Annual Arts Commission and the FST StudioProjects Fund.
Solo exhibitions include Bajo el manto de la selva / Under the Cover of the Jungle, a site-specific installations at BRIC, Brookfield Place/Winter Garden, New York, NY (2022); Impending Beauty at BioBAT Project Space, Brooklyn, NY (2021); Respiro un bosque at Sugar Hill Children's Museum of Art & Storytelling, New York, NY (2019);  Sanctuaries at Queens Botanical Garden, Queens, NY (2016), and others at MTA Arts, Goethe-Institut Kolumbien, and Hilton Bogota Corferias. She has participated in group exhibitions such as Land Akin at Smack Mellon, Brooklyn, NY (2020); Avifauna: Birds + Habitat at Wave Hill, Bronx, NY (2018); and others at BRIC, The Wassaic Project, ArtBridge, KODALab, and The Clemente.
Click here to listen to the artist's interview where she talks about her site-specific installations at Brookfield Place New York.
Tatiana Arocha is one of five artists participating in the 2023 New York City-Based Artist Residency, dedicated to supporting the voices of underrepresented artists in NYC who identify as Black, Indigenous and People of Color and whose research-based practices fill in gaps in historical knowledge. The program is organized by Guest Curator Rachel Gugelberger.
The 2023 NYC-Based Artist Residency Program is made possible by the New York State Council on the Arts with the support of the Office of the Governor and the New York State Legislature and public funds from the New York City Department of Cultural Affairs in partnership with the city council.