2019 | NYC | Artist
Shay Arick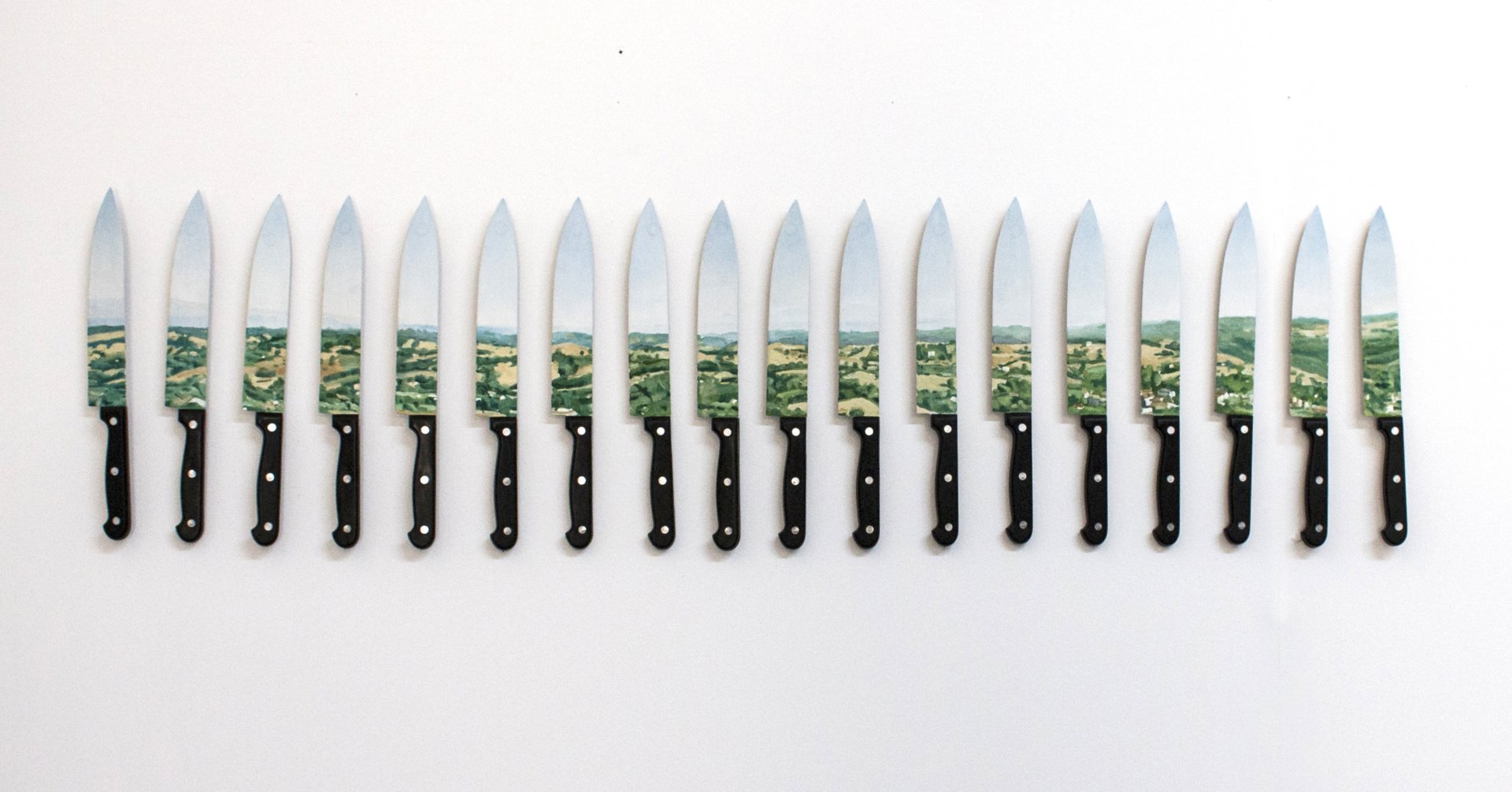 Chai
Chai, 2017, oil on knives, 18 knives 12 inch x 60 inch
Bio / Statement:
Shay Arick is a cross-disciplinary Israeli artist based in New York. His practice combines photography, sculpture, installation, performance, and video in order to explore issues of violence, social taboos, political conflicts and human behaviors. In this process, Shay deconstructs iconic cultural imagery as a form of critique and analysis.
Shay employs art history and historical archives as a founding material for multidisciplinary installations developed to expose the absurdity of societal constructs provoking dialogue around body and gender politics, desire, and power dynamics. Through his work and research, Shay attempt to comprehend the origins of human violence, by taking on the roles of victims and executioners as well as tormenters and tyrants. By doing this, he hopes to awaken the imagination of the spectators while offering a space for self-reflection and contemplation.
Solo exhibitions include LIFE, Subterranian Arthouse, Berkeley (USA), 2015 and Forge, ZIZ Art Space, Tel-Aviv (Israel), 2014. His work has been exhibited at Y Gallery, New York, Watermill Center, New York; San Francisco International Arts Festival, Southern Exposure, San Francisco; SOMArts Cultural Center, San Francisco; Subterranean Arthouse, Berkeley; Ground For Sculpture, New Jersey; ZiZ Art Space, Tel Aviv; Binyamin Gallery, Tel Aviv; Contemporary Arts Center, New Orleans; OnSpace, Beijing; Art Museum of China Central Academy of Fine Arts, Beijing, among others.
Honors include Murphy Cadogan Contemporary Arts Award, the Eileen Cooper Award For Creativity, the America-Israel Award For Excellence In Sculpture, with artist residencies at Wassiac, NY; The International Sculpture Center, NJ; MASS MoCA, North Adams; KADIST Art Foundation, San Francisco; The Watermill Center, New York; Ox-Bow, Michigan; and New York Foundation for the Arts Immigrant Artist Mentoring Program. See full exhibition history here.
Shay Arick: Photographs Of The Inner Conflict Of Those Who Live On The Israeli-Palestinian Border, interview by María Isabel Carrasco Cara Chards for Cultura Colectiva.
Nature's Dark Edge, a review of group exhibition Natural Resistance at Y Gallery by Seph Rodney for Hyperallergic.
Select Permanent Collections: Haifa Museum of Art, Haifa, Israel KADIST Art Foundation, San Francisco/Paris
Support: Shay Arick's residency is made possible with support from Mifal HaPais Council for the Culture and Arts.