2019 | NYC | Artist
Serge Serum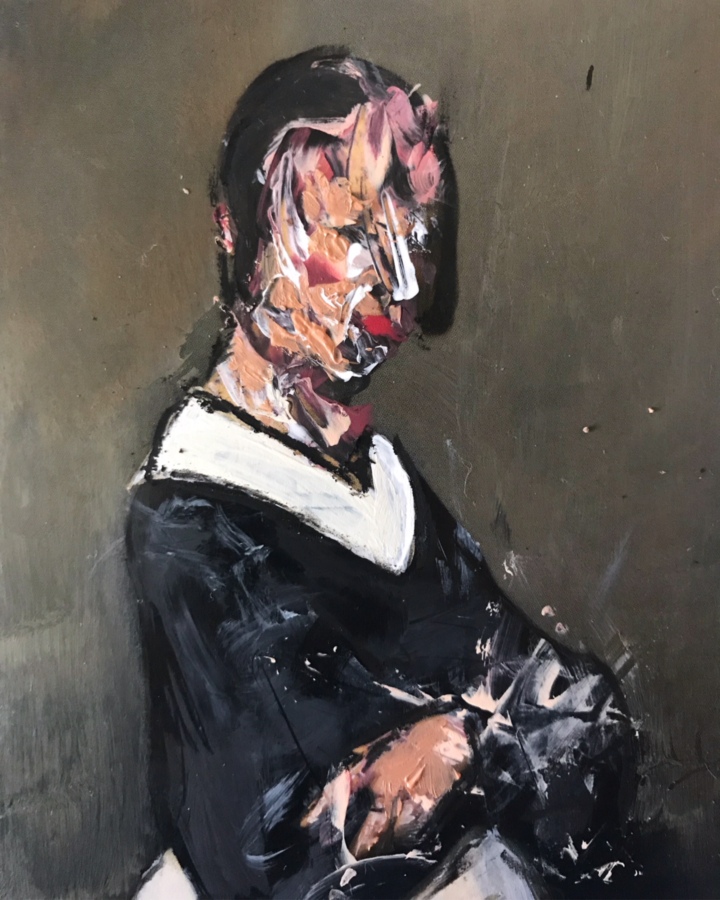 Sinful Eve
Bio / Statement:
Serge Serum is a self-taught Los Angeles based artist who does not scare easily when it comes to the complexities of the human psyche. Growing up in rough neighborhoods with high gang violence allowed him to take interest in graffiti which later transition to fine art. Serum work often creates deliberate and visible tension of opposition between an almost violent application of paint to render facial features contrasting with the surrounding flatness of the image. His work has a curiously chaotic, and yet grounded feel to it. Serge endows a feeling of ease in existing within what seems to be a messy actuality. The bold style facilitates a sort of fill-in-the-blanks dialogue with viewers that is captivating.
"Past trauma, lingered memories and the vices of human behavior is the force behind the work I create. I portray different personas and identities that have affected my life through portraiture and figurative paintings. Using mixed media, I employ different textures and heavy brushstrokes next to delicate details and often warm colors next to soft neutrals. Most paintings go through a journey and long process of dissatisfaction often getting painted over. Several layers are endured which adds to the overall thickness of paint and substance of the piece. The textures in my work I like to think of undergo scars. It serves a metaphor of the people I painted and the struggles, frustration and emotional scars abide."
Recent solo exhibitions include : 2019, Lingered Memories- Last Projects - Los Angeles; 2018, Left Uncertain...- James Black Gallery- Vancouver, Canada; Yours Truely- The Ou Gallery- Duncan, BC, Canada; 2017, To Take Comfort- Contemporary Gallery- Los Angeles; Wayward Fantasies-Funeral Diner-Portland, OR.
Group exhibition include: 2018, I Am Me and We Are Free- Hue Gallery- Kansas City; House of Spirits- One One Two Six Gallery- Los Angeles; Queer Biennal- Naval Gallery- Los Angeles; 2017, Alteration- Loosen Art Gallery- Rome; Robots And Unicorns-The Hive Gallery- Los Angeles; Radiant Future- Last Projects, Los Angeles;Resilience Art Show- Asheville, North Carolina; Red Bianco Gallery-Oslo Norway;Pop Up-Soulland- Copenhagen; Drinkin' Smokin' & West Coastin'- Think Tank Gallery- Los Angeles;Summer of Love: Reflections on Pulse- Albin Polasek Museum- Orlando,FL; Royal Trash-Bethnal Green- London; Stay Forever-Design Festa Gallery- Tokyo, Japan; 2016, The Fuchur-Think Tank Gallery- Los Angeles.
Serum's work has been featured in Amadeus Magazine (Artist Interview); Tunnel Magazine (Artist Interview); Animals Magazine; Into the Void Magazinet; Subvrt Magazine; Femini Magazine.
Check out the interview with the artist for Tunnel Magazine.
Galleries:
Last Projects
Homme Gallery

Support: Serge Serum's residency is made possible with support from the Cultural Development Fund, NYC Department of Cultural Affairs and National Endowment for the Arts /Artworks Grant.