2021 | NYC | Artist
Sandra Charles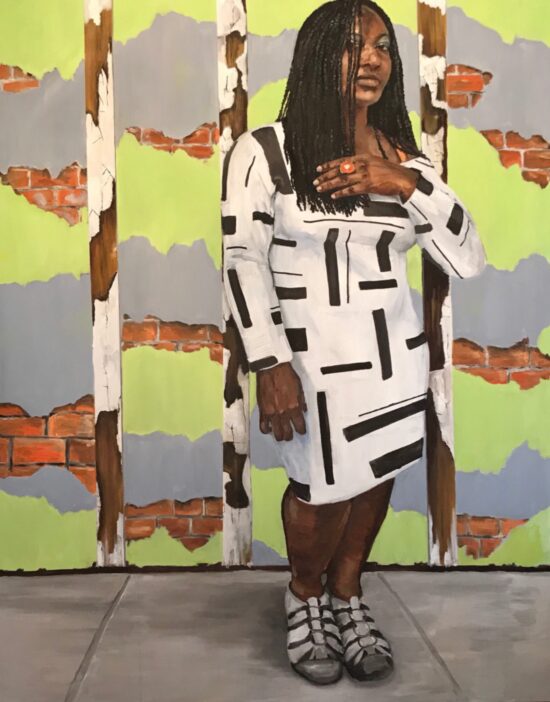 Your Wall, An Artist and Venice. Oil on Canvas
Artist Name: Sandra Charles
Residency Dates: May – July 2021
Born: 1953
Hometown: Hazard, Kentucky
Lives and Works: Louisville, Kentucky
URL: https://www.scharlesart.com
Education: Bachelors of Fine Art in Painting, University of Louisville, 2015
Bio/Statement
Sandra Charles was born in the Appalachian town of Hazard, Kentucky but grew up in Louisville Kentucky where she now resides. Her work focuses on the issues that affect African American Women, their experiences, and overcoming society's stereotypical perceptions. Her work has been exhibited at 21c Art Museum, Louisville, KY; Carnegie Center for Art and History, New Albany, IN; The Art Center of the Bluegrass, Danville, KY; Kore Art Gallery, Louisville, KY; Roots101 African American Museum, Louisville, KY; KMAC Museum, Louisville, KY and the Anne Wright Gallery, Georgetown, KY. Her work is included in both private and state collections.
Prior to 2015 Sandra worked exclusively as a figurative batik fiber artist and worked full time in risk management. Sandra found her artwork was increasingly incorporating painting techniques and in order to explore this aspect of her creativity she returned to school to study painting. Upon completion she retired from her corporate job in 2016 to focus on the problems and issues faced by African American women through her art. Sandra received the Kentucky Foundation of Women Summer Residency Grant to complete her first project, The African Warrior Queen Project which focused on the erased history of the descendants of African slaves in America. Other grants and awards include the African American Art Exhibit Mellen-Oberst Family Merit Award, the selection into the Community Foundation of Louisville's Hadley Creatives and Great Meadows Grant to attend the Venice Biennale.
This summer Sandra will be working on a series of paintings that will be exhibited in 2022. The series will address how African American women respond to the effects of systemic racism and how that response is changing the American racial narrative.
Support: Sandra Charles's residency is made possible with support from the Great Meadows Foundation, Louisville KY.