2021 | NYC | Artist
Rotem Reshef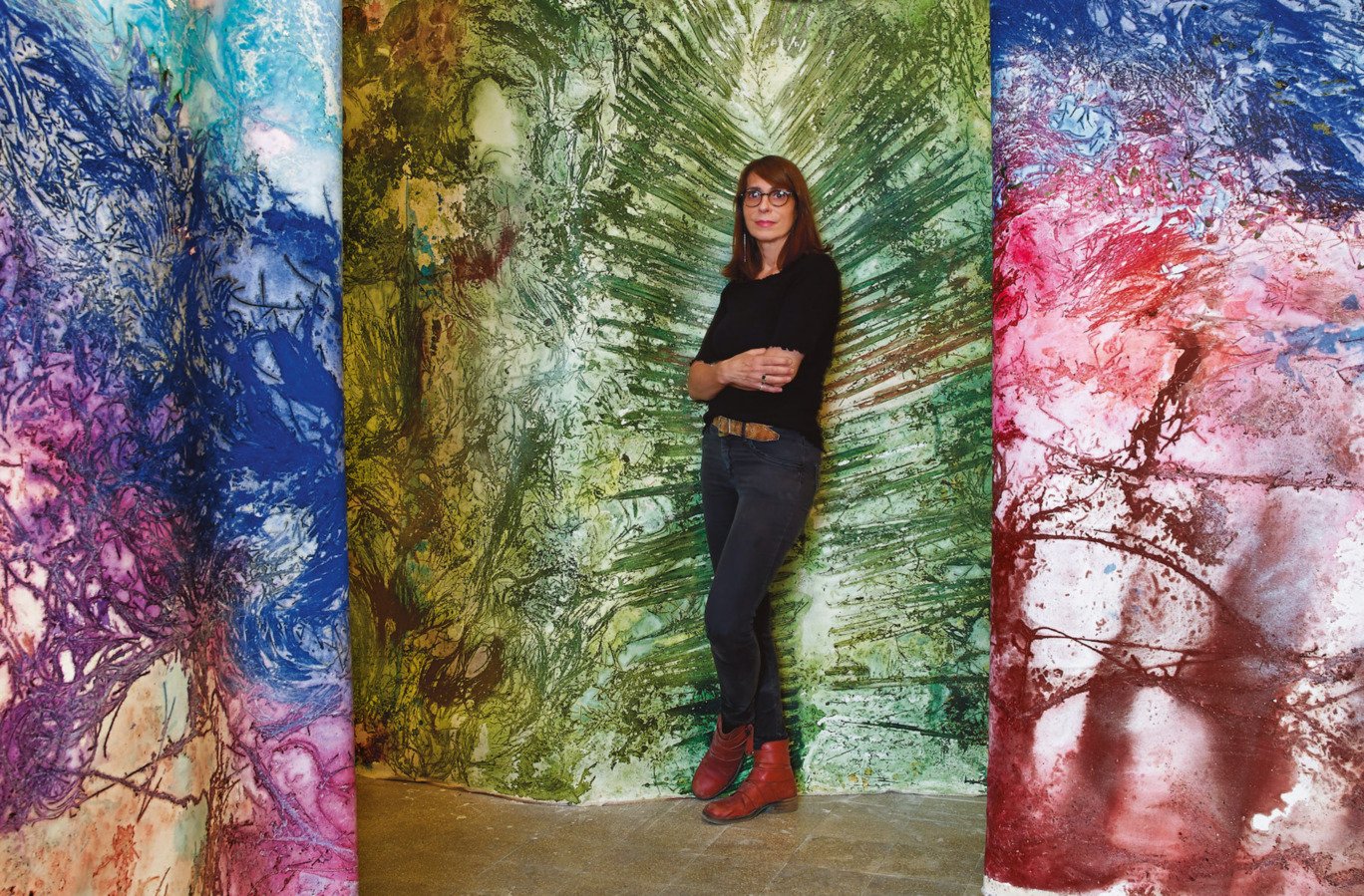 Rotem Reshef at "A Heartfelt Event", The LAB, Tel Aviv, 2020
Artist Name: Rotem Reshef
Residency Dates: March - April 2021
Born: 1964
Hometown: Tel Aviv, Israel
Lives & Works: Tel Aviv, IL & New York, NY
URL: http://www.rotemreshef.com
Bio/Statement:
Rotem Reshef is a painter and installation artist based in New York and Tel Aviv.
Her work of recent years, creates ghostly visual commentary via immersive installations and paintings that relate to the artist's method of process and action, facilitating her role as an agent of change.
The materials Reshef uses in her work - natural and artificial, waste from the studio's activity, plastics, vegetation and pieces of scrap wood collected in the streets - can be interpreted as a reaction to an economy of excess and shortage as they appear in the public sphere.
Reshef uses humble materials and transforms them into elaborate compositions, whilst her source materials receive a "second life cycle". What was nature's and the economy's marvel and then considered trash, after being 'deserted' by their original users, is being utilized in Reshef's hands again, "fossilized" into the paintings and given "eternal life". As a result, Reshef's practice connects between nature-inspired surroundings and political, social and cultural events, in order to shape contemplative, and emotionally-reflective environments.
Rotem Reshef's paintings and large-scale installations had been shown internationally in solo and group exhibitions, in venues as the Katonah Museum of Art, Katonah, NY; Charlie James Gallery, Los Angeles, CA; Ethan Cohen Gallery, Beacon, NY; Kwan Fong Gallery, California Lutheran University, Thousand Oaks, CA; Tall Wall Space, University of La Verne, California; Gallery 110, Seattle, WA; Soho House, West Hollywood, Los Angeles, California; Artists' House, Tel Aviv, Israel; Alessandro Berni Gallery, New York, NY; The Venice Arsenale, Venice, Italy; ArtSpace TLV, Tel Aviv, Israel; School of Visual Arts, New York, NY; Scope Art Fair, Miami Beach; QF Gallery, East Hampton, NY; Susan Eley Fine Art, New York, NY; San Diego Art Institute, San Diego, California; and the FSU Museum of Fine Arts, Tallahassee, FL.
Support: Rotem Reshef's residency is made possible with support from the Consulate General of Israel in New York.