2023 | NYC | Artist
Rocío García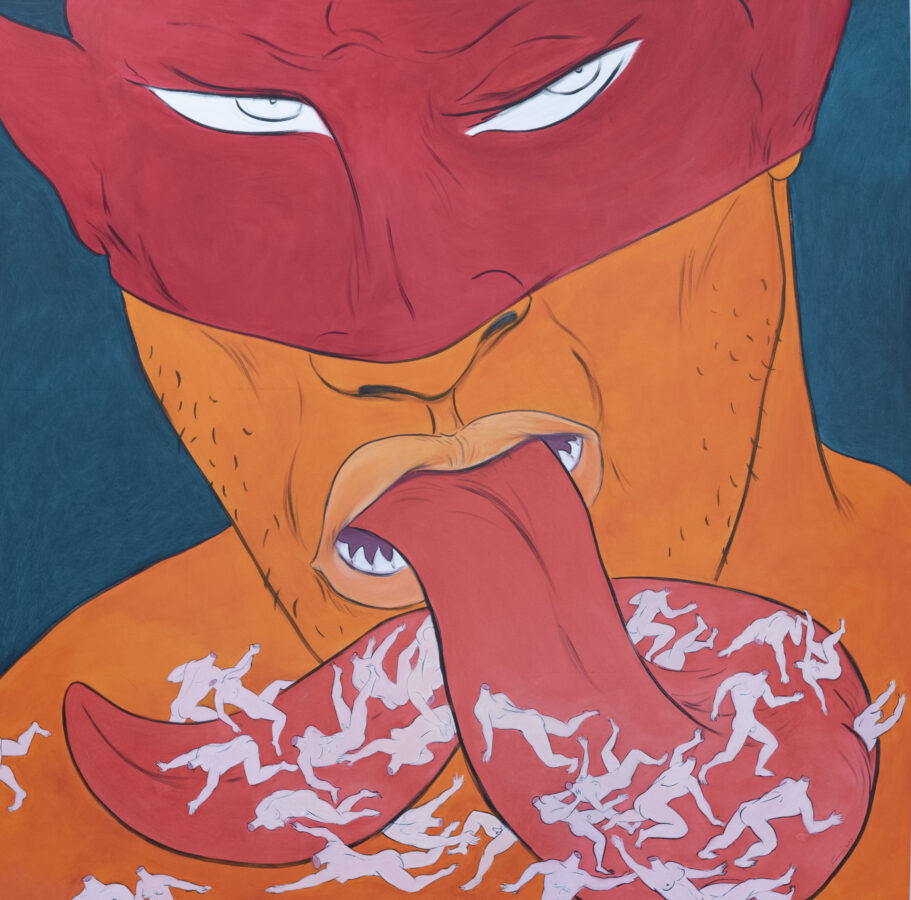 Rocío García, "Saturnino I", oil on canvas, 2023. Photo: Rolando Galindo
Artist Name: Rocío García
Residency Dates: August - September 2023
Born: 1955
Hometown: Santa Clara, Cuba
Lives & Works: Havana, Cuba
URL: Facebook: Rocío García | Instagram: @rociogar07
Gallery: El Apartamento (Havana, Cuba) | Thomas Nickles Project (New York)
Education:
1983 | Master of Fine Arts from Repin Academy of Fine Arts, St. Petersburg, Russia
1975 | San Alejandro National Academy of Fine Arts, Havana
Bio/Statement:
Rocío García is one of the most important female contemporary Cuban painters. With a strict academic background, her work has moved, almost unchanged, through the artistic scene of Havana's life in the last three decades. Her distinguishable language conjugates passions and experiences from her childhood, comics, cinema, literature, love and eros. She was also a painting professor at San Alejandro Fine Arts Academy for 35 years.
Rocío has presented her works in numerous solo and group exhibitions worldwide. Select solo exhibitions include El Gran Chef (alias Patica de Pollo) at EL APARTAMENTO, Havana, Cuba (2023); Bellas Flores del Mal at Thomas Nickels Project, New York, NY (2021); Sakura at Atelier NG Havana, Havana, Cuba (2020); Beliki Tuman (The Big Fog) at Villa Manuela Gallery, 13th Havana Biennial, Havana (2019) and Very, very Light and very dark (A policeman with Alzheimer's) at Luz y Suárez del Villar Gallery, Madrid, Spain (2010). Other recent group shows and art fair exhibits include A mí me manda Carmen at MOCAA, Miami, Florida (2023); Untitled. ArtBasel International Art Fair, Miami Beach, Florida (2022); Art on Paper Fair, New York, NY (2022); International Contemporary Art Fair ARCO Madrid, Spain (2022) and Hamptons Fine Art Fair, Southampton, New York (2021).
Over the years Rocío has received various national and international awards including the National Culture Distinction from the Ministry of Culture in Cuba (2005); National Award of Illustration from the Cuban Book Institute (2000); Mention of Honor, Second Painting Biennial of the Caribbean and Central America from the Museum of Modern Art, Santo Domingo, Dominican Republic (1994) and Special Mention of Painting, Hall of the City from the Provincial Center of Plastic Arts and Design, Havana (1991).
Support: Rocío García's residency is made possible with support from the Rockefeller Brothers Fund and the Cuban Artists Fund.