2015 | NYC | Special Features
Rhasaan Oyasaba Manning & Lara Vallance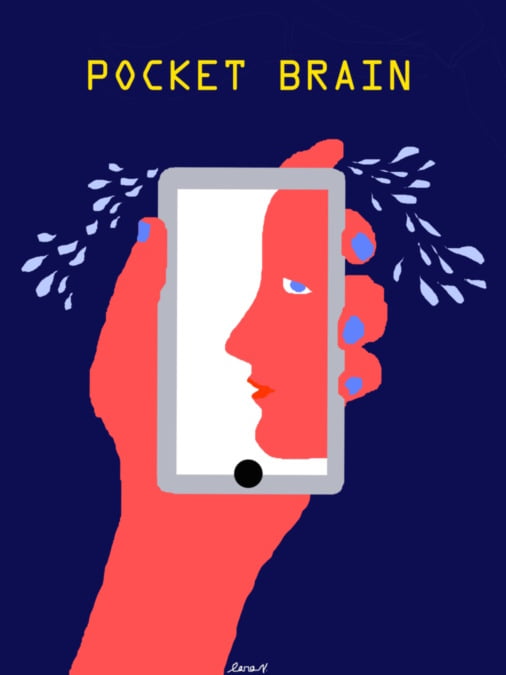 PBblue
POCKET BRAIN is a short thriller about a nomophobic named Cookie, a loner, addicted to her cell phone and social media, who uncharacteristically decides to accept an invitation to a party thrown by a FaceBook friend at the Space Bar. An apparent murder at the bar leads her on a solitary internaut mission to solve the crime, which she assumes she has captured in the background of a selfie.
The full context and synopsis/storyboard of their short film POCKET BRAIN is available online at: http://www.oyasaba.com/portfolio/pocketbrain/
bios:
Rhasaan Oyasaba Manning is a native Brooklynite, born, raised, and presently residing in Flatbush, with a BA in Architecture from Yale University. He is a producer, director, musician, photographer, writer, actor, editor and conceptual social artist. His work focuses on duality, inversion, nihilism, self-destruction, and the struggle for freedom from these forces, which he sees as the only choice.
Lara Vallance is a French visual artist finishing her MFA in Montréal at UQAM. The theoretical focus of her work is the potential for drawings punctuated by layered detail, from photographs, often found at random, to reflect the ubiquity of images nowadays, while inviting the viewer to experience a slowing of the pace of their perception
http://laravallance.tumblr.com
One of their recent collaborations, will be featured in Smack Mellon's RESPOND exhibition, opening on Saturday, January 17th, 2015.
--
This program is supported by public funds from the New York City Department of Cultural Affairs in partnership with the City Council and the New York State Council on the Arts with the support of Governor Andrew Cuomo and the New York State Legislature.