2018 | NYC | Artist
Regina Parra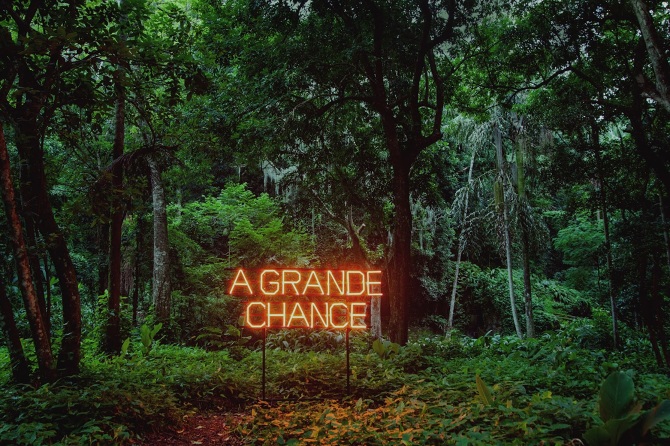 Chance
Chance is a red neon installed in the middle of a forest in Rio de Janeiro where is read "The great chance" [A Grande Chace]. As a small treasure to be found at random by visitors who ventured through the woods, this neon sign works simultaneously as a double game of promise and threat; an ambiguous portal, suggesting a possible escapade through a risky environment.
Bio / Statement:
Known for her work as a painter, video and installation artist, Regina Parra creates critical forms and images that provoke the eruption of long time wounds: devices of segregation and violence, intentional invisibility to social inequalities, states of exception and the hidden presence of migrants.  Questions related to migratory movements and injustice pervade her practice whichholds discreet yet loquacious marks of the violence that rules Brazilian history – both distant and recent. This violence falls squarely on blacks, natives and women (including light skinned women, both black and native) who are amongst the most targeted group. Parra presents options on how to behave regarding the pain suffered by others: to remain terrorized or to become terrifying. Overall she views that "her work relates to the task of the translator and the notion of translation as a process of transformation and creation".
Regina Parra's works has been exhibited internationally at the Jewish Museum (NY, USA), PAC – Padiglione d'Arte Contemporanea Milano (Millan, Italy) and Galeria Millan, Pivô, Centro Cultural Sao Paulo, Parque Lage, Paço das Artes, Instituto Figueiredo Ferraz, SESC_Videobrasil, MAM Recife, Museu de Arte de Santa Catarina and Fundação Joaquim Nabuco (all in Brazil). Awards include: SP_Art Residency Prize, Fundação Joaquim Nabuco Film Award and Videobrasil Residency Prize. In 2013 she was nominated to the Emergent Artists Award at Fundación Cisneros.
View this interview with Regina Parra.
Galleries:
Galeria Millan, Sao Paulo


Select Permanent Collections: Pinacoteca do Estado de São Paulo
Support: Regina Parra's residency is made possible with support from SP-ARTE.