2018 | NYC | Artist
Rashwan Abdelbaki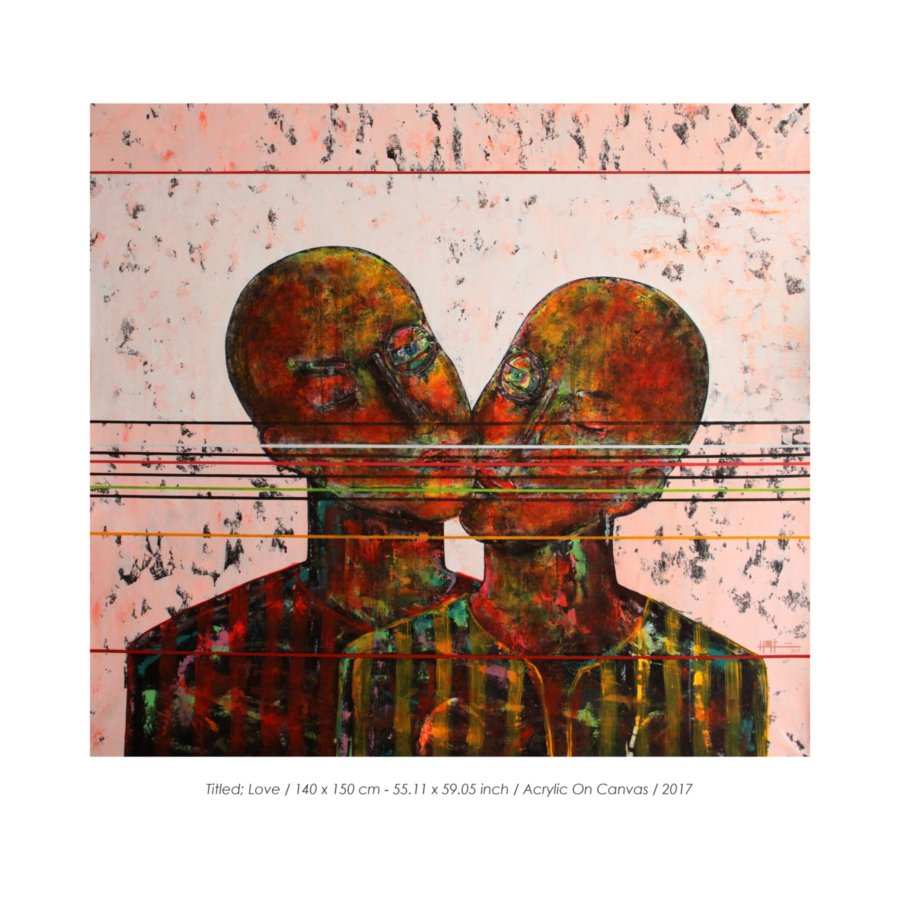 Love -140 x 150 cm-55.11 x 59.05 inch - Acrylic On Canvas - 2017
Artist Name: Rashwan Abdelbaki
Residency Dates: July 2018 - July 2019
Hometown: Syria
Lives & Works: New York, NY
Education: Faculty Of Fine Arts, Damascus, Syria 2003-2007
Rashwan Abdelbaki is the second artist to participate in the New York City Safe Haven Prototype multi-organizational artist residency program designed to house, integrate and nurture artists at risk. Launched in 2017, this initiative is supported by by ArtistSafety.net, Artistic Freedom Initiative, Westbeth Artists Housing and Residency Unlimited.
In his current work, Abdelbaki 's focuses on issues relating to racism, religion and politics and how they are effecting and destroying our faith in humanity. "I am speaking to the fear inside all of us that keeps us awake, even when we want to close our eyes and sleep in peace. But in this crazy and complex world, we need to keep one eye open to know what's happening around us, to be ready for any shocks or surprises. In my portraits, I put a monocle around the open eye to draw attention to that eye. These people, like all people, are also prisoners of their own beliefs so I paint them with striped garments in empty cells. They cannot see beyond the space of their beliefs. This is the condition of the world. The condition of humanity at present. But I also see light in that darkness, so I use colors that feel joyous to me. There is hope."
Represented by the Montoro12 Contemporary Art Gallery in Rome, Rashwan Abdelbaki has shown internationally in Syria, Lebanon, South Korea , USA and Europe.. His most recent solo exhibitions include: 2018 - "First Anniversary Exhibition at the EFA Studio Program" – Elizabeth Foundation for The Arts / NY;  2017 - "One Eye Open" – George Mason University's Fine Arts Gallery / Virginia; 2017 - "Little Syria" – Metropolitan College Of New York / New York, USA. Group shows include: 2018 _ "Protest Club" Exhibition - Elizabeth Foundation for The Arts / NY;– "ArtExpo New York" - Khawam Gallery / NY;  2018 – "(Dis)Figured" Exhibition - Montoro12 Contemporary Art Gallery / Rome, Italy 2017 – "BCNA - Business Center for New Americans" Exhibition - MOKAH Museum of Korean American Heritage / Chelsea, NY, USA; 2017 - "Do fish get ever seasick" Syria Art Exhibition - Art Space DA:MDAA / Seoul, South Korea; 2017 – "VIRTUAL/VISUAL CONTEMPORARY ART EXHIBITION" – Noyes Museum of Art, Atlantic City / New Jersey; 2017 – "BCNA - Business Center for New Americans" Exhibition - Robert Miller Gallery/ New York; 2016 - "Flight: Explorations in Movement, Migration, and Freedom" - West Branch Gallery & Sculpture Park / Vermont; 2015 – "First Group Exhibition" - National Center for Visual Arts / Damascus, Syria; 2015 - "Le Salon De Lahd" Lahd Gallery - Kent House Knightsbridge / London, UK 2015 - "Art Summer Collective" Exhibition - Artheum & Kozah Gallery / Beirut, Lebanon. In 2017, he received the following fellowships award from : the Institute of International Education's Artist Protection Fund (IIE-APF); – AAR Affiliated Fellow / American Academy in Rome, Rome/ Italy; and a residency award from the Vermont Studio Center VSC, USA
Support: Rashwan Abdelbaki's residency is made possible with support from The Shelley & Donald Rubin Foundation, and thanks to the The New York City Safe Haven Program, a coalition led by ArtistSafety.net, Artistic Freedom Initiative, Residency Unlimited, Artists at Risk Connection and Westbeth Artists Housing.