2016 | NYC | Artist
Pouya Afshar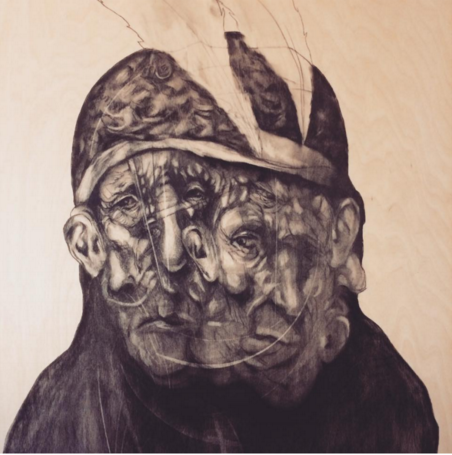 Pouya Afshar, work in progress, Charcoal on Wood, 30" by 40", 2015
Artist name: Pouya Afshar
Dates of residency: May-July
Born: 1984
Hometown: Tehran, Los Angeles, Cambridge
Lives and works: Cambridge, MA
URL: http://www.pouyaafshar.com
Education: MFA, University of California Los Angeles (UCLA), 2009; BFA, California Institute of the Arts (CalArts), 2007
BIO/ STATEMENT:
Pouya Afshar is an alumnus from the California Institute of Arts Character Animation department and is a graduate of University of California Los Angeles Graduate Department of Film and Television focusing in Animation and Digital Media. He has exhibited his work as an animator and visual artist throughout Los Angeles and United States at renowned locations such as Harold M. Williams Auditorium at the Getty Center, Bovard Auditorium at University of Southern California, Royce Hall at University of California Los Angeles, Los Angeles County Museum of Art, Santa Monica Art Studios, 18th Street Art Center, Art Miami/Context and Shulamit Gallery. Pouya is the creator, character designer and producer of the animated series "Rostam in Wonderland".
Born in Tehran in 1984, Pouya Afshar  immigrated to the United States in 2000. Afshar's meticulous draftsmanship combined with his cinematic training enables him to create culturally engaged images and place them into larger narratives replete with details from his own life and socio political events happening around him. His latest multi media project 'Mourn Baby Mourn' examines mourning from a personal/historical perspective in relation to the tradition of Persian and Muslim Shiite mourning rituals known as "Ta'zie".
Afshar's Rostam in Wonderland was acquired as a part of LACMA's permanent collection and will be exhibited in"Islamic Art Now, Part 2", LACMA, Los Angeles, CA,  January 24, 2016
GALLERY: Shulamit Nazarian Gallery, Los Angeles
SELECT PERMANENT COLLECTION:
Los Angeles County Museum of Art, Los Angeles
SUPPORT: Pouya Afshar's 3-month residency at RU is made possible with support from the University of Massachusetts Lowell and Y & S Nazarian Family Foundation.