2023 | NYC | Artist
Peter Depelchin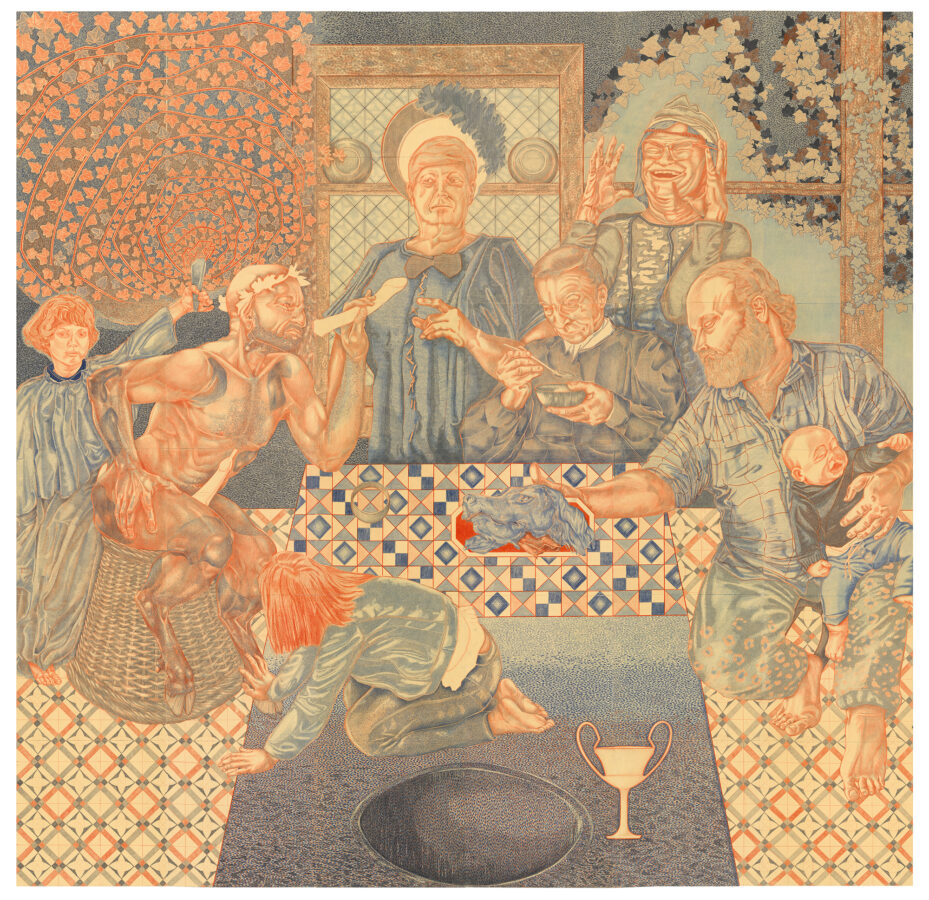 Peter Depelchin, "Cosmogonical Treat", red and blue color pencil and graphite on Ciat paper, 176x180 cm, 2023, private collection.
Artist name: Peter Depelchin
Dates of residency: Feb - April 2016 & July 2023
Born: 1985
Hometown: Brussels, Belgium
Lives and works: Jackson Heights (Queens, NY)
URL: http://www.peterdepelchin.org
Gallery: Husk Gallery (Brussels, Belgium)
Education:
2007 | MFA in Printmaking / Drawing, Sint Lucas Beeldende Kunst (LUCA School of arts), Ghent, Belgium
2005 | BFA in Printmaking / Lithography, Sint Lucas Beeldende Kunst (LUCA School of arts), Ghent, Belgium
Bio/Statement:
Though mastering a large variety of media – including printmaking, video art or installation – drawing makes up the core of Peter Depelchin's artistic process. Large pencil drawings emerge simultaneously with detailed ink drawings, while mixed media on paper encourages him to a more instinctive approach. Depelchin's artistic cosmogony embodies an organic processing of artworks, which permits him to (re)consider leitmotivs, thus stimulating auto-reference and reflection. The rhythm these motives imply, drives him to accomplish a new universal artistic language in correlation to the contemporary world. To this end, he decontextualizes and neo-contextualizes formal characteristics of aesthetics such as perspective and patterning, art-historically embedded allegory, and iconography, he reinterprets mythology and literature to form a new inseparable and unexpected combo with astrophysical discoveries and contemporary portraiture.
Represented by Husk Gallery, Peter Depelchin is active on the national and international art scene, with residencies at Stichting IK, Vlissingen '08-'09 (NL), at the Academia Belgica, Rome '14-'15 (IT), at RU, New York, '15-'16 (US) and at TAMAT, Tournai '22 (BE). Exhibitions in The Netherlands (Neugebau, Pieter Jansz Saenredam project, Gegoten Lood), in Rome (MAXXI) and in New York (Incube Arts, Offspace, Arts on Site, Outside In, Brilliant Champions Gallery). He was invited to exhibit in Brussels (Kasteel van Gaasbeek, La Vallée) and in London (Young Masters). In 2023 Peter Depelchin realizes his Hommage à Pan at the Chateau Thozée and at the Museum Félicien Rops in Namur (BE). Peter was awarded art prizes in numerous art competitions, among which Input-Output (Bruges, 2007), Grote Prijs Ernest Albert (Mechelen, 2016) and the Prix Elisabeth Burdot (Brussels, 2022). Other venues at Galerie Jan Colle / S&H De Buck Gallery / Light Cube Gallery / Nathalia Tsala Gallery (BE) / Brilliant Champions Gallery / Fou Gallery (US) and continues working with Husk Gallery (BE).
Select permanent collection: Numerous national (Belgian) and international private collections, Community of Koksijde, Abdijmuseum Ten Duinen (BE), TAMAT (Museum of Textile and Tapestry, Tournai (BE))
Support: Peter Depelchin's residency (2023) is made possible with the support of Husk Gallery, Brussels.