2019 | NYC | Artist
Pauline Batista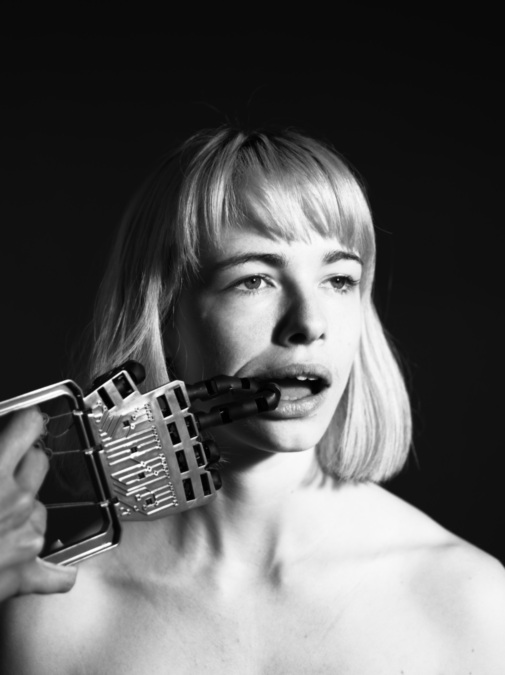 The Algorithm Will See You Now I
2017, Silver gelatin print mounted on di-bond, 90 x 120 cm
Bio / Statement:
Originally from Brazil, Pauline Batista is currently based in London.   Batista's practice examines the  oscillations between body and machine, connecting different nodes of research and medium from photography to sculpture, video and frequencies in order to create a larger network that the viewer is invited to decode. Batista's photographic and mixed-media works delve deep into these vulnerable and - sometimes - uncomfortable interactions between physical bodies, data, transparency of knowledge and tech. The artist explores the ways in which technological advancements allow unprecedented access to the inner workings of the flesh, and the ensuing trans-humanist hopes of the convergence between technology and the body. In the photographic series The Algorithm Will See You Now featured in Lens Culture.
the relationship between the human body and technology is made apparent through physical, medically-invasive forms. According to Pauline, "models and patterns are often used in order to reveal, yet these representations of our bodies and data further accumulate layers of information, which we must decode, often with the help of a key or an authority on the subject….Access to the decoded data becomes the new currency of power."
Interview between CultureA and Paulina Batista can be found here.
Batista has exhibited in Germany, the US and the UK. Recent shows are:  Representatives, University of Oxford, Oxford, UK (2018); She Performs, London Gallery West, Harrow, UK (2018); Cor Viva Cor, Oxford University Press, Oxford, UK (2018); Fatal Softness:Pauline Batista & Madeleine Stack, The Koppel Project, London, UK (2017); Celeste Prize by Fatos Ustek (photography finalist), Oxo Tower Bargehouse, London, UK (2017); Clinic 2, London Design Festival, London, UK (2017); The Algorithm Will See You Now- Goldsmiths Degree Show, London, UK (2017); Neither Nor, Terra Arte, Aylesbury, UK (2017); Testbed Alice (Residency and Exhibition), The Old Waterworks, Southend-on- sea, UK (2017); The Spiral, LIBRARY, London, UK (2017); 16 Artists 16 Days, The Hive, London, UK (2016); Mutable Archives, Embassy of Brazil, London, UK (2016); No Lifeguard on Duty, Westwerk, Hamburg, DE (2016).
Batista's work has been profiled in publications such as Veja and RG as well as Elephant Art Magazine, featuring her as an "artist to watch" in 2017. In 2018, the artist participated in Representatives at Oxford University and in She Performs, a platform for "female artists to show work and discuss current social issues surrounding the questions of feminism and gender relations". Residencies include The Old Waterworks in Southend (2017) in the UK, and ARTELES Residency in Finland (2019).
Support: Pauline Batista's residency is made possible with support from DAAD (German Academic Exchange Service) Grant..