2021 | NYC | Artist
Paul Wesenberg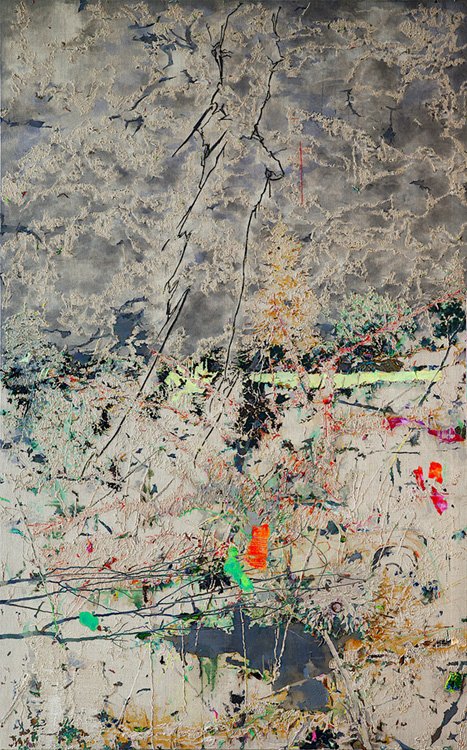 Forest, 2018, 118,1 x 74,8 inches, oil on partial primed linen, oilskins. Courtesy the artist.
Artist Name: Paul Wesenberg
Residency Dates: February - May 2021
Born: 1973
Hometown: Minsk, Belarus
Lives & Works: Berlin, Germany
URL: artitious.com/artist/paul-wesenberg
Bio/Statement
Paul Wesenberg was born in Minsk, Belarus, in 1973 and grew up in Belarus, Finland and Germany. He studied at the Kunstakademie Minsk and at the Muthesius Art University in Kiel, Germany. The second degree was followed by 10 years of project-related work as grafic brand architect in Northern Europe. He received a DAAD (German Academic Exchange Service) award in 1995. His works have been shown internationally in solo and group exhibitions in Berlin, Hamburg, Karlsruhe, Heidelberg, Winterthur, Tallinn and Minsk since the 1990s. He lived and worked in Berlin since 2017, in 2019 his art has been shown again at international exhibitions. Wesenberg's work is also exhibited in different private collections.
–
Paul Wesenberg is a painter with a special interest in the materiality of paints and canvas. His approach reflects both the deeply considered foundations of his own position and the unbridled delight he takes in demonstrating—with maximum opulence—the ambition and autonomy of his paintings.
His free-flowing forms—now abstract, now concrete, here chaotically agglomerated, there docilely linear, in some places densely impastoed, in others blithely fluid—turn his paintings into sensory events. (Christoph Tannert, Berlin, 2020)
Support: Paul Wesenberg's residency is made possible with support from private collectors.