2023 | NYC | Artist
Orly Ruaimi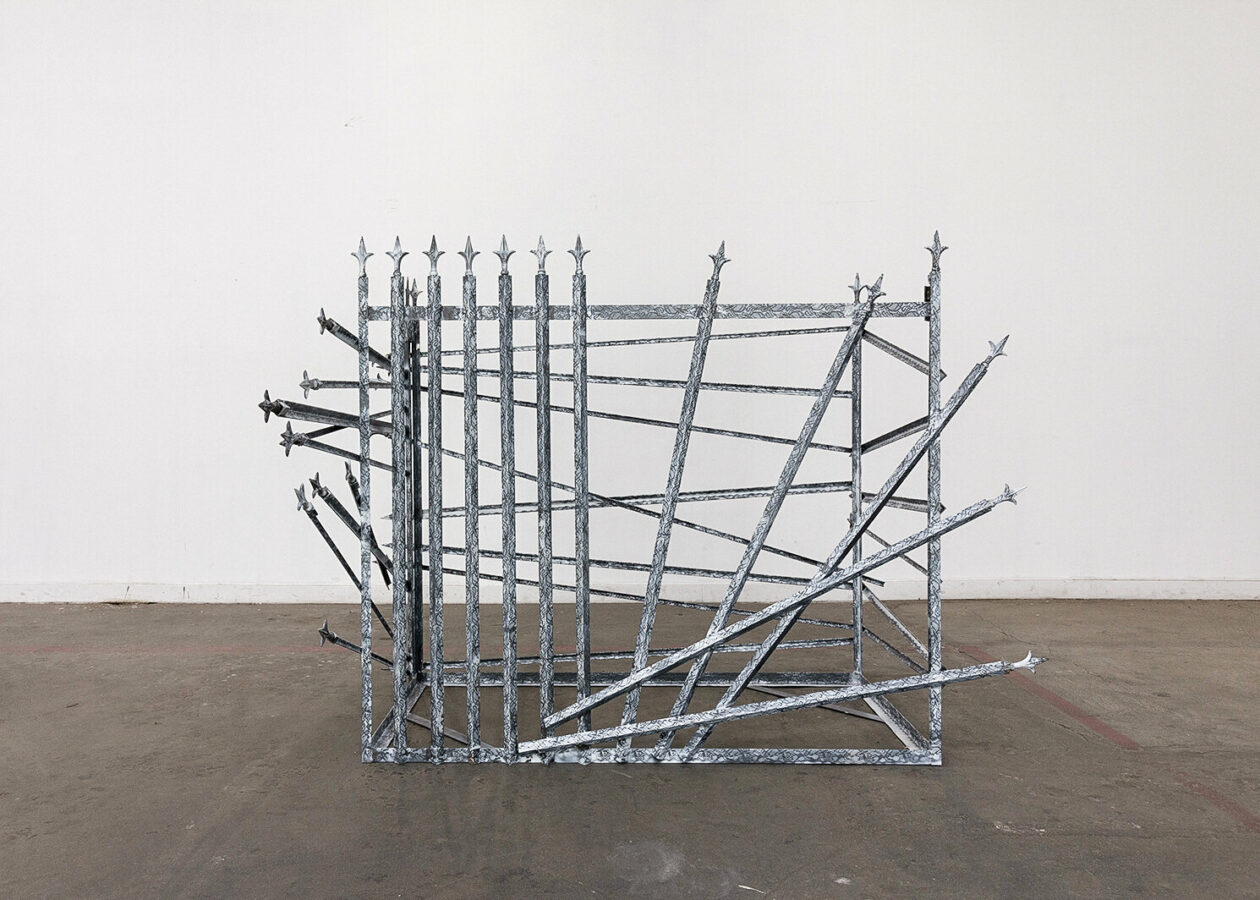 Orly Ruaimi, "Cageshield", Steel and paint, 2020.
Artist Name: Orly Ruaimi
Residency Dates: September - October 2023
Born: 1972
Lives & Works: Los Angeles, CA
URL: http://www.orlyruaimi.com | Instagram: @orly_ruaimi | Facebook: Orly Ruaimi
Education:
2017 | MFA in Studio Arts, San Francisco Art Institute, San Francisco, CA
2015 | MFA in Metal Arts, Academy of Art University, San Francisco, CA
2007 | BS in Finance, George Mason University, Fairfax, VA
Bio/Statement:
Orly Ruaimi is an interdisciplinary artist based in Los Angeles. Her work explores themes relating to the existential threats that women or people who identify with the female gender may experience, as well as strategies to navigate and resist oppressive cultures and societal structures. Orly's work is comprised of steel sculptures, paintings, photography, film, and performance. She uses the characteristics of materials such as steel and wood to "weaponize" the works through fabricated shields and weaponry elements.
Orly's work has been exhibited at artist-run galleries and some of the following venues, such as the de Young Museum, Richmond Art Center, Diego Rivera Gallery, Marin Museum of Contemporary Art, The San Francisco Mint, Cannery Gallery 108 & 112, LA Artcore Brewery Gallery, Facebook HeadQuarters in Menlo Park, CA, New Mexico State University, Museum of Fine Arts Florida State University, LACDA in LA, and Arena1 in Santa Monica, CA.
She was nominated for the Outstanding Student Achievement in Contemporary Sculpture Award at The International Sculpture Center and awarded the Harold E. Weiner Memorial Fund Award in Sculpture.
One of her notable achievements includes a site-specific installation entitled I'll Fight You Just to Get Peace in conjunction with the Mel Ziegler exhibition A Living Thing at the Walter McBean Gallery in San Francisco, CA. As well as the selection of her video Risk Management for the MFA Film Festival at the New People Cinema, San Francisco, and as an installation shown in 2018 at Florida State University Museum of Fine Arts.
Some of the art residencies she completed are the 18th Street Art Center (Santa Monica, CA), HANGAR (Portugal), Asylum Arts Artist Retreat, AJU Brandeis Bardin Campus (Simi Valley, CA) The University of Texas El Paso, Visiting Artist and Scholar (El Paso, TX), New Mexico State University, Visiting Artist and Scholar Residency (Las Cruces, NM), MASS MoCA, Artist in Residence, (North Adams, MA) and Otis College Of Art And Design Inaugural Artist in Residence (Los Angeles, CA).
In 2018 Orly founded STEEL CAT STUDIOS in the Art District LA, a private studio/gallery, and started to teach at Otis College of Art and Design.