2016 | NYC | Artist
Nuno da Luz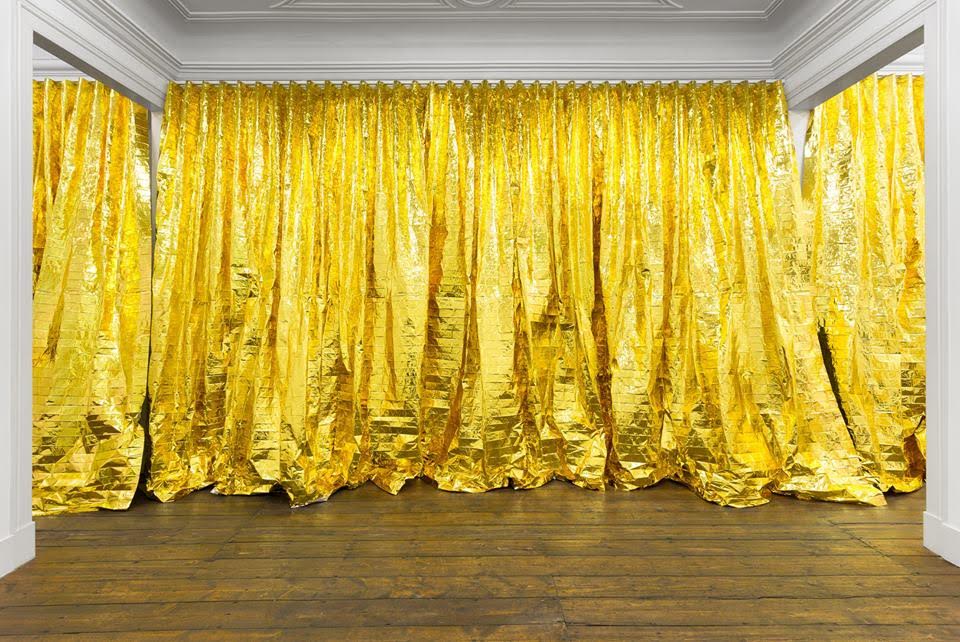 Nuno da Luz "untitled" (2015), survival blankets and aluminium rail, dimensions variable
Artist: Nuno da Luz
Dates of residency: July–November 2014; and May 2016
Born: 1984
Hometown: Lisbon, Portugal
Lives and works: Berlin, Germany
URL: http://www.nunodaluz.com
Education: Graduate Degree in Communication Design, Academy of Fine Arts, Lisbon, Portugal, 2007
BIO/ STATEMENT:
Nuno da Luz is an artist and publisher whose work circumscribes both aural and visual in the form of sound events, installations and printed matter; the latter distributed through the imprint ATLAS Projectos (run together with André Romão and Gonçalo Sena) and the record label Palmario Recordings (run together with Joana Escoval).
He recently completed the Master Program of Experimentation in Art and Politics SPEAP at Sciences Po, Paris, and founded COYOTE, a cross-cutting collective working on print, film, lectures and other experimental forms. Recent projects include performing live "with Assisted Resonance" in Ficarra (Italy), Paris, New York, Porto and Berlin; and solo shows "Song Cycle", Solar – Galeria de Arte Cinemática (Vila do Conde, 2015), and "Wilderness", Vera Cortês Art Agency (Lisbon, 2015). Recent group shows include "Itinerarios XXII: Renderizando la realidad", Fundación Botín (Santander, 2016), "Rinoceronte–Ananás", Galeria Múrias Centeno (Porto, 2016), "CIDRA DA LUZ ESCOVAL MANSO MENDES ROMÃO SENA", AR Sólido (Lisbon, 2015), "Ficarra_Contemporary Divan", Palazzo Milio (Ficarra, 2015), and "A polyphonic wave of of concrete materials flowing through the air", Espaço Artes (Porto, 2014).
GALLERY: Vera Cortês Art Agency, Lisbon, Portugal
SELECT PERMANENT COLLECTIONS:
EDP Foundation, Lisbon
António Cachola Collection, Elvas
SUPPORT: Nuno da Luz's residency is made possible with support from the Calouste Gulbenkian Foundation.