2021 | NYC | Artist
Nazanin Noroozi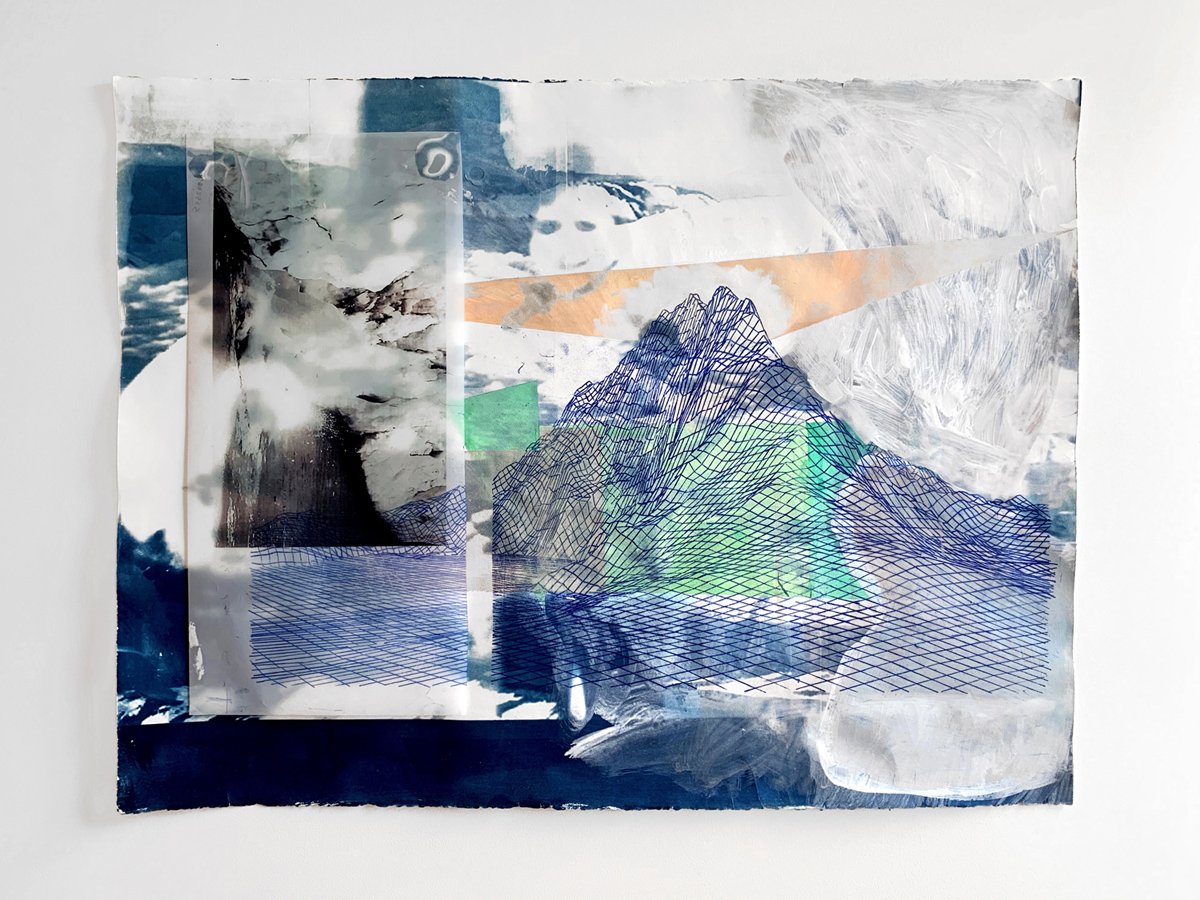 Nazanin Noroozi. The Ridge, 2020. Mixed media on paper. 22 x 30 inches.
Artist Name: Nazanin Noroozi
Residency Dates: March 2021 - June 2022
Born: 1985
Hometown: Tehran- Iran
Lives & Works: New York, NY
URL: http://www.nazaninnoroozi.net
Education: MFA Pratt Institute, MA Tehran Art University
Bio/Statement:
Nazanin Noroozi is the 2021-2022 New York City Artist Safe Haven Residency Program awardee.
Nazanin Noroozi is a multi-media artist incorporating moving images, printmaking and alternative photography processes to reflect on notions of collective memory, displacement and uncertainty. Noroozi's work begins with private and family archival images, over-laid with found imagery of environmental catastrophes, and lo-fi graphics from early computer games. Questioning archives as modes of cultural transmission and historical memory, Noroozi invites the viewers into fragmented narratives that reflect on the idea of displacement. Archeology of technologies such as super 8 home-videos and early computer graphics navigate between still images and time-based mediums in order to explore fragile states of being and the idea of home that never materializes.
Noroozi is a Video/Film recipient of the NYSCA/NYFA Artist Fellowship program (film & video). Her work has been widely exhibited in both Iran and the United States, including the Immigrant Artist Biennial, Noyes Museum of Art, NY Live Arts, Prizm Art Fair, and Columbia University. She is the recipient of awards and fellowships from Marabeth Cohen-Tyler Fellowship at Dieu Donne', Elizabeth Foundation for the Arts, NYFA IAP 2018, Mass MoCA Residency, North Adams, MA and Saltonstall Foundation for the Arts Residency, NY. She is an editor at large of Kaarnamaa, a Journal of Art History and Criticism. She is an editor at large of Kaarnamaa, a Journal of Art History and Criticism. Noroozi completed her MFA in painting and drawing from Pratt Institute. Her works have been featured in various publications and media including BBC News Persian, Elephant Magazine, Financial Times, and Brooklyn Rail.
Support: Nazanin Noroozi's residency is made possible with support from the Wilhelm Family Foundation and The Andy Warhol Foundation for the Visual Arts, and thanks to the The New York City Safe Haven Program, a coalition led by ArtistSafety.net, Artistic Freedom Initiative, Residency Unlimited, Artists at Risk Connection and Westbeth Artists Housing.