2016 | NYC | Artist
Natacha Clitandre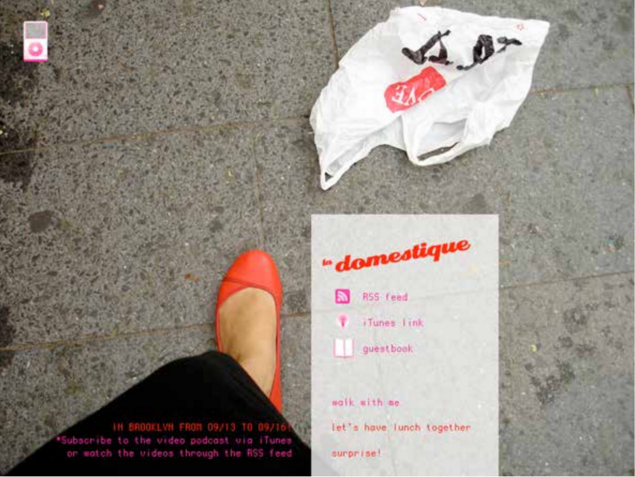 Natacha Clitandre, Brooklyn Video Podcast, Video Walk, Conflux Festival, Glowlab, Brooklyn, New York, NY, 2007.
Artist name: Natacha Clitandre
Dates of residency: May - July
Born: 1977
Hometown: Quebec City, Canada
Lives and works: Montreal, Canada
URL: http://www.natachaclitandre.net
Education: Visiting Student, Modern Culture & Media, Brown University, Providence RI, USA, 2007; Visiting Student, Digital + Media, RISD, Providence RI, USA, 2007; Master's Degree, Contemporary Art and New Media, Université Paris 8 and ENSAD, Paris, France, 2007; Graphic Design Studies, École de Design de l'UQAM, Montreal, Canada, 2001; BFA, Visual Arts, UQAM, Montreal, Canada, 2000
BIO/ STATEMENT:
Natacha Clitandre's work centers on the ubiquitous nature of technology in everyday life with a particular focus on occupational strategies that question how we navigate change in a western, post-industrial society.  Clitandre investigates the habits of city-dwellers, fluctuations in neighborhood as well as shifts in poles of attraction within a city.  In doing this she uses mobile devices with video and photographic capacities, along with printed media, to infiltrate and comment on the public sphere. By examining the city carefully,  the artist explores public space with sharp sensitivity, poised to perceive the levels of history that sustain over time in new innovative ways. The concept of mobility fuels Clitandre's work process.
Clitandre's recent exhibitions include: Repérages ou À la découverte de notre monde ou Sans titre, articule, Montreal, Canada, 2016;Canal H4G, Centre culturel de Verdun, Montreal, Canada, 2014; Art souterrain in Contemporary Art Festival, Palais des congrès de Montréal, Montreal, Canada, 2013; Hi-Tech, Lo-Tech, No-Tech?, Colloquium, MAI — Montreal arts interculturels, Montreal, Canada, 2010; Passage Film Video Festival, Institut national d'histoire de l'art, Paris, France, 2009.
Previous exhibitions include: Nantes, Vidéozarts' video program, Musée des beaux-arts de Nantes, 2002; Brussels, Recyclart, 2004 and Komplot, 2004; and Paris, Pocket Film Festival, Centre Pompidou, 2006 and 2008 as well as in North America, including shows in Pittsburgh, Space Gallery, 2004; New York City, Conflux Festival, The Change You Want to See Gallery, 2007; Conflux Festival, Center for Architecture, 2008. Also working as a curator, hercuratorial projects include Art Plastique – The Creative Potentials of 3D Printing, co-curated with Yves Amyot at Turbine, Oboro, Clark, Mtl Science Centre, Public Libraries and Studio XX, Montreal, Canada, 2014; Olga Kisseleva – Double Life, co-curated with Mariève K. Desjardins, Studio XX, Montreal, Canada, 2013; Denis Juneau – Un quart, Maison de la culture Frontenac, Montreal, Canada; Magnifier, co-curated with Catherine Plaisance, Simon Blais Gallery, Montreal, Canada; Juneau Retro – 1955-1980, co-curated with Andréanne Roy, Simon Blais Gallery, Montreal, Canada, 2012.
SELECT PERMANENT COLLECTIONS:
Private Collections in Canada, France, Belgium
Wondereur Collection, Toronto, Canada
SUPPORT: Natacha Clitandre's three-months residency is supported by the Conseil des arts et des lettres du Québec (CALQ), Canada and Canada Council for the Arts.