2019 | NYC | Artist
Mikhailo Deyak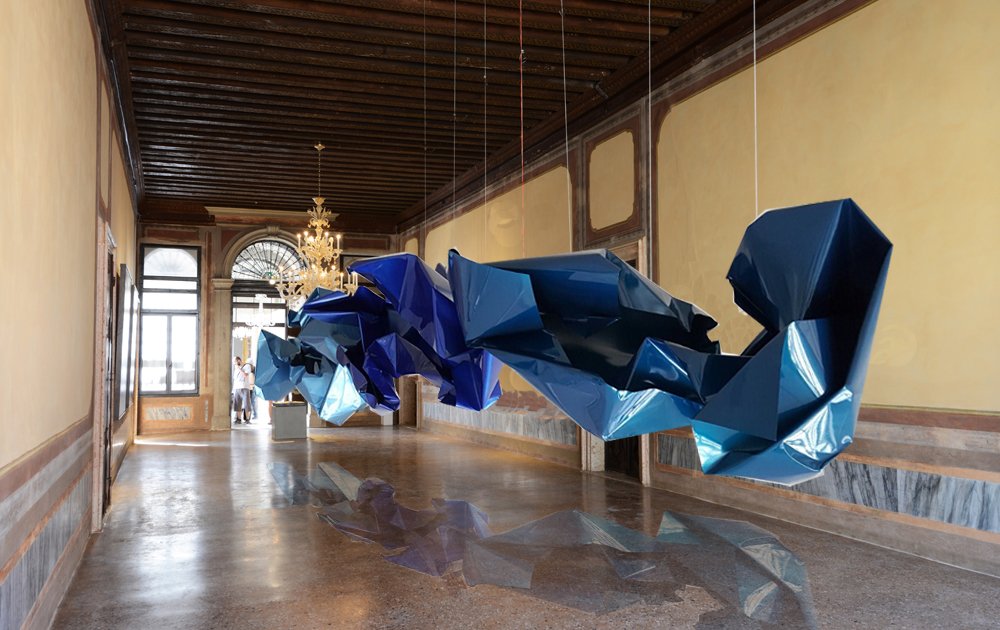 The Ocean, from the project Genesis
Artist Name: Mikhailo Deyak
Residency Dates: March-May
Born: 1984
Hometown: Zolotaryovo, Ukraine
Lives & Works: Kiev, Ukraine
URL:MikhailoDeyak.com 
Education: 2003 BA, The Transcarpathian Art Institute, Department of Painting, Uzhhorod, Ukraine, 2005, MA, National Academy of Fine Arts and Architecture, Kiev, Ukraine.
Bio / Statement:
Mikhailo Deyak is a young Ukrainian artist who works at the intersection of neo-expressionism and minimalism, who experiments with painting and materials (glass and metal), and masterfully applies all of these techniques together. Despite his passion for the fundamental and exact sciences, he largely relies on the subconscious, delivering works that are known for their emotional expressiveness. Represented by the Voloshyn gallery (http://voloshyngallery.art/) He is listed by Art Investment magazine and by Forbes as one of the top young contemporary Eurasian artists in the 10 post-Soviet republics.
Selected solo exhibitions include: Genesis, Solomiya Krushelnytska Lviv State Academic Theatre of Opera and Ballet, Lviv, Ukraine, 2018, Creation, Transcarpathian, Joseph Bokshay Art Museum, Uzhgorod, Ukraine, 2017, Recent works, Ukrainian Institute of America, New York, USA, 2017, Imaginary, Voloshyn Gallery, Kiev, Ukraine, 2016, Voloshyn gallery, solo exhibition, art-fair SCOPE Basel, Dialogues with the subconscious, the Museum of Spiritual Treasures of Ukraine, Kiev, Ukraine, 2015, Substance of Things, Voloshyn Gallery, Kiev, Ukraine 2013 Color visions, Solo exhibition, Kiev National Museum of Russian Art Ukraine, Kiev, Ukraine, 2013.
Selected group exhibitions include: Dialog, (Mikhailo Deyak & Rudolf Burda), Voloshyn Gallery, Kiev, Ukraine, 2018, New perspectives: 8 Contemporary artists from Ukraine, Voloshyn Gallery, Kiev, 2017 Ukrainian contemporary art from private collections, Zenko Foundation, Tatar, Ukraine, 2016, Ukrainian Contemporary art 1985-2015,Art Arsenal, Kiev, Ukraine 2015, Make Art nor War, Voloshyn Gallery (Mystetska zbirka art gallery), Kiev, Ukraine, 2015, Inspired by Black Square Tochni Village, Cyprus, 2015, Spring Emotions, Voloshyn Gallery, Kiev, Ukraine 2014, Archetype of freedom, Novomatic Forum, Vienna, Austria 2013, Days of Ukraine in China, Shanghai Theatre Academy, Shanghai, China 2011, Fine Art Ukraine 2011, Art Arsenal, Kiev, Ukraine 2011 Ukrainian paintings and drawings XIX-XX centuries, M17 Center Kiev, Ukraine 2010, Ukraine 2008, KUMF gallery, Toronto, Canada 2008,
Select Permanent Collections:
National Arts Museum of Ukraine
Ministry of Culture of Ukraine
Gallery:
Voloshin Gallery, Kyiv, Ukraine