2023 | NYC | Artist
Miatta Kawinzi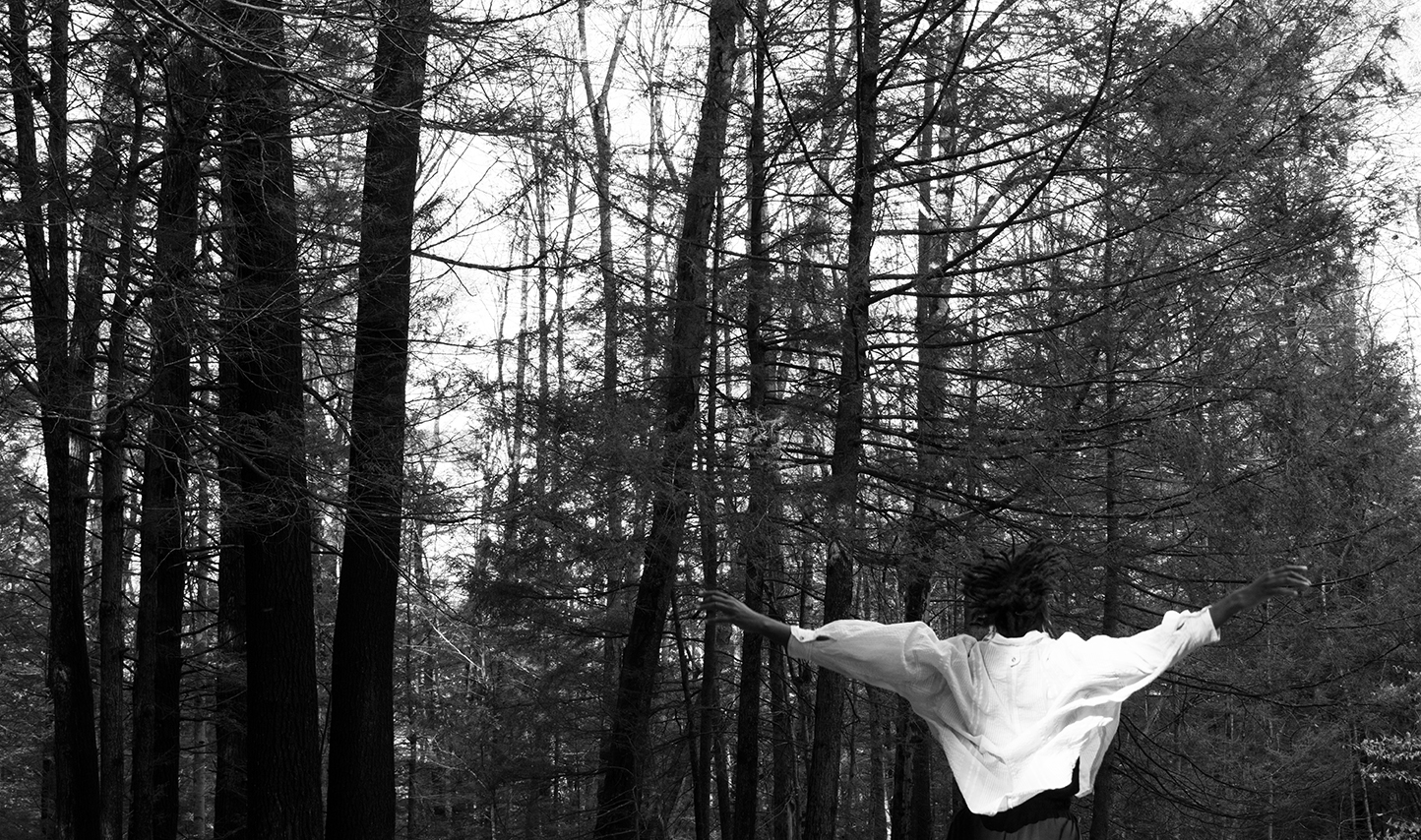 Miatta Kawinzi, "to trust the air might hold us (leap)", 2023, Archival Pigment Print, Courtesy of the Artist.
Artist Name: Miatta Kawinzi
Residency Dates: April - June 2023
Born: 1987
Hometown: Nashville, TN
Lives & Works: Brooklyn, NY
URL: https://mkawstudio.com/
Education:
2010 | BA in Interdisciplinary Art & Cultural Theory, Hampshire College
2016 | MFA in Studio Art, Hunter College
Bio/Statement:
Miatta Kawinzi (she/they) is a Kenyan-Liberian-American multidisciplinary artist working with multimedia sculptural installation, still and moving images, the voice and body, gesture, language, objects, space and sound to explore practices of re-imagining the self, identity, place, and culture through abstraction and poetics. Their work engages interior and exterior landscapes to illuminate themes of inter-connectivity, hybridity, diaspora, and queered temporalities. Their practice is informed by embodied research and listening to landscapes, experimentation, and an investment in the language of gesture as an expressive tool.
Her current research draws on personal, national, and transnational histories to think through U.S.-Liberia historical entanglements and the affective dimensions of history. She is currently developing new multidisciplinary work that thinks through the notion of liberation as an ongoing process.
Recent exhibitions include States of Becoming at The Africa Center, New York (2022-23); The Condition of Being Addressable at Institute of Contemporary Art, Los Angeles, CA (2022); Soft is Strong, solo exhibition at CUE Art Foundation, New York (2021). Their work has been exhibited, screened, and/or performed at Microscope Gallery, Center for Art, Research and Alliances, Times Square Arts, BRIC, Studio Museum in Harlem, and Maysles Cinema (all in NYC), Pan African Film Festival with LACMA (CA), Ann Arbor Film Festival where she received the No. 1 African Film Award (MI), and New Orleans Film Festival (LA).
Her residencies include Smack Mellon (NY), MacDowell (NH), POV Spark (NY/DC/Italy), the Cité internationale des arts (France) with LMCC, the Bemis Center (NE), and the Bag Factory (South Africa). She is a recipient of the 2021-22 Jerome Hill Artist Fellowship, 2021 New York Artadia Award, and 2018 Queer|Art Barbara Hammer Grant.
Miatta Kawinzi is one of five artists participating in the 2023 New York City-Based Artist Residency, dedicated to supporting the voices of underrepresented artists in NYC who identify as Black, Indigenous and People of Color and whose research-based practices fill in gaps in historical knowledge. The program is organized by Guest Curator Rachel Gugelberger.
The 2023 NYC-Based Artist Residency Program is made possible by the New York State Council on the Arts with the support of the Office of the Governor and the New York State Legislature and public funds from the New York City Department of Cultural Affairs in partnership with the city council.