2019 | NYC | Artist
Melissa Marks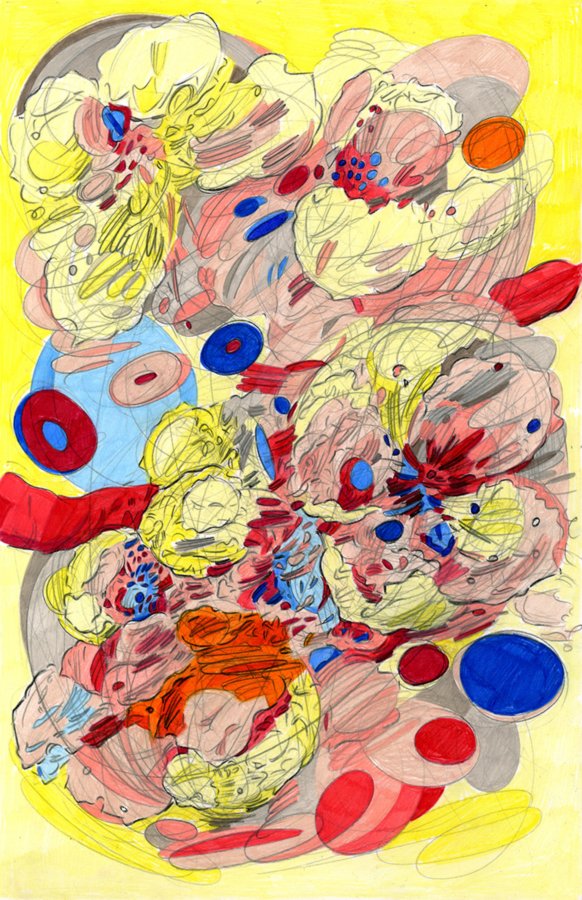 Volitia Changes Course, 2018, color pencil on paper, 17 x 11 inches
Artist Name: Melissa Marks
Residency Dates: February-April 2019
Born: 1965
Lives & Works: New York, NY
Artist URL: http://www.melissamarks.com/
Education: BA Wesleyan University, 1987 MFA Yale School of Art
Bio / Statement:
Melissa Marks describes "the drawn mark" as a "mutable abstraction, linear catalyst and fantasy instigator." "Every drawing I make is a diagram of a core-shaking internal disruption, an interior landscape made visible, a picture of a self in a constant state of remaking."
In a twenty-year project "Adventures of Volitia" that has included drawing, painting, animation, wall-drawing and installation, Marks exploits the flexible structure of "serial context in collusion with the act of drawing" in order to explore ideas about character, performance, Pop, Nature, and Abstraction. The calligraphic gesture and deliberate line exercise an energetic form of visual self-talk, referencing sources as diverse as American comics, Contemporary Japanese Anime, High-Renaissance Fresco cycles, Van Gogh, Monet, Matthew Barney, Sol LeWitt, Edo-period woodcuts and Chinese scroll painting. Veering between the graphic extremes of full color and black & white, subjects include battle, paradise, water, transience and satisfaction.
Solo exhibitions include: Planthouse Gallery, NY; Bloomberg Space, London; Nicole Klagsbrun Gallery, NY; Aldrich Museum of Contemporary Art, CT and Joya: arte + ecología, Cortijada Los Gazquez, Spain. Her work has been included in exhibitions at PS1/Moma, NY; Artspace, CT and The Drawing Center, NY.
Support: Dirt & Debt, RU's first thematic residency program is made possible with support from the New York City Department of Cultural Affairs in partnership with the City Council.