2018 | NYC | Curator
MC Roodt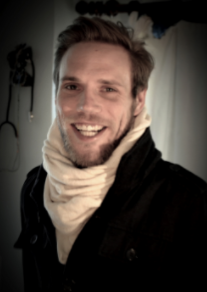 MC Roodt
Bio / Statement:
RU is thrilled to announce that MC Roodt is our sixth annual Curatorial Resident, co-sponsored with Visual Aids. MC Roodt is an HIV positive arts practitioner, writer and artist who serves on various arts, health and culture boards. ​He is an emerging South African artist recognised by his medium specific investigations that reveal the construction of ontologies supporting contemporary discursive spaces. Expressive in nature, Roodt draws upon personal and collective phenomenologies and exposes their ontological structures and origins; making use of aesthetic devices such as mimicry, parody and performatism. Usually resulting in viscerally taboo psychophysical states interacting with their own meta-narrational structures.
Roodt majored in drawing and printmaking and later started to incorporate photographic processes, digital printing media and animation into his artworks. A strong emphasis on formalism unites his artworks that are often produced in series and frequently elaborated on by involving collaborators.
Recurrently focusing his attention towards the human figure and portraiture, Roodt establishes the body as an icons used to demonstrate challenging psychophysical realities. Defining these realities are the main impetus behind his conceptual and stylistic development, where the resulting artwork grapples with the disparate reality of defining physical space and boundaries whilst simultaneously defining ontological narratives and beliefs. The resulting work is often an active interplay between where these two worlds meet, overlap, echo or negate each other.
He is  a founding member of the gRRR Kollective —an intermedia arts collective. He has curated several exhibitions in South Africa. He frequently contributes as an arts writer on various platforms and is an active activist for LGBTQIA rights in South Africa. Currently, he is managing the first Arts and Health programme in South Africa called The Free State Arts and Health Programme which supports and designs community-centered intermediations by arts-workers with the aim of positively impacting the health and well-being of diverse communities.
In 2007 he was awarded the Prestige Award from CUT followed by the inclusion of two of his artworks into the William Humphrey's public collection. After being selected as one of the finalists in the annual emerging artist exhibition hosted by Oliewenhuis Art Museum in 2008, Roodt has continued to exhibit throughout South Africa, headlining The Process Exhibition on the main programme of the 2011 Freestate Arts Festival. In 2011 Roodt was shortlisted for the Bettie Cilliers-Barnard painting award.
MC's Roodt's proposal for the Visual AIDS / Residency Unlimited Curatorial Residency is to coordinate an Arts & Health program and a create a transnational and online exhibition. MC will spend the month conducting research in Visual AIDS' archives with access to slides, digital images, publications and other resources, as well as activating Visual AIDS' community through dialogues, studio visits and a public program. For more information please go here.
Support: MC Roodt's residency is made possible with support from Visual Aids.