2018 | NYC | Artist
Max Ruf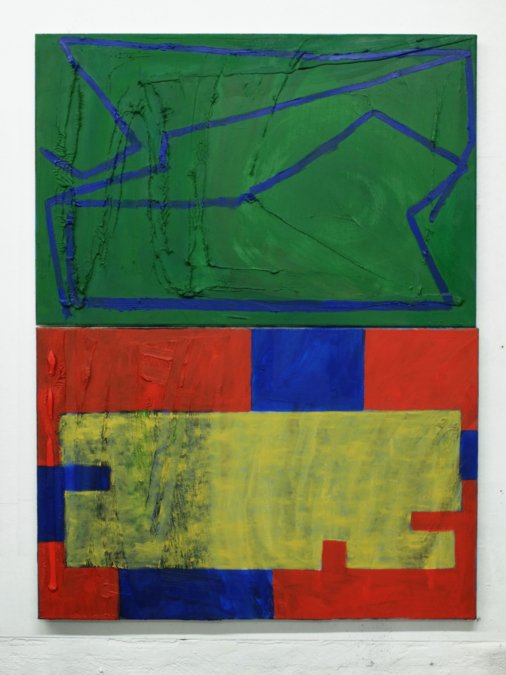 untitled (blue lines on green above yellow field within red and blue), oil on canvas, 120 x 90 cm, 2017
Bio / Statement:
By adopting the trope of the journeying plein-air artist, Max Ruf articulates his movements and displacement through different natural environments to merge together the pressures of site with the material plasticity of paint. In this way, his paintings, objects and video works question whether to be understood as the backlog of a performative and enduring event or as the expression of our desire to reify our visual and sensorial experience. His gestural approach to the canvas is resonant with his movements correspondence to a moving landscape that is both natural and artificial as well as physical and symbolic.
Max Ruf had solo exhibitions such as ZERO, Svit, Prague (2018); NIMBYS, Zabriskie Point, Geneva (2017); STADT, Galeria Múrias Centeno, Lisboa (2016), Description of a Castle, The Loon, Toronto (2016); Toujours, Parkhaus, Düsseldorf (2016, with Jan Kiefer) and a solo presentation at ABC Berlin with Múrias Centeno (2015). He was part of Bloomberg New Contemporaries at the Institute Of Contemporary Art, London (2013). Was Artist in Residence at Lucile Avenue, Los Angeles and at The Loon Toronto earlier 2016.  STADT, Murias Centeno, Lisbon (2017); DESCRIPTION OF A CASTLE, The Loon, Toronto (2016); PHTHALO GREEN, Union Pacific, London (2015); 6:45, Murias Centeno, Lisbon (2014); LA PASSION EST UNE CHANCE, CSA, Vancouver (2013) and LANDSCHAFTEN, Ono at UKS, Oslo (2012).
Group exhibitions include FOUNDATION PAINTING SHOW, Glasgow International, Glasgow (2018);SELBST, Institut fuer Bienenzucht, London (2017); SAMSTAG 05.08., Berlin (2017); TOUJOURS, Parkhaus im Malkastenpark, Düsseldorf (2016 / with Jan Kiefer); LANZAROTE, Union Pacific, London (2016), PARK VIEW, Frankfutr am Main, Berlin (2016); JAC LEIRNER, Albert Baronin, Brussels (2015); POSTCODES, SOFT, curated by Pedro Wirz and Gabriel Lima, Casa do Povo, Sao Paulo, 2014, BUNKERING IN PARADISE THE REST OF US JUST LIVE IN IT, Turin (2014 / with Adriano Costa and Sebastian Lloyd Rees);  SUNSET, The Sunday Painter, London (2014); KUNSTHALLE ROVEREDO, curated by Elise Lammer, MJ, Geneva (2013); New Contemporaries, ICA, London (2012); New Contemporaries, Liverpool Biennial, Liverpool (2012).
Residencies include The Loon, Toronto (2016), Lucile Avenue, Los Angeles (2016) and Kunsthalle Roveredo, Roveredo (2014).
Here you can find the Mousse Magazine review of Phtalo Green show. 
Here you can read Ivan Knapp article for ARTUNER reflecting on Max Ruf's practice.
Galleries:
Union Pacific
Nuno Centeno

Support: Max Ruf's residency is made possible with support from Künstlerhaus Schloss Balmoral Stiftung Rheinland-Pfalz für Kultur.