2018 | NYC | Artist
Mateusz Sarzyński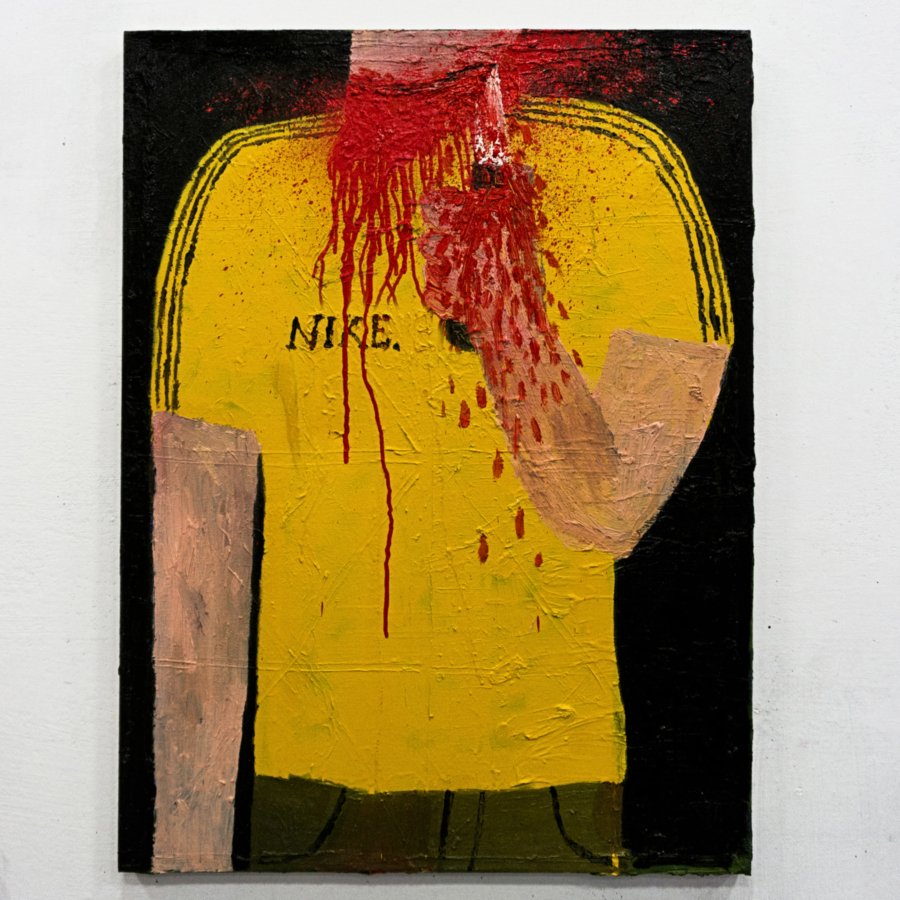 untitled, 2018, oil on canvas, 80cm x 60cm
Artist Name: Mateusz Sarzyński
Residency Dates: November
Born: 1990
Hometown: Biłgoraj, Poland
Lives & Works: Cracow, Poland
URL: https://www.instagram.com/mateusz.sarzynski
Education: 2009-2013- BSc in Architecture at Cracow University of Technology; 2013-2015- MSc in Architecture at Cracow University of Technology; 2014-2019- MFA in graphic arts at Cracow Academy of Fine Arts
Bio/Statement:
Polish artist Mateusz Sarzynski is the winner of the 2018 Hestia Artistic Journey Award established to promote young Polish art and artistic education.
Practicing tattoo artist and designer,Mateusz Sarzynski's paintings are dark, occasionally political, and deeply ironic. Mostly self-taught, Mateusz uses oil paint and acrylic spray as his medium to address situations from everyday life, current events or video games, the internet, television and tabloid press, depicting violent reflections on capitalism and today's media. He paints rather fast, tempting to finish his canvases in one day without using sketches, balancing between the seriousness and the irony of the content.
"A scene of violence or self-destruction, frequent motives particularly in Sarzyński's work, becomes a bloody body left without explanation. Everybody can relate, everybody understands the pain of armless figures and bloody faces with sinister grimaces. Nevertheless, these bodies are still living. Sarzyński has also created a number of paraphrases after old masters. By simplifying the form to rather anonymous matter and adding blood, he helps to bring the fabled artpieces closer to the our contemporary perception. He comes to terms with biblical narrations by using subtle irony. Besides human figure, Sarzyński often paints animals, fighting dogs, spiteful cats, various beasts.Everybody can be impressed by Sarzyński's raw, expressive brushwork, which he uses to form simple, icon-like compositions, usually completed with inscriptions.The simplicity of picture does not stand for ignorance. It is in fact the opposite: acknowleding the complexity of everyone's thoughts, inviting to take part, to play." kindheit/primitive speech Nick Havelka
Exhibitions include 2018: Between Salvation and Constitution, BWA Warszawa Gallery (Warsaw, Poland), large drawings, Three Works (Scarborough, England), GROBING 2018 praktyczne porady, galeria smierc frajerom (Warsaw, Poland), weltschmerz, Widna Gallery (Cracow, Poland), 17th Hestia Artistic Journey competition, Museum on the Vistula (a branch of the Museum of Modern Art in Warsaw, Poland), Rude Assemby part 2, Campbell Project Space (Sydney, Australia); 2017 We are the ones, vol.1, CGK (Copenhagen, Denmark), MTRS, Rondo Sztuki Gallery (Katowice, Poland).
See the interview with the artist for Youngspace here.
See the interview with the artist for Blok Magazine here. 
Support: Mateusz Sarzynski's month long residency is made possible with support from Hestia Artistic Journey, a prize established since 2002 for the promotion of young Polish art and artistic education.