2022 | NYC | Artist
Marissa Gutierrez-Vicario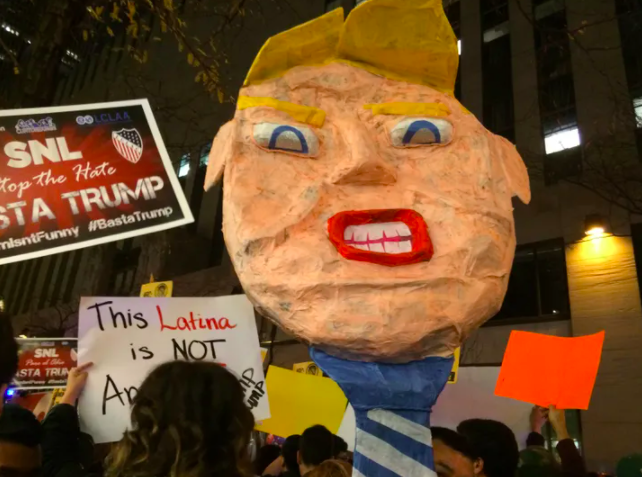 Image of artist's piñata of Trump at the 2015 protests outside of SNL, New York City, Photo by Amanda Terkel via Huffington Post
Artist Name: Marissa Gutierrez-Vicario
Residency Dates: February - May 2022
Born: 1984
Hometown: California
Lives & Works: New York
URL: http://www.artejustice.org/marissa
Bio/Statement: 
Marissa Gutierrez-Vicario is the Founder and Executive Director of Art and Resistance Through Education (ARTE). As a committed human rights and peace-building activist, artist, educator, and advocate for youth, Marissa launched ARTE in 2013 to help young people amplify their voices and organize for human rights change in their communities through the visual arts.
As a Mexican-American artist, Marissa explores piñata-making, a cultural artform inherited by a family member at the age of seven. Through this artform, Marissa explores impermanence, in the development of art that walks a tightrope between creation and destruction.
Marissa currently serves as an Adjunct Lecturer at the City College of New York in the Art Education department and is an Artist-in-Residence at the Initiative for a Just Society at Columbia University. Marissa also serves on the Global Fund for Women's Artist Changemaker Advisory Council. In spring 2021, Marissa served as the Soros Visiting Practitioner Chair at the School of Public Policy at Central European University in Vienna, Austria.
Marissa holds a B.A. in Political Science and International Relations, from the University of Southern California, an M.P.A. from the Wagner School of Public Service at New York University, and an M.Ed. from the Harvard Graduate School of Education in Art Education.
Support: Marissa Gutierrez-Vicario's residency is made possible with support from New York City Department of Cultural Affairs.