2023 | NYC | Artist
Mariana Hahn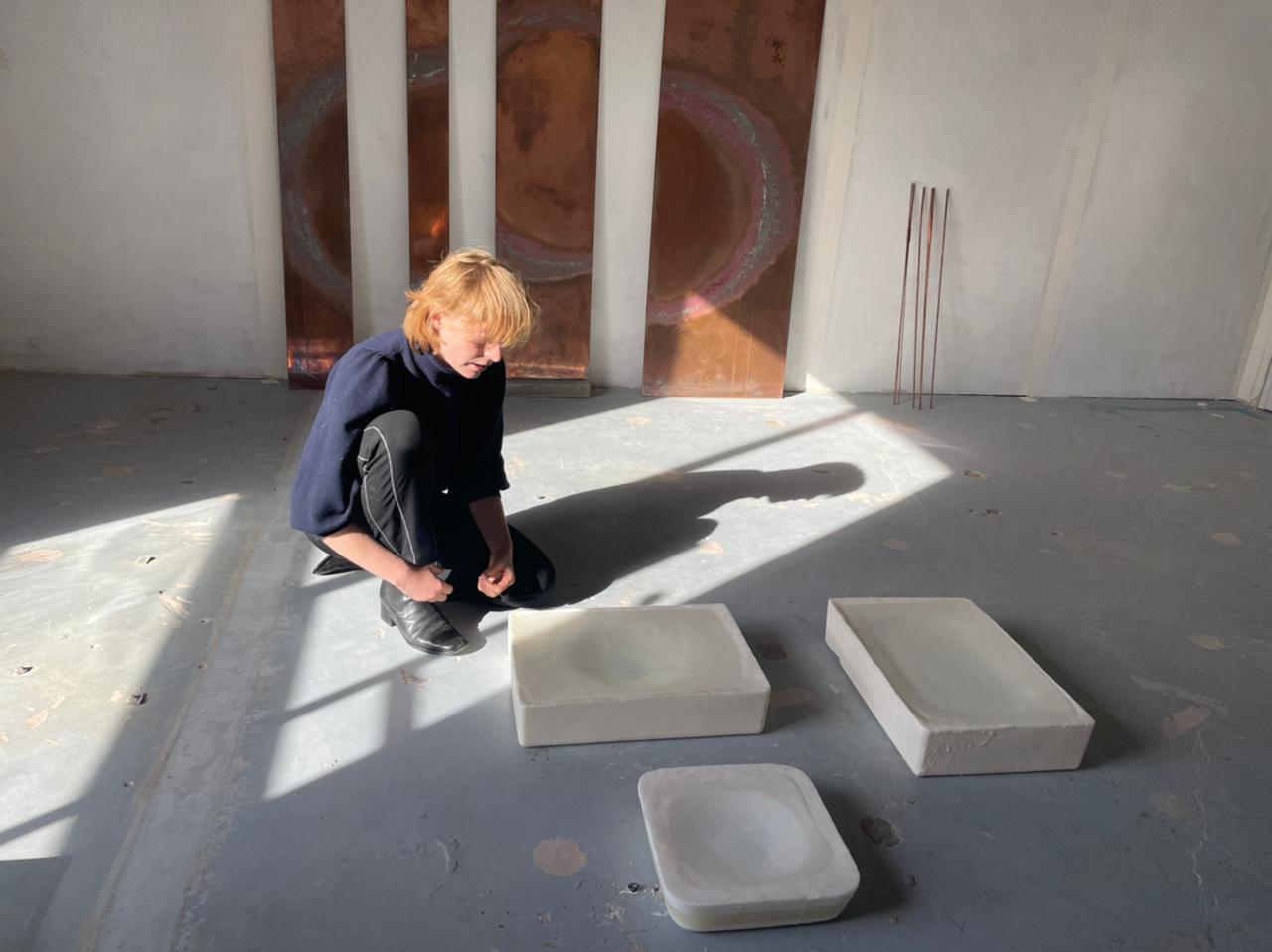 Mariana Hahn in her studio, Photo taken by Phlaguni Giuliani, 2022.
Artist Name: Mariana Hahn
Residency Dates: May - June 2023
Hometown: Germany
Lives & Works: Paris, France
URL: https://www.marianahahn.com/ | Instagram: @mariana.hahn
Education: Bachelor of Arts, Central Saint Martins, London
Bio/Statement:
Mariana Hahn's practice is motivated by the exploration of the relationship between the body and the transmission of memory and knowledge and transformation processes. Furthermore, she is investigating materials and their relationships to each other, as a so-called substratum of processes of the human body and its relationship with the invisible. She is continuously looking at knowledge systems, outlining their commonality and genealogical progressions. She focuses on media such as performance, installation, drawing, video and poetry.
Her works have been exhibited internationally, with recent exhibitions including: Echoes of a distant time come willowing across the sand at Poush Aubervilliers, France (2022); Murmur at Galerie 110, Paris, France (2022); An Endless Curve at Circle Culture Gallery, Berlin, Germany (2022); Manger les fleurs at Galerie Sono, Paris, France; Midwife of Fish at The Mountain View, Shenzhen, China (2019). Hahn has also exhibited at venues such as PS120, Berlin, Germany; Pan Meigu Female Art Museum, Fujian, China; Redtory Museum of Contemporary Art, Guangzhou, China; Salon Oktobarski - Belgrade Art Biennale; Galleria Mario Iannelli, Rome, Italy; Trafo Museum of Contemporary Art, Stettin, Poland; Biennale for Young Art, Moscow, Russia; Chat Mill6 Foundation, Hong Kong, China.
Support: Mariana Hahn's residency is made possible with support from a private collector.