2016 | NYC | Artist
Mami Kosemura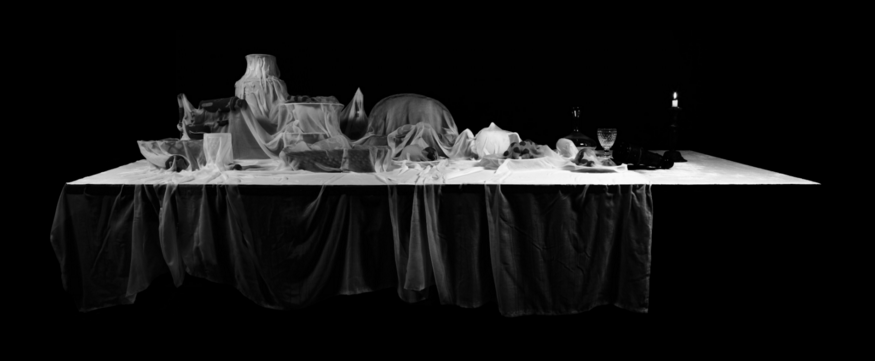 Drape, Giclee - Print, 2013
Artist name: Mami Kosemura
Dates of residency: June - November
Born: 1975
Hometown: Kanagawa, Japan
Lives and works: Tokyo, Japan
URL: http://www.db-beam.com/mk-works/
Education: 2005 D.A. in Painting, Tokyo University of the Arts; 2001 M.A. in Mural,Tokyo University of the Arts
BIO/ STATEMENT:
In her photography and video practice, Mami Kosemura directly references traditional subjects taken from Japanese painting and European masters such asCaravaggio and Zurbaran. Originally trained as a painter ,  Kosemura evolved into a digital artist praised for her animation works that emit a sense of calm depth in which drawing-like photographs seamlessly connect.
Solo shows include "Still", Ai Kowada Gallery, Hanare, Tokyo, 2015; "The Collector", ROPPONGI HILLS A/D Gallery, Tokyo, 2012; "The Bird in The Darkness, The Ashen White Shadow", Yuka Sasahara Gallery, Tokyo, 2011; "Miniature Garden", Yuka Sasahara Gallery, Tokyo, 2007.
Kosemura has participated in group shows most recently at the The Museum of Modern Art, Gunma, Gunma, 2015; "Kuandu Biennale 2014", Kuandu Museum of Fine Arts, Taiwan, 2014; "Art of Life"; Kunsthal KAdE, Holland, 2013; "EDO TO VIDEO: JAPANESE SCREEN MAKING", Dillon Gallery, New York, 2012; "Hi! Sansui", Korean Cultural Center, Beijing, 2010; Tokyo Metropolitan Museum of Photography,Tokyo, 2009;  International Incheon Women Artists' Biennale, 2009; Freer & Sackler Galleries/Smithsonian, 2007
SELECT PERMANENT COLLECTIONS:
Asia Society and Museum NY
Museum of Contemporary Art Tokyo
Kuandu Museum of Fine Arts
The University Art Museum, Tokyo University of the Arts
SUPPORT: Mami Kosemura's residency is supported by The Gotoh Memorial Foundation.