2018 | NYC | Artist
Maess Anand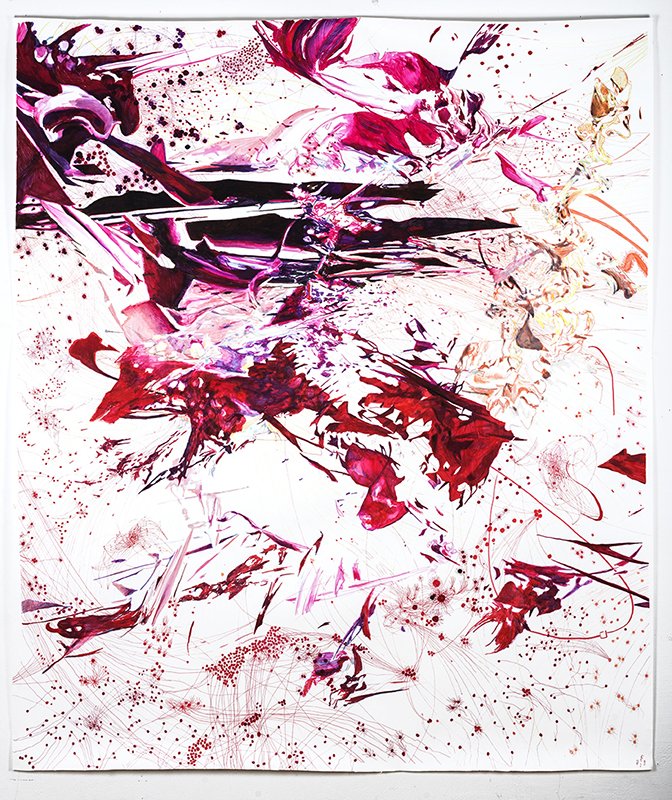 Metastasis II
Maess, Metastasis II, 2014, marker and pen on paper, 150x185 cm
Bio / Statement:
Maess's works examine organisms attacked by cancer. Using scientific material that involves cancer related databases, microscopic views, histopathology images, Kaplan-Meier curves, 2D and 3D modeling, the artist combines these visual facts about cancer into expressive images in order to create something meaningful and emotionally insightful. Of interest is both physiologic response but also mental outcome of such suffering. Specifically, how the disease changes the lives of patients and people closest to them (especially how the perception of time changes for a patient); how the body changes on a tissue level when affected by cancer, how the groundbreaking oncology treatments change the way that cancer is perceived in culture.
Maess is a Polish artist based in Warsaw. She is a MFA graduate from the Academy of Fine Arts in Warsaw and recipient of a scholarship at the Escola Superior de Artes e Design in Porto, Portugal. In 2012, Maess was nominated to the Grand Prix at the FID Prize Paris, and in 2013 she was shortlisted to the Strabag International Art Award in Vienna, Austria. Amongst others, she exhibited at the Plumba Contemporary Art, Porto (2006), Residencia Corazón, La Plata, Buenos Aires (2008), Museo di Santa Cecilia in Rome (2010), CCA Ujazdowski Castle in Warsaw (2010), Program Gallery in Warsaw (2011), Wroclaw Contemporary Museum (2013), Galeria Miejska Arsenal in Poznan (2013), BWA Sokól in Nowy Sacz (2013), The Starak Family Foundation in Warsaw, Drawing Center in New York (2014), Polish Institute in Budapest (2015), Kasia Michalski Gallery in Warsaw, (2015),Trestle Gallery in New York (2016) and at Biennale de la Biche on deserted island near Guadeloupe(2017) Her drawings were presented in Vice Magazine, FUKT Magazine for Contemporary Drawing and The Lancet Oncology. Residencies include: Leipzig International Art Programme (2014) Virginia Center for Creative Arts (2017) and The Corporation of Yaddo (upcoming). With Alex Urso, Maess curated Biennale de La Biche; the smallest biennale in the world held on deserted island near Guadeloupe. The was event reviewed by  The Guardian, Hyperallergic, Artnet,  Art Review, Observer (2017)
Interview in Contemporary Lynx can be found here.
Review in The Lancet Oncology can be found here. 
Instagram: @Maess_drawings
Select Permanent Collections: Chopin Museum Warsaw
Support: Maess Anand's residency is made possible with support from Adam Mickiewicz Institute and Sugar Hill Capital Partners Studio Program.