2018 | NYC | Artist
Lőrinc Borsos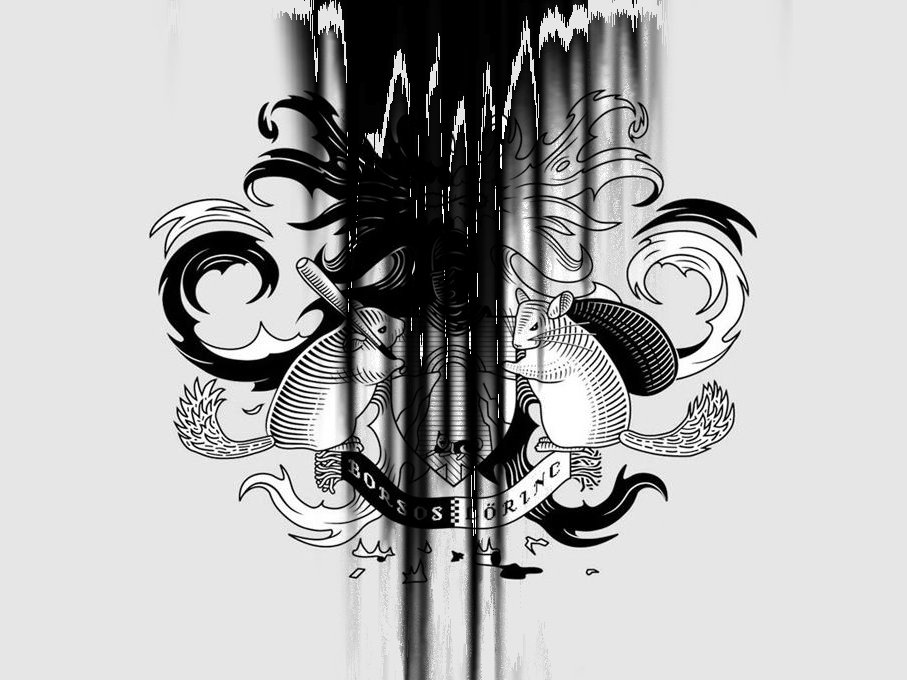 Coat of Arms. 2008
Bio / Statement:
Winners of the ACAX_Leopold Bloom Young Visual Art Award 2018, Lilla Lőrinc (1980), and János Borsos (1979) work together since 2008 as Lőrinc Borsos. The name covers an entity with its own creative consciousness. His/her age is currently 10 years. His/her gender, sexual orientation and intellect are equally characterized by bipolarity. The basis of his/her existence is the coexistence of extremities, but his/her actual goal is the solution of duality. He/she vitalized by transition. His/her spiritual nutriment is paradox, the intersections of contradictory ideologies. The typical case of fall between two stools but the choice of the floor is self-imposed. The artist aims at the glimpse of the greater whole: instead of choosing a part, he/she is excited about the relation of the parts to the whole.
He/she despises hierarchy and the social divide and exclusion created in its wake. He/she sets his own existence/nonexistence against these. Part of his/her art is direct questioning of the medium and social reflection. A dialogue with material, dialogue with the medium. Works that are place- and situation-specific. He/she reflects on the current and delves into longer projects at the same time. For him/her, art gets interesting beyond morals, when it still exists in an unfiltered state, right after the moment of the birth of an idea. At this point there is no political correctness of self-censorship yet.
Selected solo exhibitions include: 2018: AND AFTER THE FIRE CAME A GENTLE WHISPER: SHOW ME YOUR FETISH! Another Gallery, Residency Unlimited, New York; 2016: Botanics and Politics (with Kitti Gosztola) / Kisterem Gallery, Budapest; nonentity / Institute of Contemporary Art, Dunaújváros; Paradise Lost / Aranybulla Library, Székesfehérvár; Watch Paint Dry, Collegium Hungaricum Berlin; Cute Little Aquarelles / Deák Képtár, Székesfehérvár; Primavera / Ena Viewing Space, Budapest; Self-Critical Portrait / Latarka Gallery, Karton Gallery, 115-106 Gallery, Budapest. Selected Group Exhibitions include: 2018: Alternative Facts / Calwer Passage, Stuttgart ; Jörmungandr Hybraxxx, Wonder/Liebert, Paris (FR); Dome / Zeiss-Großplanetarium, Berlin; The Rest / In Peace / 115-106, Budapest; Angry Planet 2. Operation Continues, The House of the Lords of Kunštát, Brno, (CZ). 2017 : Found Geometry / Vasarely Museum, Budapest; Economize! On the Relationship of Art and Economy / Ludwing Museum, Budapest; Leopold Bloom Award / New Budapest Gallery; In Situ / Art Encounters Biennal, Timisuara, (RO); Autism as Metaphor / ICA-D, Dunaújváros / Új Magyar Képtár, Székesfehérvár; Real Hungary / Collegium Hungaricum, Vienna (A); Karcolat / Liget Gallery, Budapest; Universal Hospitality 2 / Futura, Prague (CZ); 2016 Borders of Gesture / HGB Galerie, Leipzig.
Select Permanent Collections: Ludwig Museum, Budapest
Support: Lőrinc Borsos's residency is made possible with support from Trust for Mutual Understanding.