2018 | NYC | Artist
Liza Grobler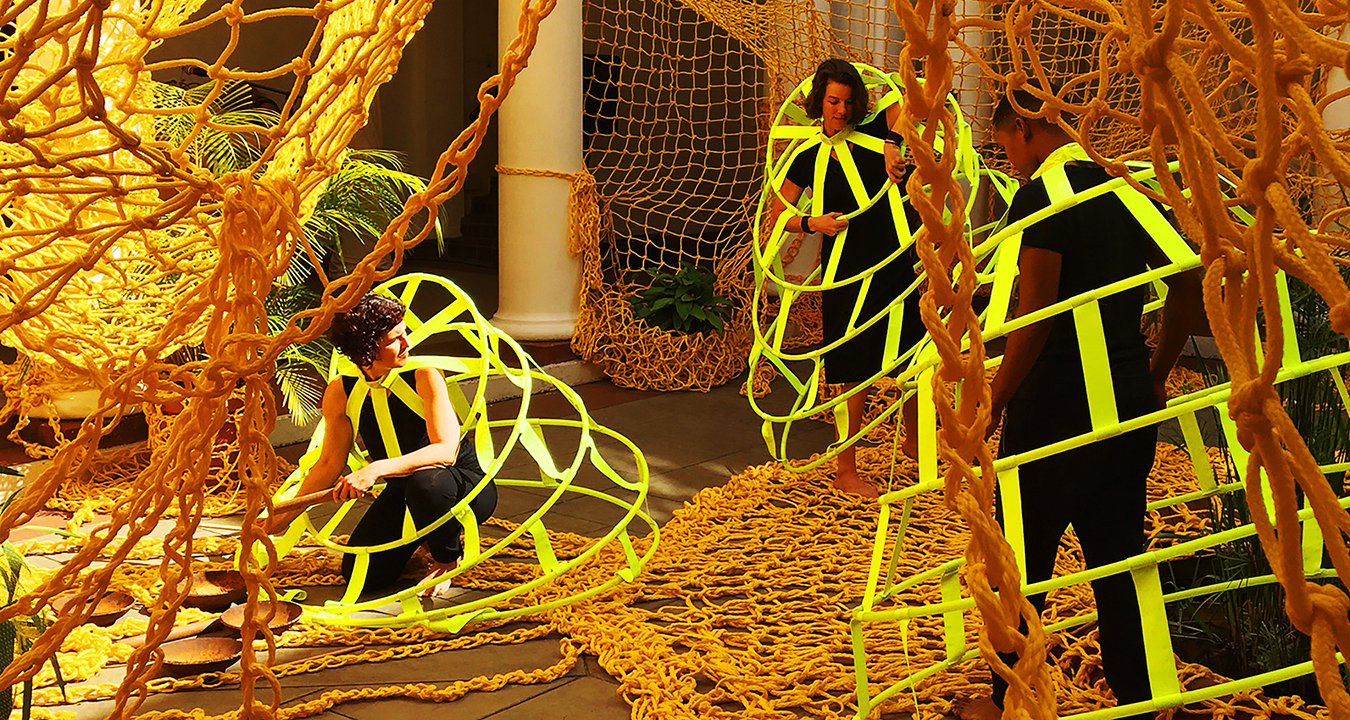 No More Worlds to Conquer, performance still. Photo Credit: Emma Vander Merwe
Bio / Statement:
Liza Grobler's artistic career spans two millennia. She has a foot in the twentieth century, a dream in the twenty first and a small house and large studio in Woodstock, South Africa. Her work is largely process driven and incorporates unusual materials such as thorns, beads and trampolines as well as traditional media such as oil paint, drawing and obsessive crocheting. Often, pieces consist of small repetitive actions that result in large experiential spaces. The viewer is an accomplice that is invited to touch, smell and interact. Sometimes the viewer becomes part of the conversation. At other times, it is a dialogue between fabricated and physical space that reveals an ongoing process in which every project is a thread in a bigger story, every exhibition a comma…never a full-stop…and TIME can FOLD.
Represented by the Everard Read/CIRCA Galleries, Grobler's work has been featured in 15 acclaimed solo exhibitions and numerous group and site-specific projects. Blindfolded Line, Dancing Through Time (2014), travelled for eight months to various museums in South Africa. In 2015, she realized a permanent public artwork for the Cape Town International Design Capital. In 2016, IZIKO Museums commissioned Grobler to create a site-specific work for the atrium of the National Gallery. In 2017, Everard Read/CIRCA asked Grolbler to conceptualize a solo project for the Unframed section of the Cape Town International Art Fair.
Grobler's video work was screened at the ADDIS International Video Art Festival in Addis Ababa (Ethiopia) as well as at FOREVER NOW in Tasmania and Deep Space.  Her photographic works was shown at the AKAA Art Fair in Paris (2016) and is in the collection of the Zeitz MOCAA hotel. She was nominated for the Helgaard Steyn National Award for Contemporary Painting as well as short-listed for the Commonwealth Arts and Craft Award. Grobler is the recipient of the Africa Centre Award (2016) which led to a residency at Khoj International Artists' Association in Delhi (India). She has also attended residencies at Art Omi (USA), in Norway, Finland, Switzerland, Belgium, France, Mexico and South Africa.
See short documentaries about Grobler's work here.
Galleries:
Everard Read/CIRCA Galleries, Cape Town, Johannesburg, London
Select Permanent Collections:
Luciano Benetton Collection (Italy)
Microcollection (Italy)
Nando's (UK) and  Nando's (US)
Frans Masereel Collection (Belgium)
Spier Art Collection (South Africa)
Leeuwen Estate, Art collection (South Africa)
Zeitz MOCAA Hotel,  Cape Town
Support: Liza Grobler's residency is supported by Spier Arts Trust.