2016 | NYC | Artist
Liliya Lifanova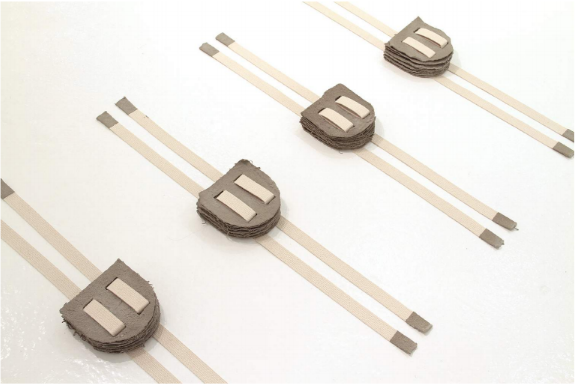 Untitled (stacks with straps),
2015, Canvas, cement, acrylic, 30.5 x 5 x 2 inches
Artist name: Liliya Lifanova
Dates of residency: Sept - Nov
Born: 1983
Hometown: Bishkek, Kyrgyzstan
Lives and works: New York
URL: http://www.liliyalifanova.com
Education: Fulbright Fellowship, Installation Art, Moscow, Russia, 2011; MFA, The School of The Art Institute of Chicago, Chicago, IL, 2010; BFA, The City University of New York, Brooklyn College, Brooklyn, NY, 2006
BIO/STATEMENT:
Liliya Lifanova's paintings, sculptural installations and wearables for collaborative participatory videos and performances are positioned at the intersection of fine arts, experimental theater/performance, and video. Lifanova's work is the struggle for abstraction as she broaches notions of identity within tradition, and the cultural memory of a political system destroying itself from within.
Solo exhibitions include: Study for L'Attente, W10W, New York, NY (2016); Rumour from Ground Control, Rooster Gallery, New York, NY (2015); canvass [PHASE I, II], Gridchinhall, Moscow, Russia and Flying Carpet Prayers, El Posito, Belalcazar, Cordoba, Spain (both in 2011); The Wardrobe: A Game in Waiting, SUGs Gallery X, Chicago, IL (2009); Liliya Lifanova: A Compilation of Works Relating to One's Progression, Brooklyn College Art Gallery, Brooklyn, NY (2006). Her work has also been exhibited in group shows including recently: Ladies Knight, World Chess Hall of Fame and Museum, Saint Louis, MO (2016) and Time + Space (Beginnings), Bemis Center For Contemporary Arts, Omaha, NE (2016). Prior to her residency at RU, Lifanova has been an artist-in-residence at Bemis Center for Contemporary Art, Omaha, NE, Artist's Alliance, New York (both in 2015) and Illinois State University, Normal, IL (2016). She also did residencies at Triangle Arts Association and NARS Artist Residency, New York (2013) and Gridchinhall Artist Residency, Moscow, Russia (2012).
SELECT PERMANENT COLLECTIONS:
US Embassy, Bishkek, Kyrgyzstan, Art in Embassies, US Department of State
SUPPORT: Liliya Lifanova's 3-month residency is made possible with support from the National Endowment for the Arts (NEA) ArtWorks grant and a matching fund from the Dedalus Foundation.