2021 | NYC | Artist
Ligel Lambert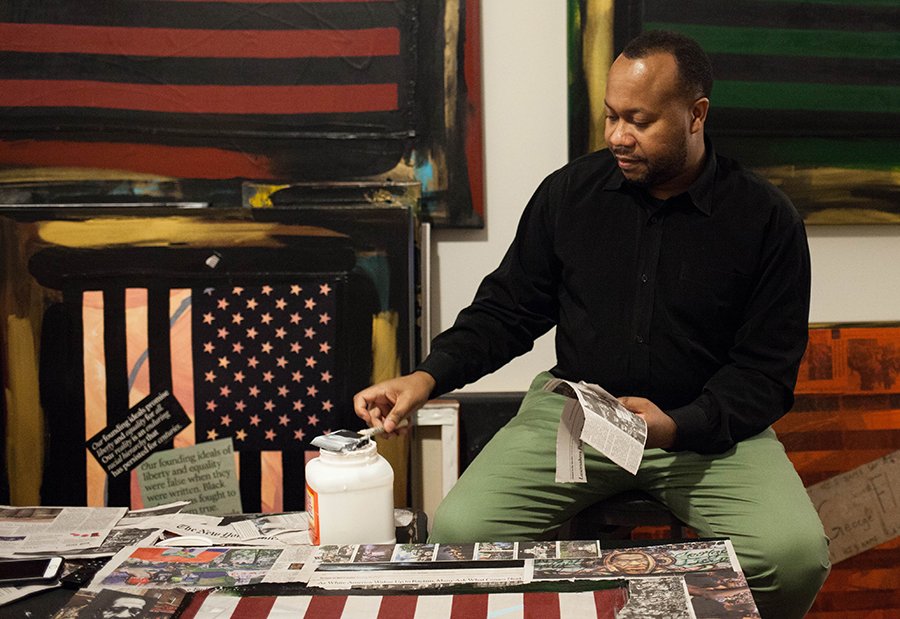 Ligel Lambert in his Bronx Art Studio - January 2021
Ligel Lambert in his Bronx Art Studio, 2021. Courtesy of the artist. Photo taken by Ed Marshall
Artist Name: Ligel Lambert
Residency Dates: February - April 2021
Born: 1982
Hometown: Savannah, Georgia
Place of Birth: Cap-Haïtien, Haiti
Lives & Works: New York, NY
URL: https://www.ligel.com
Bio / Statement:
Ligel Lambert is an American (Haitian born), New York based interdisciplinary contemporary artist, educator, graphic & web designer. His practice now consists mainly of paintings, collages, and mixed media works. Ligel's work engages with an on-going exploration of issues of identity, (consideration the idea of "self") and pop culture that examining the intersectionality of race, racial identities and immigration.
Ligel currently creates his work in his art studio in the Bronx and since the fall of 2018, he has been working on a series of works exploring, experimenting, reworking or amending and examining concepts associated with the intersectionality of race, particularly in the United States, racial identities and immigration through the use of various art-making materials and through research-based practices. The residency with Residency Unlimited is an opportunity to create a few more works within the series and also provide a platform for selected works from this series to be viewed to a wider audience with an aim that the viewers will consider continuing conversations surrounding the issues related to the works presented.
Ligel has a Master of Fine Arts in Interdisciplinary Art from the Royal Melbourne Institute University, Melbourne, Victoria, Australia (2013); Masters in Education in Curriculum & Instruction from the University of West Florida, Pensacola, Florida (2021); a New York State Public School Teacher Certificate in Commercial Arts 7 – 12 (2020); In addition, he completed a Bachelors of Fine Art in Graphic Design (2011)
Support: Ligel Lambert's residency is made possible with support from The Art of Ligel, LLC.