2016 | NYC | Artist
Leasho Johnson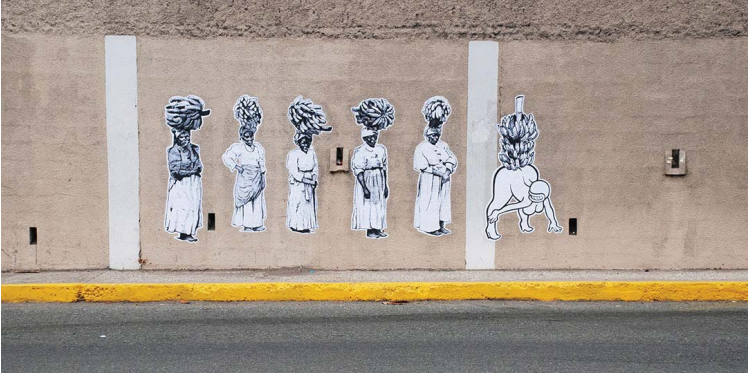 Back-fi-a-bend,
2015, Yeast Paste on wall, Kingston Jamaica
Artist name: Leasho Johnson
Dates of residency: Sept – Nov
Born: 1984
Hometown: Montego Bay, Jamaica W.I.
Lives and works: Kingston, Jamaica
URL: http://www.leasho.com/; http://enfr.blouinartinfo.com/news/story/1441988/davidoff-art-initiative-names-leasho-johnson-for-ny-residency;
Interview with Designer Island Life: http://designerislandlife.com/talks/a-jamaican-sub-culture-nurtures-both-art-design
Education: BFA, Edna Manley College of the Visual and Performing Arts, Jamaica, 2009
BIO/ STATEMENT:
Leasho Johnson is the first artist to be selected for the Davidoff Art Initiative's (DAI) new residency partnership program at Residency Unlimited (RU).
Johnson is a multidisciplinary artist whose practice spans a wide range of formats and media, including ceramics, murals, mixed media, street art, graphic design and found objects. During his residency at RU, he will expand a body of work that aims to redress the global lack of understanding  of traditional Jamaican Dancehall culture. "Jamaican Dancehall culture is vibrant, dynamic, and often times controversial. It is relevant to contemporary Jamaican youth and informs political, social and racial views in Jamaica," says Johnson. "My current work attempts to elucidate both the hidden wildness within this aspect of Jamaican culture and my own place in society as a gay man from rural Jamaica." Using original characters he has named "Pum-Pum" which act as exaggerated reflections of male and female roles in Dancehall culture, Johnson juxtaposes imagery grounded in traditional realism with that of stylistic cartoons to highlight the differences in the two styles.
About the Davidoff Art Initiative
The Davidoff Art Initiative supports contemporary art and artists in the Caribbean, strengthens art organizations in the Dominican Republic, shares knowledge and expertise about contemporary art and fosters cultural engagement between the Caribbean and the rest of the world. At the core of the Art Initiative, Davidoff aims to engage closely with the arts and culture of the Dominican Republic, where much of its production and many of its employees are based, bringing opportunity and visibility to the art and culture of the Caribbean region, and extending the company's long-standing commitment to artistry, craftsmanship, community and quality. The Davidoff Art Initiative's four global program areas are Art Residency, Art Dialogues, Art Grants, and Art Editions.
SELECT PERMANENT COLLECTION: National Gallery of Jamaica, Kingston, Jamaica
SUPPORT: Leasho Johnson's 3-month residency is supported by The Davidoff Art Initiative.