2019 | NYC | Artist
Lauren Berkowitz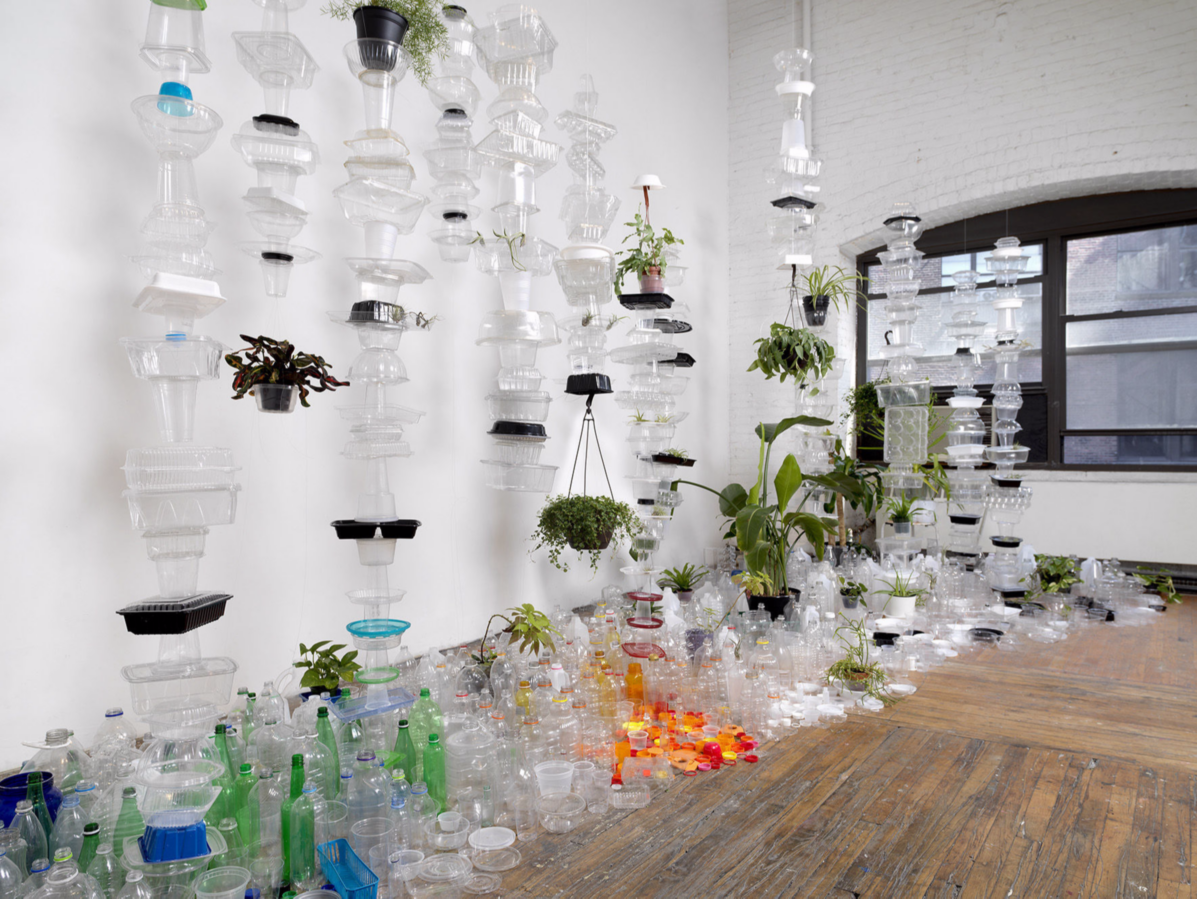 Plastic Topographies, 2018. plastic and plants 4 x 8 x 2 m International Studio and Curatorial Program, New York. Photo: Dario Lasagni
Artists Name: Lauren Berkowitz
Date of Birth: 1965
Place of Birth: Melbourne, Australia
Lives and works: Melbourne, Australia
Artist URL: http://www.laurenberkowitz.com.au
Education: 1993 Masters of Fine Arts (Sculpture), School of Visual Arts, New York; 1989 Graduate Diploma in Fine Arts (Sculpture), Victorian College of the Arts, Melbourne; 1985 Bachelor of Fine Arts (Sculpture), RMIT University, Melbourne
Bio / Statement
Lauren Berkowitz is an Australian installation artist whose work engages with ephemeral and recycled materials. Drawing from the landscape but disquieted by its precarious state, her work explores the poetic and sensory resonance of materials and their transformative qualities through light, volume, and space. Berkowitz's work is often site-specific and relates to ideas of retrieval and regeneration. She is inspired by the Jewish concept of Tikun Olam, the idea of recuperation and repair of the broken world through small gestures. In recent works such as Plastic Topographies (2018), Berkowitz created a surreal dreamscape of accumulated recycled plastic forms that grew and mutated within the gallery. She combined living plants with take away food containers, bottles, and their lids, creating an ambiguous hybrid environment. The plastic forms became both biological and architectural, also suggesting the interior of the body or an imaginary forest.
Significant solo exhibitions include: Ecosphere, Pavillion, Monash University, Melbourne, Fragile Ecologies, Kronenberg Wright Gallery, Sydney (2019), Plastic Topographies, Artspace, Sydney, (2018), Manna, La Trobe Museum of Art, Melbourne, (2009), Salt and Honey, Jewish Museum of Australia, (2002) and Demeter's Garden at Heide Museum of Modern Art (2006). Berkowitz's work was publicized in Sculpture Today, (Phaidon, 2007), Art and Ecology Now, (Thames and Hudson, 2014) and in a monograph by Charles Merewether titled Lauren Berkowitz (Craftsman Press, 2001).
Important group exhibitions include: Melbourne Now, National Gallery of Victoria, (2013-2014); In The Balance: Art For A Changing World, The Museum of Contemporary Art, Sydney, (2010); Achi Triennale, Nagoya, (2010); Echigo Tsumari Triennale, Japan (2003); and Between Art and Nature, Perspecta, Art Gallery of New South Wales, (1997).
Lauren Berkowitz is an ISCP New York and Artspace, Sydney Fellow. Selected honors include Australia Council Project grants between 1990 – 2019 and four Arts Victoria Grants between 2001-2004.
Here you can watch an interview with Lauren Berkowitz produced by the Museum of Contemporary Art Australia.
Select Permanent Collections:
National Gallery of Australia, Canberra
National Gallery of Victoria, Melbourne
Heide Museum of Modern Art, Melbourne
Jewish Museum of Australia, Melbourne
Monash University Museum of Art, Melbourne
Museum of Modern Art Library, Artists' Book Collection, New York
Brooklyn Museum of Art Library, New York
Ruth and Marvin Sackner Archive of Concrete and Visual Poetry, Miami
National Library of the Netherlands (Koopman Collection), The Hague
Arthur and Marta Jaffe Collection, Florida Atlantic University, Florida
Albright-Knox Art Gallery Library, Buffalo
Fogg Art Museum, Harvard University, Boston
School of the Art Institute of Chicago, John M. Flaxman Library, Chicago
Texas Women's University, Texas
University of California Art Library, Los Angeles
Yale Center for British Art, New Haven
Support: Lauren Berkowitz' residency is made possible with the support from Australia Council for the Arts.