2014 | NYC | Artist
Lalie Douglas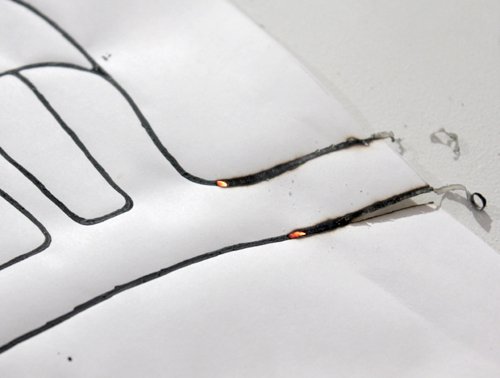 burning_drawing
Artist: Lalie Douglas
Dates of residency: March–May
Born: 1966
Hometown: Montreal, QC
Lives and works: Montreal, QC
URL: http://www.laliedouglas.com/
Education: BFA Concordia University, 1995; MFA Concordia University, 2007
BIO/ STATEMENT: Montreal artist Lalie Douglas (http://www.laliedouglas.com/) creates objects, installations and performances that question our expectations of how art should behave. Her work questions the rules at play inside the gallery and outdoor public spaces. She has exhibited in her home province of Quebec and internationally. Recent public projects include: "This place was like a home to us" (Montreal, 2013); "D'où venons-nous / Où Allons-nous"(Mascouche, 2012) ; installations and performances  such as "The Corner of your eye" (Regina, 2011) and "The Potential of Objects" (Montreal, 2009). Douglas will be presenting a new large-scale installation in the late fall of 2014 at the Maison des arts de Laval.
SELECT PERMANENT COLLECTIONS: Cirque du Soleil, private collections.
SUPPORT: Lalie Douglas' 3 months residency is supported by Conseil des arts et des lettres du Québec.