2018 | NYC | Artist
KULDEEP SINGH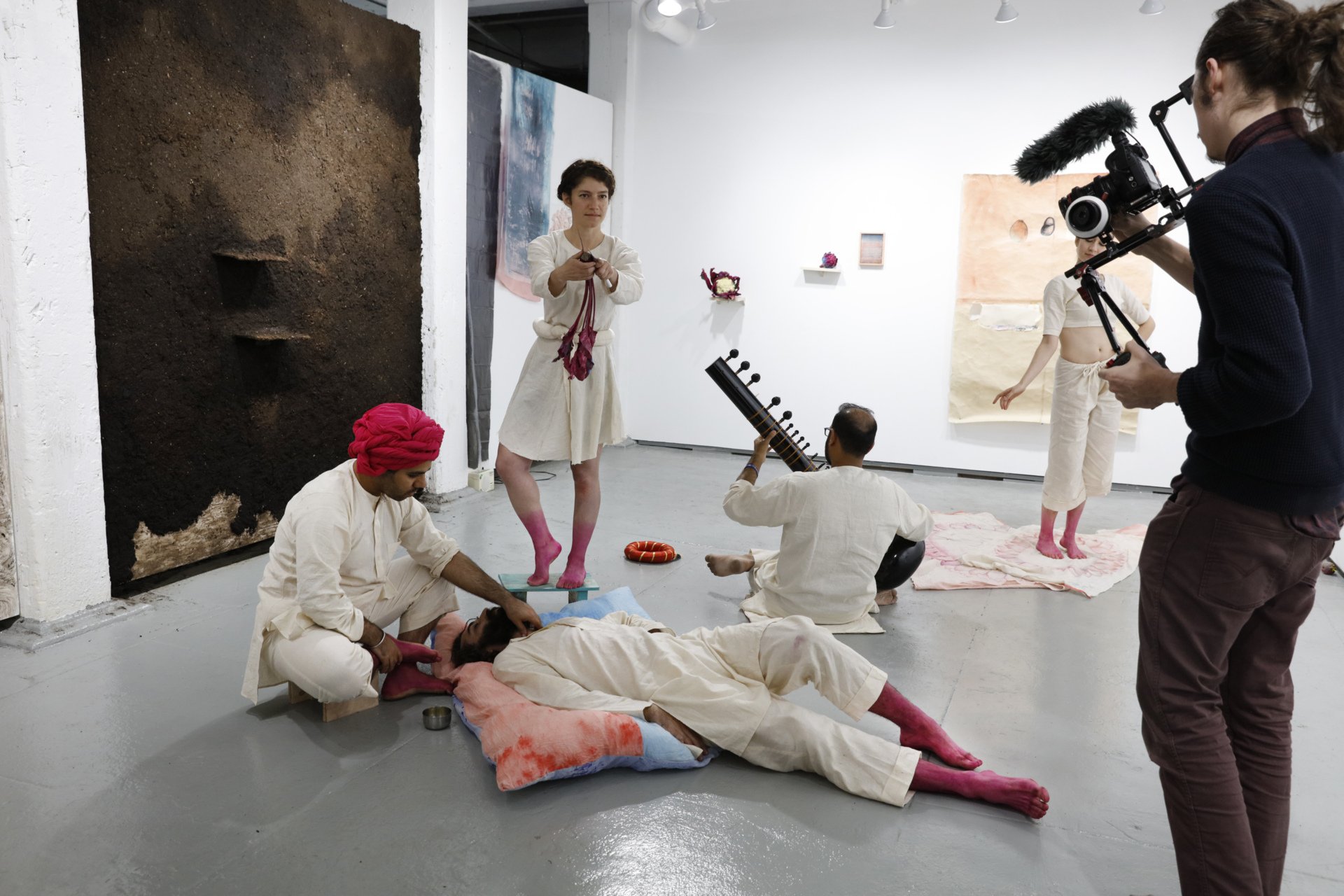 Architectonics of Dispersion. Still from an installation based performance, immersive acts and objects
Bio / Statement:
Kuldeep Singh's multidisciplinary art practice is a compound system comprising of non-linear narratives in visual art and multi-media performance. Which usually invents situations and hybrid myths surveying breaks in colonial histories - as a recurring idea. Through his intensive, decade long, training in the Indian classical dance form of Odissi (system of movement and story telling, gestures and percussive mnemonics) Singh brings fresh perspectives  into contemporary art practice by deconstructing components in acting (and mime), sound/percussive mnemonics and installation design as re-arranged fragments, engaging in body politics and social anthropology. The content, primarily, comes from ancient word of mouth stories, classical Sanskrit texts, and extends to contemporary human situations, thus re-morphing timelines poetically.
​Kuldeep Singh is a recipient of the 2018  Inlaks Foundation Award, for HH Arts Spaces Residency, Mumbai. Solo exhibitions/performances include: 2018 - RE: ART SHOW 21, Pfizer Building, Brooklyn, NYC; LOVE 2018 - PURPLE HEARTS, LeRoy Neiman Gallery, Columbia University, NY; 2017 - ARCHITECTONICS OF DISPERSION-immersive acts and objects, Ortega y Gasset Projects, NYC; 2016 - PRINCE OF DANCE, Drive East Festival, La Mama Theatre, NYC;  NOLI ME TANGERE II, Rapid Pulse International Performance Festival, Chicago; EXPLORING MANSOLLASA, Performance, Queens Museum, NYC; 2015 - STATIC IN MOVEMENT, Installation, Tagore Theatre, Chandigarh, India; 2014 - SKOWHEGAN PERFORMS, Socrates Sculpture Park, NYC; 2014 - +THOUSAND EYES, Collaborative Performance. Skowhegan School of Painting and Sculpture ; 2014 - CONIC at TINY TEN, Englert Theatre, Iowa City SANKEERNA JAGATĪ and NAAPAN, Kolkata International Performance Arts Festival II, Calcutta, India. Singh holds the National Freedom of Expression Award, Mumbai  (2009) and was selected to participate in a residency at Skowhegan School of Painting and Sculpture (2014), Yaddo (2015) and Bemis Center for Contemporary Art (2016).
Whitehot Article about exhibition Architectonics of Dispersion.
Support: Kuldeep Singh's  residency is made possible with support from funds generated from RU's 2017 End of Year Appeal. We are truly grateful to our supporters.