2021 | NYC | Artist
Kristina Arnold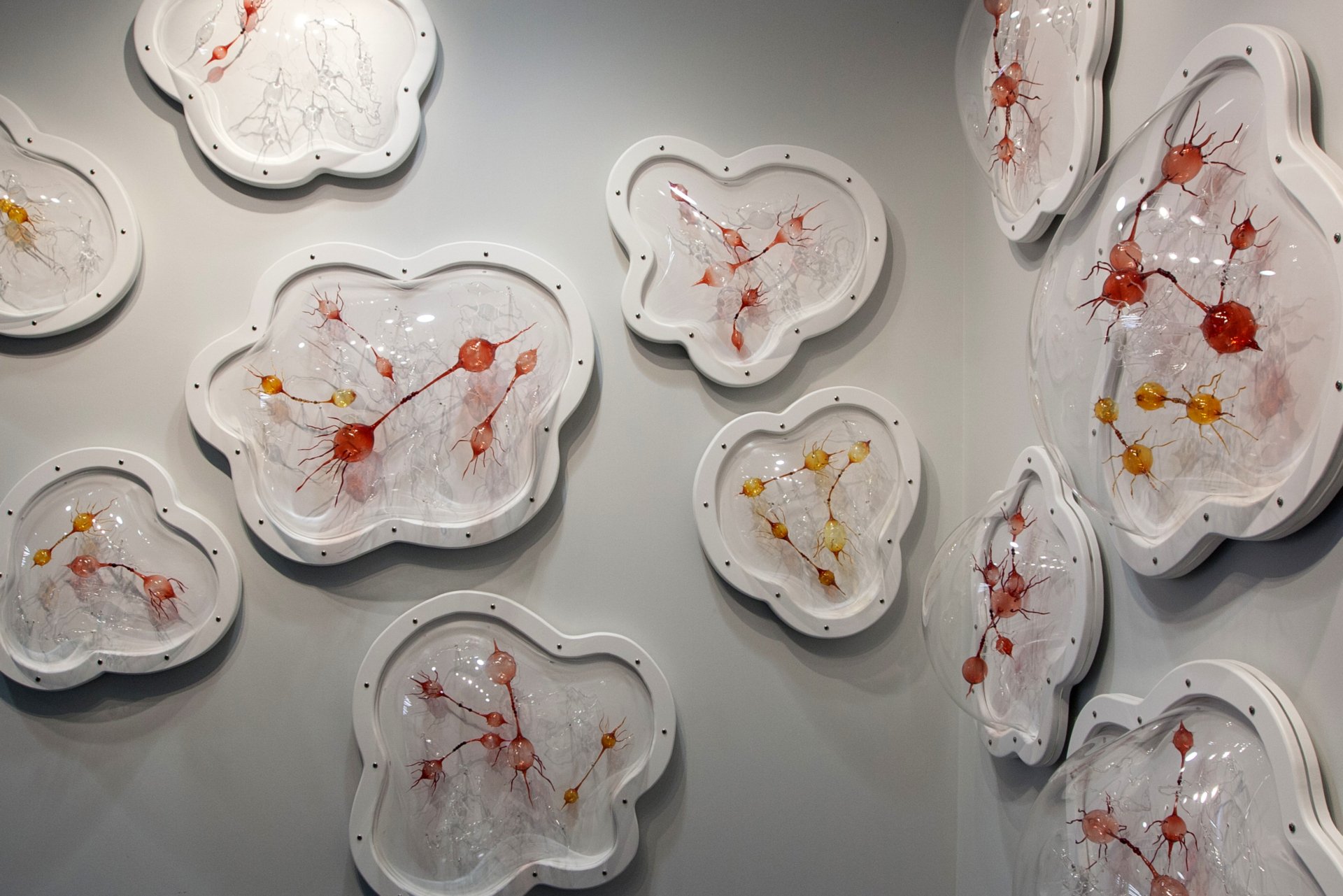 Incubate; 2018; WKU Ogden College of Science and Engineering.Flameworked borosilicate glass, thermoformed Plexiglas, MDF, stainless steel; 120" x 192" x 30"Photo Credit: Clinton Lewis
Artist Name: Kristina Arnold
Residency Dates: May – July, 2021
Born: 1972
Hometown: Arlington, VA
Lives & Works: Kentucky, USA
URL: https://kristinaarnold.com/
Education: BA Community Health, Brown University (1995); MFA Painting & Drawing, University of Tennessee, Knoxville (2003)
Bio/Statement
Kristina Arnold is an artist and educator living and working in Bowling Green, Kentucky. Her practice combines an undergraduate degree and work in community health with a graduate degree in painting, professional museum / gallery experience, and a life-long dedication to activism. Materializing in two, three and four dimensions, Arnold's work ranges from pieces that question current societal understandings of health and wellness and suggest alternative paradigms, to producing projects that more specifically direct desired outcomes. An objects and materials lover, her practice includes collecting and cataloging as a method for understanding.
Born and raised in Arlington, Virginia, Arnold received a degree in community health from Brown University. Upon graduation she moved to Nashville to pursue a career in public health, working in the Department of Preventive Medicine at the Vanderbilt University Medical Center. After five years she returned to her first love, attending art school and earning her MFA in painting from the University of Tennessee. She has worked in collections management for the Frank H. McClung Museum in Knoxville, TN and the Parthenon Museum in Nashville, TN. In 2005 she joined the WKU Art Department faculty where she served as Gallery Director, and now serves as Department Head.
Arnold has shown her work extensively in galleries, museums, and DIY spaces, in venues including the Frist Museum, Nashville, TN; the Bellevue Arts Museum, Bellevue, WA; the Municipal Gallery, Bratislava, Slovakia; eyedrum, Atlanta, GA; Bullseye Gallery, Portland, OR; and the Nashville Airport. Her work has been included in New Glass Review and Sculpture Magazine. Arnold has been an Emerging Artist in Residence at the Pilchuck Glass School, and an artist in residence at Jentel in Banner, Wyoming and the Municipal Gallery in Bratislava, Slovakia. Her work has been supported by grants from the Kentucky Foundation for Women, the Tennessee Arts Commission, WKU, and most recently, the Great Meadows Foundation.
Support: Kristina Arnold's residency is made possible with support from the Great Meadows Foundation, Louisville KY.