2016 | NYC | Artist
Kato Six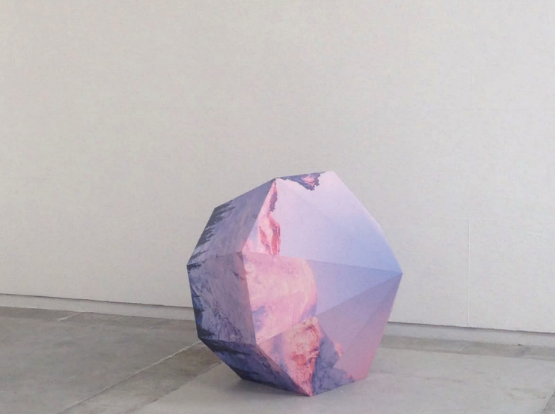 La Route des Hommes, Loods 12,
2016, Untitled (Objects can be many) Material: wallpaper on wood
Artist name: Kato Six
Dates of residency: Aug - Nov
Born: 1986
Hometown: Brugge, Belgium
Lives and works: Brussels, Belgium
URL: http://www.katosix.be
Education: MFA, School of Arts, Ghent, 2010
BIO/ STATEMENT:
In her installation work, Belgian artist Kato Six makes minimal but incisive spatial interventions that act as sculptural marginalia – annotations that are often literally placed in the margins of the space they occupy. With elements, forms, and materials that recall former interior designs as a starting point, Six employs familiar material culture at times reactivateing haunting collective embodied memory. By abstracting  mental, affective and physical resources from their original function, setting or occurrence, Six aims at reconfiguring our experience of the ways we make ourselves at home in the world. Formally, she does this in a rather radical way, for abstraction is pushed to the limits of its own artificiality — whether it concerns the works' comprehension, matter or shape.
Recent solo exhibitions include: "Background Hum," c-o-m-p-o-s-i-t-e, Brussels, Belgium (2016); "Surface Secluded Objects," Be-part, Waregem, Belgium (2015); "Re-located into Silence," c-o-m-p-o-s-i-t-e, Brussels, Belgium (2014); "Focus moves aside, objects appear," Wiels, Brussels, Belgium (2012); "A Backyard Journey," P/////AKT, Amsterdam, Netherlands (2011). Her work was also included in the following selected recent group exhibitions; "Vibrant Matter," KIOSK, Ghent, Belgium (2015); "Capital Artists," Brussels Art Institute, Brussels, Belgium (2015); "Forme e anti forme," Fonderia Battaglia, Milano, Italy (2015); "Hijacking Karma," Oude Kerk, Amsterdam, Netherlands (2013); "Protection," Forgotten Bar, Berlin, Germany (2010).
SUPPORT: Kato Six's 4-month residency is made possible with support from the Flemish Government "Flanders, State of the Art".