2017 | NYC | Artist
Katarzyna Szymkiewicz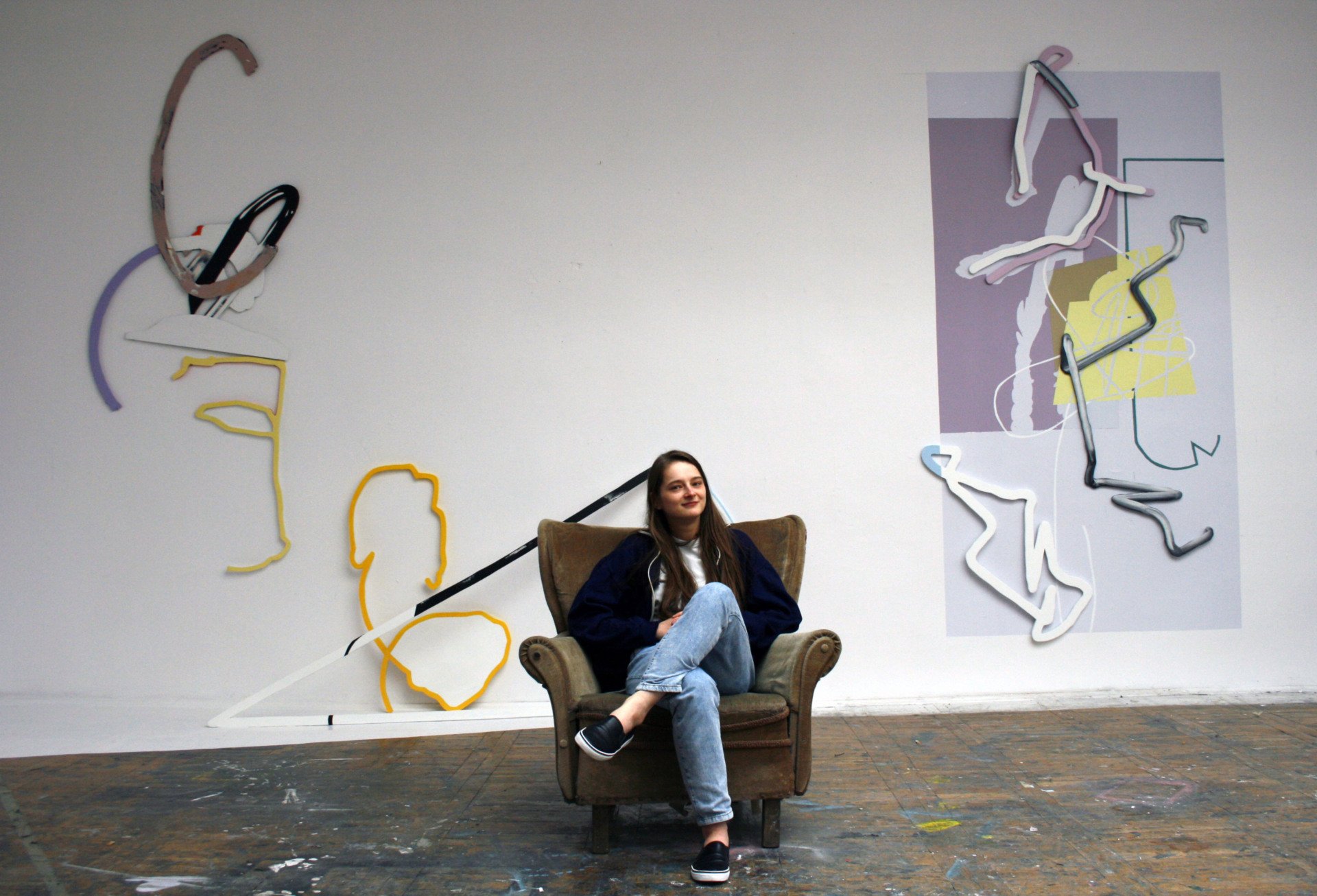 Katarzyna Szymkiewicz in her studio
Bio / Statement:
Based in Kielce, Katarzyna Szymkiewicz is the winner of the 2017 16th edition of the Hestia Arfistic Journey. In 2013, received her BA in Graphic Arts from the Pedagogical University in Krakow Art Faculty. In 2011-2017, she studied at the Jan Matejko Academy of Fine Arts in Krakow.
She works in painting, drawing, graphic arts, animation. Formal problems are her main interest in painting. By introducing a particular image into its secondary context, she opens her work to new interpretations and meanings. The forms she is currently constructing has been synthesised and reduced. She is interested in shapes and their interactions. Her compositions employ heterogeneous elements, frequently over-layered by repetition, her repeated re-use of the same element of image in several pieces. The addition of material or improvement on an initial form produces a new, autonomous work.
Selected exhibitions include: 2017,  16th Hestia Artistic Journey competition, Museum on the Vistula  (a branch of the Museum of Modern Art in Warsaw); You Want a Piece Of Me? at the Henryk Gallery (Krakow, Poland), Fish Eye 9 at the Baltic Gallery of Contemporary Art (Słupsk, Poland), The Esteemed Graduates of Polish Academies of Fine Arts 2017 at the Gdansk Great Armory (Gdańsk, Poland), Family at the Wladyslaw Hasior Gallery (Zakopane, Poland), Her White Plumage, Shone on by Rays of Light, Gleamed like the Sun Itself at the Henryk Gallery (Krakow, Poland) Posthuman at the Theatre du Crochetan (Monthey, Switzerland), Imaginary Landscapes II: Immortal Quest- New Spaces nad codes- the posthuman at the Museum of Contemporary Art in Taipei MOCA, (Taipei, Taiwan).
Support: Katarzyna Szymkiewicz's residency is made possible with support from Katarzyna Szymkiewicz's month long residency is made possible with support from Hestia Artistic Journey, a prize established since 2002 for the promotion of young Polish art and artistic education..